Trump Declared The California Fires A "Major" Emergency As The Destruction Continues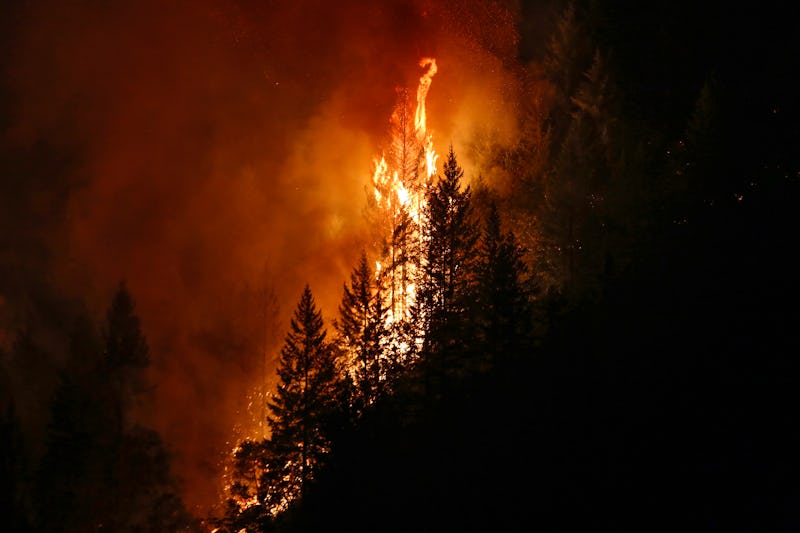 Terray Sylvester/Getty Images News/Getty Images
There's no other way to say it: California is burning. One of the most deadly fires of the season is the Carr Fire, which is burning in Shasta and Trinity counties. Sadly, the updates on California's Carr Fire include a seventh fatality as of Saturday, according to reports.
A Pacific Gas & Electric repairman was killed while working to restore power in the western part of Shasta country, CNN reports. Among the previous victims of the Carr Fire were a great-grandmother and two children, according to NPR. CNN also reported that another fire-related death occurred at the Ferguson Fire, which is burning east of San Jose. Capt. Brian Hughes, a member of the Arrowhead Interagency Hotshot Crew, was killed, according to the news network.
On Saturday, the White House approved California's request for federal aid for the wildfire burning in Shasta County. The request is called a Presidential Major Disaster Declaration, and it means people in affected areas are eligible for assistance programs for housing, legal, and medical services, among other types of aid, the California Governor's Office explained in a press release. The declaration will also help with emergency response and rebuilding costs.
"This is part of a trend — a new normal — that we've got to deal with. We're dealing with it humanly, financially and governmentally," Gov. Jerry Brown told reporters in Anderson, California, on Saturday. "These kinds of horrible situations bring people together, regardless of the lesser kind of ideologies and partisan considerations."
Brown and politicians in the state of California have been vocal opponents of the Trump administration. On July 28, Trump declared a state of emergency in California, following Brown's state-wide state of emergency proclamation on July 26.
The Carr Fire has burned 154,524 acres, and the fire is 41 percent contained, according to Cal Fire. It's been burning since July 23, and the blaze has destroyed at least 1,080 residential structures, the agency reported.
Cal Fire Director Ken Pimlott told Reuters that the conditions for fires are getting worse earlier. "Fire season is really just beginning. What seems like we should be in the peak of fire season, historically, is really now the kind of conditions we're seeing really at the beginning," Pimlott told the wire service.
The Carr Fire is already the sixth most destructive fire in California's history, and it isn't finished burning yet. CNN reported that the cause of the fire was a flat tire, with Cal Fire stating it was a "mechanical failure of a vehicle." The blaze reportedly began when a car's rim scraped against the asphalt, putting sparks into the dry air and landscape, according to the news network.
The Carr Fire isn't the only wildfire burning in California. Ninety miles north of San Francisco is the Mendocino Complex fire, which is 32 percent contained, according to Reuters. The blazes is estimated to be "more than two-thirds the size of sprawling Los Angeles." More than 14,000 firefighters have reported for duty to fight nearly 20 fires spread throughout California, CNN reported.
The most destructive fire in California history was less than a year ago, in October 2017. According to Cal Fire, the Tubbs Fire in Sonoma County burned through 36,807 acres, destroyed 5,636 structures, and killed 22 people.