Here's How Celebs Who Weren't At The Globes Supported #TimesUp From Home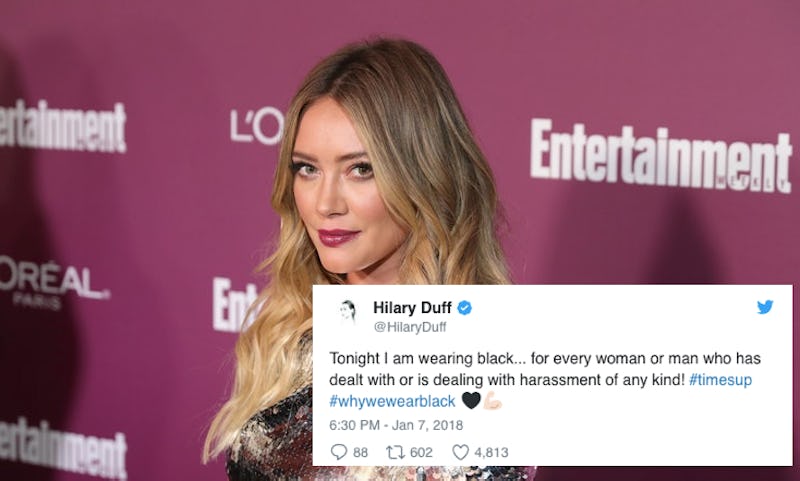 Getty Images/Bustle
On Sunday night, the red carpet at the 2018 Golden Globes was flooded with women in black dresses in support of the #TimesUp movement — and men wearing pins to show their support, too. It was overwhelming to witness as the evening took on a theme of girl power, but the movement extended far beyond just the awards. So many celebrities supported #TimesUp without attending the Golden Globes, and they took to Instagram to show it.
Weeks ago, reports first surfaced that female actors planned to wear black to the event in protest of the rampant sexual assault and harassment allegations in the entertainment industry, a topic that has been consistently making headlines for months now. But as this protest grew, it became much bigger than just the Golden Globes. In fact, on Friday, Rosario Dawson and Eva Longoria even filmed a video explaining the choice to wear black and encouraging people to do it no matter where they were on Sunday night. And so many celebrities decided to wear black, even if they were watching the show from their couch.
Here are the celebrities who were all about #TimesUp — from their homes and from all over the world — and the photos they shared of themselves dressed in black.
Karlie Kloss
Kloss shared this photo of herself in a black turtleneck, along with an explanation of #TimesUp.
Kristen Bell
Bell shared this photo from home, where she and her sisters wore black. The "equality" embroidery on her sweater is a nice touch, don't you think?
Anne Hathaway
Even though Hathaway was home sick, she still made a point to post about the black dress she was wearing. That's dedication.
Amy Schumer
Schumer was sick, too — it's winter, so it happens — but she also made sure to wear black at home, along with her friend and fellow comedian, Rachel Feinstein.
Hilary Duff
Duff looked warm and supportive in her black top, which she shared on Twitter along with a black heart emoji.
Gabrielle Union
Union took to Twitter to explain why #TimesUp is especially meaningful to her: Sunday marked 25 years since she says she was raped. For her, wearing black was a way to show exactly how overdue change is.
Julianne Moore
Julianne Moore shared this photo of herself and her daughter, Liv, wearing black as she encouraged her followers to donate to the #TimesUp Legal Defense Fund.
Danielle Brooks & Natasha Lyonne
These friends and Orange Is The New Black co-stars wore black in support of the cause.
Natasha Lyonne, Uzo Aduba, & Amber Tamblyn
At the same viewing party, Lyonne shared her own photo with Aduba and Tamblyn, as well as tweeting and retweeting many of the best #TimesUp moments from the Golden Globes.
Camilla Luddington
This Grey's Anatomy star posed in black with her daughter, Hayden, as they showed their solidarity all day on Sunday.
Shonda Rhimes
Speaking of Grey's Anatomy, mastermind #TGIT showrunner Shonda Rhimes also wore her own #TimesUp tee — and matching jacket — while watching the Golden Globes.
Courtney Love
Love showed off her #Times Up crew at the Golden Globes watch party she attended.
Jennifer Lopez
Jennifer Lopez showed her support by wearing all black all the way in Puerto Rico with boyfriend Alex Rodriguez by her side. She shared a video of herself talking about the Golden Globes and #TimesUp.
Showing solidarity with women who have spoken up against sexual assault, especially in the many cases when a man in a position of power in the workplace is involved, can be done from wherever you are. Good for these celebs for supporting such an important cause, even without being at the Golden Globes.
If you or someone you know has been sexually assaulted, call the National Sexual Assault Telephone Hotline at 800-656-HOPE (4673) or visit online.rainn.org.