These Chelsea Clinton Quotes About Ivanka Trump Show How Their Friendship Has Evolved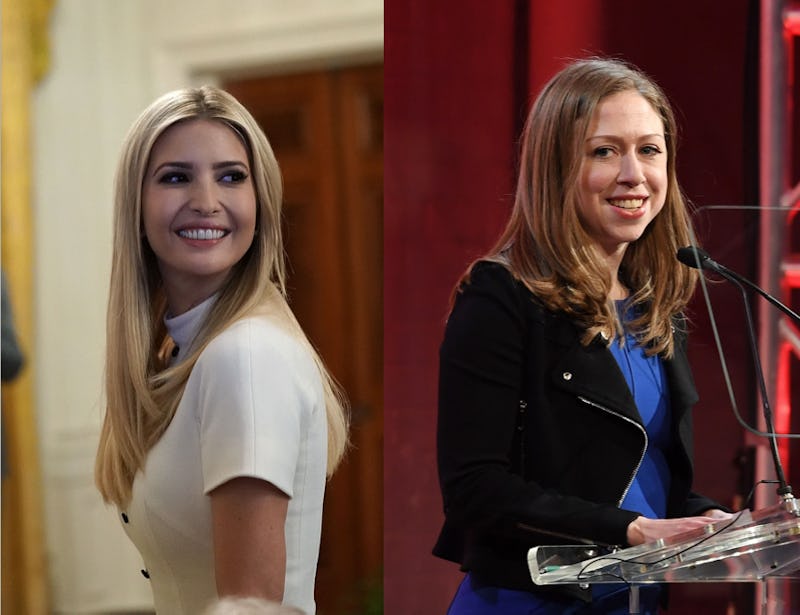 Alex Wong/Getty Images News; Dimitrios Kambouris/Getty Images Entertainment/Getty Images
Though they might have a lot in common with their experiences of being first daughters, that doesn't necessarily mean they're bonded for life. Chelsea Clinton's quotes about Ivanka Trump over the years seem to reflect a genuine warmth that may have slowly turned chilly after Donald Trump began his term as president. Now, it doesn't seem like the two are speaking much at all, according to Clinton.
It's not surprising that Clinton and Ivanka would have a pretty tense relationship in the wake of one parent losing the presidency and another parent winning it. In the best of scenarios, that would definitely be awkward. But Clinton's opinion of Trump does not reflect any sort of neutrality; in fact, she has openly cited her opposition to his administration on a moral level on several occasions.
To The Guardian in an exclusive interview in May, 2018, Clinton said of the Trump presidency,
I now believe that intentions and tone and decency matter, because I think the wreckage that we're seeing at this moment is one that will, I hope, be repaired on the policy standpoint when we elect Democrats. But I think we will still then have work to do on repairing the tone in our country, the exposure of the real racist and sexist, homophobic, Islamophobic and antisemitic feeling which is on the rise in our country – a rot that has been exposed.
Clinton and Ivanka may not speak often now that Trump's president, but it wasn't always like that. These quotes by Clinton about Ivanka show that she used to think very affectionately of her, in the beginning.