We Now Know The Chicago Hospital Gunman Was A Doctor's Ex-Partner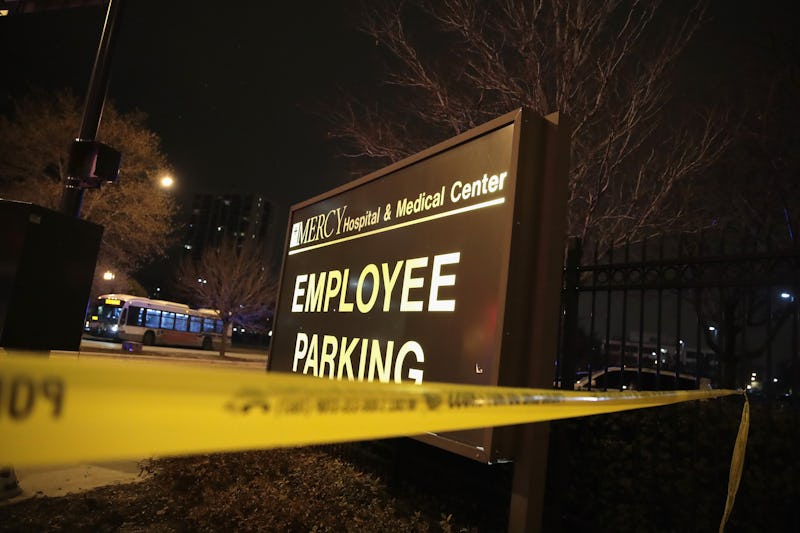 Scott Olson/Getty Images News/Getty Images
A Monday afternoon shooting in Chicago raised the number of mass shootings in America this year to 317, by the Gun Violence Archive's count. A police officer and two hospital staffers were killed when a gunman, who also died, opened fire at Mercy Hospital & Medical Center. Updates on the Chicago hospital shooting show police believe the shooting was a domestic incident.
The first victim was previously in a relationship with the shooter, and Chicago police Superintendent Eddie Johnson said at a news conference that a "verbal altercation" occurred in the hospital parking lot between the two, per Chicago NPR station WBEZ. Johnson said that the shooter revealed he had a gun when someone tried to intervene in the argument. The 32-year-old man then fatally shot Dr. Tamera O'Neal, a 38-year-old emergency room physician.
Dayna Less, a 25-year-old pharmaceutical assistant, was shot by the gunman when he ran into the hospital and exchanged fire with the police. Officer Samuel Jimenez, a 28-year-old father of three who joined the force last year, was the third victim.
"The city of Chicago lost a doctor, pharmaceutical assistant, and a police officer, all going about their day, all doing what they loved," Mayor Rahm Emanuel said at the news conference, per WBEZ. "This just tears at the soul of our city. It is the face and a consequence of evil."
Sources told The Chicago Tribune that the shooter and O'Neal had a "broken engagement." The person who tried to intervene in the parking lot was a friend, but they reportedly ran into the hospital when the gunman lifted his shirt to reveal that he was armed. It's unclear if the shooter took his own life or was killed by police gunfire.
O'Neal's death highlights how frequently women are killed by an intimate partner; nearly half of female homicide victims are killed by a current or former male partner, according to the Centers for Disease Control and Prevention. Native American and non-Hispanic black women are killed at higher rates than women of other races in the United States.
Less was caught in the crossfire, as she was reportedly shot after stepping out of an elevator. She was a recent graduate of Purdue University and a first year pharmacy resident. According to a friend of Less' who tweeted about her death, the 25-year-old was engaged and a huge fan of the Chicago Cubs.
"One of her and her family's favorite things together was celebrating their love for the Cubbies," Nina Starcevich tweeted. "Please pray for her Mother, Father, and Fiancé during this horrific time."
The Chicago Police Department honored Officer Jimenez with a procession Monday night and applauded his commitment to others' safety.
"Today, we mourn Chicago Police Officer Samuel Jimenez," the department wrote on Twitter. "His heroic actions saved countless lives. He ran toward danger. He ran toward those shots. He ran into fire. Selflessly."
At the scene of the crime, Mercy Hospital said it was "deeply saddened by the tragedy" in a statement to CNN, adding that "every shooting in America is a tragedy, and it is especially senseless when a shooting occurs in the healing space of a hospital."