These Clues That Colton & Tia Are Together After 'Bachelorette' Are Too Suspicious To Ignore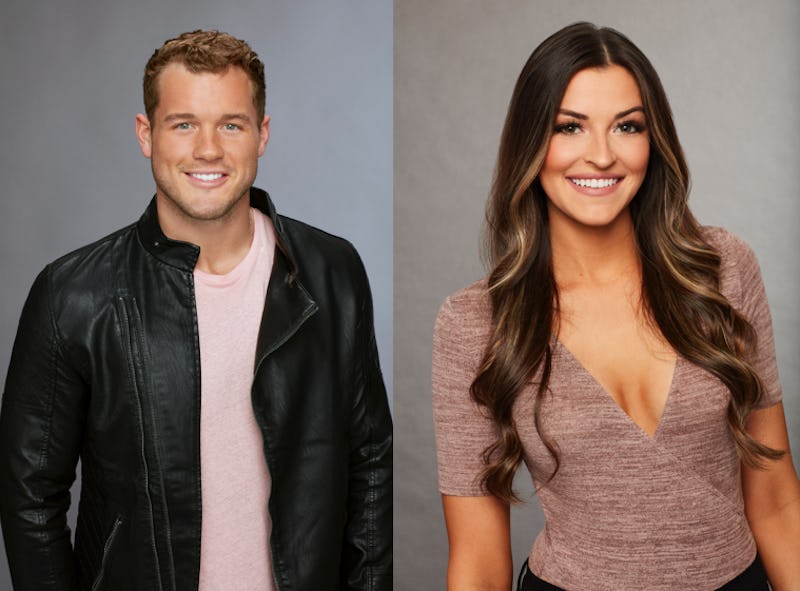 Craig Sjodin/ABC/Craig Sjodin/ABC
[Potential spoilers ahead for this season of The Bachelorette.] Colton Underwood's time on The Bachelorette has centered around some pretty shocking revelations, none more so than the fact that he had briefly dated Becca's friend and former The Bachelor contestant Tia Booth. While Colton has assured Becca that what he had with Tia is completely in the past, thanks to Bachelor spoiler extraordinaire Reality Steve, fans now know that Colton and Tia will likely both be on Bachelor in Paradise this season. So is the second time the charm? Clues that Colton and Tia are together after The Bachelorette are really starting to pile up, suggesting that their love story is far from over.
But before we look too far into the future, let's double back a bit to the past to figure out how this all started. Their relationship was first brought to the audience's radar after Colton confessed to Becca that he and Tia had a romantic history together. "I wanted to make sure to explain, sort of, that we had a weekend together, and we had a good time, but for me, the timing wasn't right to grow what was a spark into a flame," he admitted to Becca, while assuring her that their connection no longer existed. "If my feelings were strong enough, I wouldn't have came on this. And I think that, what I know of you, we could have a ton, whereas it wasn't there with her," the former NFL player added.
As you can imagine, this revelation didn't exactly sit well with Becca, who knows all too well what it's like to share a guy's feelings with someone else. (Looking at you, Arie!) But since her feelings for Colton were already pretty prominent early on, she decided to keep him around in the hopes that his feelings for her were genuine. Obviously, that doesn't end up working out if Reality Steve's tweets are to be believed and Colton will once again be looking for love, this time on Paradise. So will he and Tia be drawn to each other once more? These clues seem to insinuate that they do...
They Reportedly Go On Another Date In Paradise
Looks like these two just can't stay away from each other. There's no word yet on if this date turns into something more post-Mexico, but it's certainly a good sign and a step in that direction.
Tia Is Coming To Talk To Becca
In the promo for this week's Bachelorette episode, Tia shows up to talk to Becca about something that, she says, "makes me sick in my stomach." Granted, she doesn't actually come out and say Colton's name in the clip, but there's a solid chance that he's connected to this talk in some way. Perhaps Tia is confessing that she still has feelings for him. That would certainly pave the way for them ending up together after the show.
The Social Media Factor
Not long ago, a Twitter user noticed that one of Tia's captions on Instagram was almost a word-for-word replica of a tweet Colton had posted, thinking it could be a hint that they're currently together. Tia responded to the fan, claiming that she doesn't follow Colton and it's just a coincidence. However, if you look at her followers now, both on Instagram and Twitter, he is definitely included on both of her following lists. Perhaps she doth protest too much?
Her Group Date Appearance Proved They're On Good Terms
The smile that appeared on Colton's face when he laid eyes on Tia is proof that a spark still exists between them, despite his attempts to hide or deny it. And the thing about sparks is that they can quite easily turn into a full-on flame.
But whether they turn out to be an endgame couple or not, it's definitely going to make the fifth season of Bachelor in Paradise interesting to watch.