These 'GoT' Season 7 Episode Descriptions Are Intriguing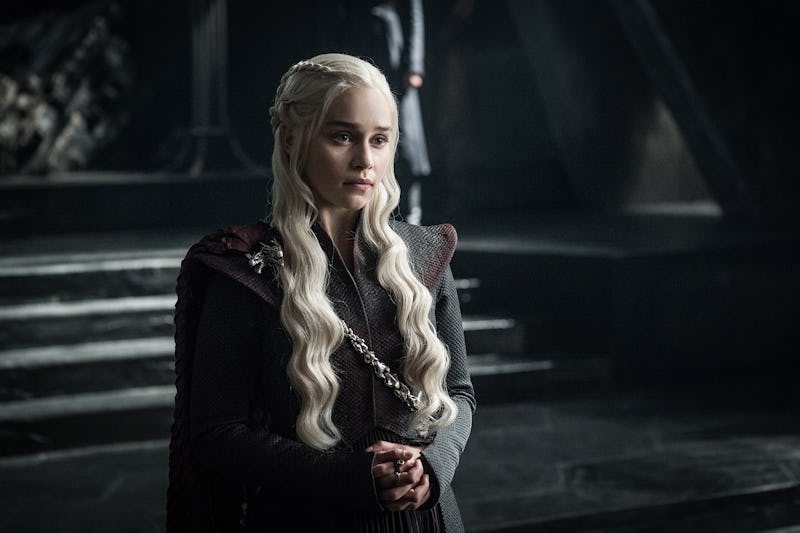 Helen Sloan/HBO
Pause everything, because big Game of Thrones news has arrived. The first three Game of Thrones Season 7 episode names and descriptions were released on Friday, and there's plenty of information to be gleaned about the direction of this season. It may not sound like much, but there's more than meets the eye once you take a closer look. What's important to take note of is that the first three episodes are going to be focused heavily on the three major power players: Daenerys, Cersei, and Jon Snow. One of the few GoT Season 7 trailers focused on them, indicating that the battle for the throne will probably be among them specifically.
Per an HBO press release, the Season 7 premiere is titled "Dragonstone," which is a reference to the Targaryen seat of power in Westeros. The description, as seen in the tweet below, is as follows: "Jon (Kit Harington) organizes the defense of the North. Cersei (Lena Headey) tries to even the odd. Daenerys (Emilia Clarke) comes home." Pretty succinct and to the point. However, it's pretty easy to see that our Big GoT Three are making preparations for big moves. It sounds like Jon is actually focused on the White Walkers making their way South, while Cersei and Daenerys are more concerned with who will reign supreme.
What's even more interesting is that the second episode's title feels just as Daenerys-focused as the first. Called "Stormborn," this episode's description is as follows: "Daenerys (Emilia Clarke) receives an unexpected visitor. Jon (Kit Harington) faces a revolt. Tyrion (Peter Dinklage) plans the conquest of Westeros." This is juicy, primarily in the ways the major upheavals appear to be brewing. Tyrion is planning a conquest, but hopefully he's doing it with Daenerys' full knowledge. Tyrion's insight into how his brother and sister think will be a big advantage to Daenerys, so keep your fingers crossed he's going to remain a loyal servant to Dany while he plots.
The third episode feels a bit less intense, with the potential for it to be more of a plot-builder rather than a high-stakes episode. Titled "The Queen's Justice," the description says, "Daenerys (Emilia Clarke) holds court. Cersei (Lena Headey) returns a gift. Jaime (Nikolaj Coster-Waldau) learns from his mistakes." It's certainly curious about what kind of gift Cersei received that she's eager to return; it can't be a very nice gift if she doesn't want to hold on to it. Additionally, it looks like Dany will be very busy her in her first days, or weeks, at home if she's receiving visitors and holding court. Clearly, the Mother of Dragons is wasting no time putting in the hours as a ruler.
If anything, these GoT episode descriptions indicate that the first half of Season 7 will be intense AF. It looks like fortunes will change, alliances will shift, and those rumblings of war will grow louder with each successive episode.