Nathatlie Emmanuel Opened Up About The 'Game Of Thrones' Series Finale & It Sounds SO Good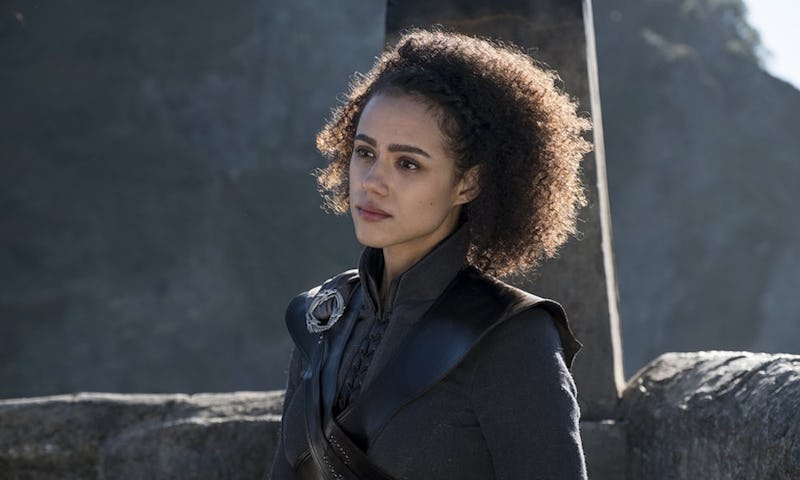 Macall B. Polay/HBO
HBO will be losing ones of its biggest shows when Game of Thrones wraps up its eighth and final season in 2019, and just like with any popular franchise, there's a lot of anticipation surrounding how the series will end. Can it possibly live up to fan expectations? If you're Nathalie Emmanuel, the actor recently teased details about the final episode of Game of Thrones in an interview with the Hindustan Times, then the answer to that question is simple: yes.
Emmanuel, who plays Daenerys Targaryen's trusted advisor and longtime friend Missandei, has absolutely no doubt that viewers will be very pleased with how things play out for all of the characters of Westeros. She also promised that all of the loose ends will be tied up by the time the final credits start rolling.
"I think what we can expect from the final season of GoT is just a real push," she reportedly told the outlet. "Like in the last couple of seasons, we have seen the pace of the show increase with the stakes getting higher and higher. There are so many storylines that have to come to conclusion. We have to play them out, so the pace of the show is continuing on that sense."
Emmanuel added:
"There are so many characters and stories that haven't found their conclusion. So, this season is going to be incredibly satisfying for people. It is going to be incredibly exciting and heartbreaking. I feel like people will have their mind blown when they watch the final one."
Considering that Season 7 ended with Dany's now ice dragon Viserion huffing and puffing and blowing The Wall to smithereens with its flaming-blue breath, Emmanuel's statements about a mind-blowing final episode don't seem out of the realm of possibility. With only six episodes total left in the entire series, the battle between fire and ice is sure to be intense and leave numerous casualties in its wake. (This is Game of Thrones we're talking about after all, so death and bloodshed is sure to be on the horizon.)
Unfortunately, Emmanuel wasn't able to expand on her comments or go into specific details about what exactly will make the ending so epic, but this isn't the first time the actress has spoken highly about the upcoming season. In past interviews, Emmanuel has promised that Season 8 will be well worth the wait, even going so far as to tell Metro.co.uk that the cast's final table read was "so emotional," which could indicate that a ton of heartache and tears are on the way. So, you know, prepare yourselves accordingly. (It also seems to reveal that Emmanuel was present, which suggests that Missandei survives until the finale, at least.)
With many months left before the show returns, any and all information about Season 8 is appreciated. And while it can be frustrating to have to wait so long for answers, at least viewers can take solace in knowing that the general consensus of the cast seems to be very positive. In short, Season 8 shouldn't disappoint. But then again, did any of us really ever doubt that in the first place?