This Update About The 'Game Of Thrones' Series Finale Will Reassure Any Worried Fan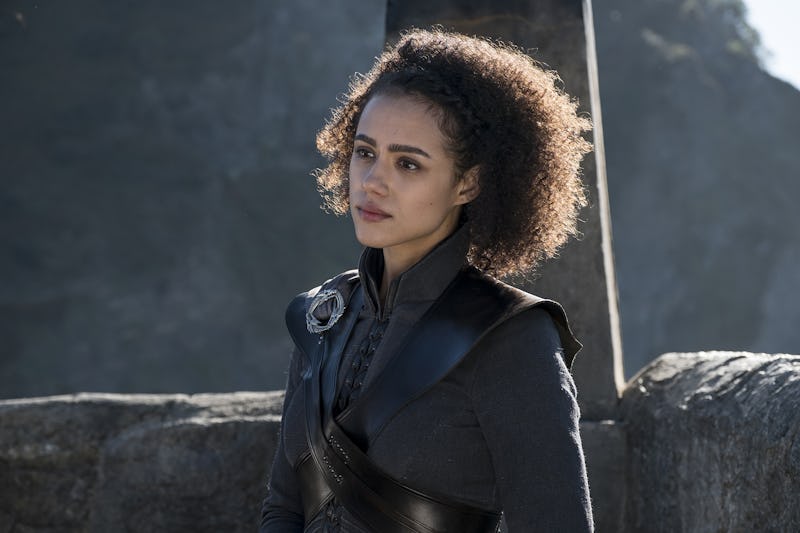 Macall B. Polay/HBO
There's a lot of pressure that comes with ending a show like Game Of Thrones, and the creators certainly know this. But, for those fans that are worried, Nathalie Emmanuel is here to quell those fears. The actor behind Daenerys' trusted advisor Missandei says Game Of Thrones' final season will be worth the wait. In fact, she promises that Season 8 Game of Thrones finale is better than anyone could even expect. That's high praise coming from the actor who plays Khaleesi's right-hand woman, who isn't one to lie about such serious matters.
In an interview with Metro.co.uk, Emmanuel talked about the cast's final table read saying it was "so emotional." She also said that the Season 8 finale is "so great" and will be worth the wait, adding that the show "finished so beautifully." With only six episodes to go before Game Of Thrones is over, some worried that wouldn't be enough time to get everything in, but Emmanuel assured Metro.co.uk that it was. "It definitely will not be rushed conclusion," she said. "They've taken the exact number of hours to tell the story they want to tell and it will be brilliant."
It probably helps that the final episodes will reportedly be feature-length, according to Deadline, giving some extra time to say goodbye to its most important characters. On top of that, HBO is reportedly spending an average of $15 million per episode, which is basically the budget of a blockbuster movie. "[The showrunners] will never leave the fans unsatisfied, they won't leave the fans left short," Emmanuel said, "it will go over and above the fans' expectations as they do every season."
Those are some bold words that Twitter is sure to remember when this season starts airing. Let's hope they agree or Emmanuel's should expect some angry notifications.
While Emmanuel didn't give any specifics about the upcoming season, her comments seem to fall in line with what Francesca Orsi, HBO's SVP of drama, said last week. Orsi also talked about the emotional table-read, explaining, "By the very end, everyone looked down and looked up and tears were in their eyes." Oh, and she said that, basically, everyone is going to die in Game of Thrones' final season, which might also explain all the crying. "None of the cast had received the scripts prior," Orsi said, "and one by one they started to fall down to their deaths.'
While none of the cast is going to reveal whether or not they survive Season 8 — especially, since they don't want to make their bosses mad in case they're cast in the potential GOT spin-offs — a few have talked in broader terms about what fans can expect for the final run of episodes.
John Bradley, who plays Samwell Tarley, told TV Guide, that the characters will be tested in Season 8. "Each of the characters this year is placed in a completely alien environment at some point in the season that they've never been placed in before," he said, making fans very nervous.
Another reason to get nervous? According to Bran Stark, Game Of Thrones finale won't please everyone. Isaac Hempstead Wright told The Hollywood Reporter last year that it might not be everyone's cup of tea, but it will "hit hard." He continued, "We're all so confident in the way this story goes and the message it gives and how the whole story arc works." Basically, for him, as long as the cast and crew "does justice" to story, that's all that matters.
While both Wright and Emmanuel have a different take on the finale, it certainly won't make fans less excited to see it. Of course, now they can turn it into a game. So, are you Team Wright or Team Emmanuel?