New Photos From 'Grey's Anatomy' Season 15 Could Hint At Meredith's New Love Interest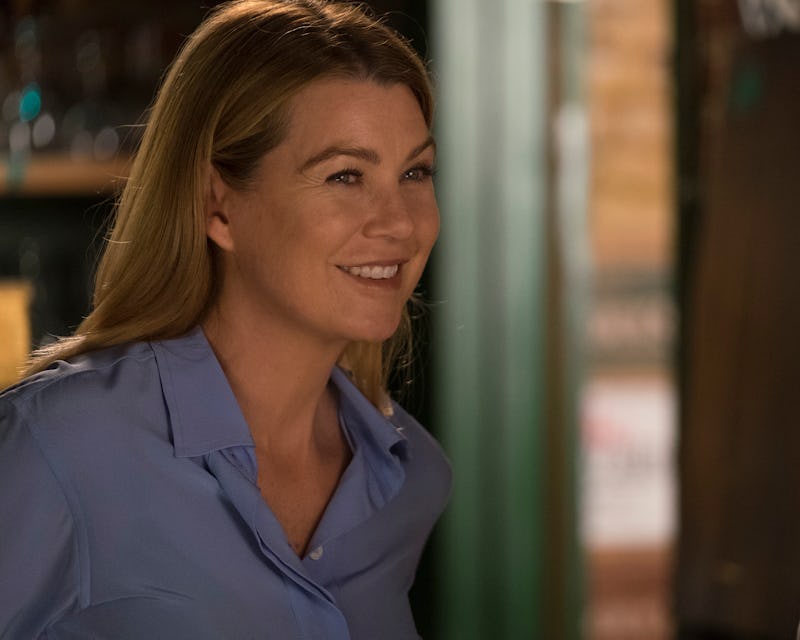 John Fleenor/ABC
The Grey's Anatomy Season 15 premiere is just around the corner, which means we've reached the point where it's time to start dissecting every single detail that we can about what's in store for the doctors of Grey Sloan Memorial. It's become common knowledge that Meredith will start dating again at some point this season, and thanks to the new Grey's Anatomy Season 15 photos that have been released by ABC, fans may have just been given a clue as to who one of her new love interests could be. And no, it's not DeLuca.
In a recent promo that was released for the upcoming season, Meredith and DeLuca are shown in bed together, sharing in what looks to be a rather steamy hookup. It's hard to say whether or not this is some sort of dream sequence or real life, but either way the writers definitely want audiences looking in their direction for answers about Meredith's love life. But what if one of her romances actually comes from somewhere totally unexpected, and these photos are allowing it to hide in plain sight?
Numerous images recently released from Grey's two hour season premiere show Meredith standing next to Tom Koracick, played by Greg Germann. As the head neurosurgeon for John Hopkins Hospital, he was originally introduced on the show as Amelia's former mentor who agreed to operate on her tumor. Tom has continued to appear intermittently on the show ever since. Why? Maybe it's so he could grow closer to a certain general surgeon. It would certainly help to explain why Meredith and Tom are in so many photos together.
Of course, it's important to note that this is all just speculative for the time being. Perhaps nothing is supposed to be read into these images, but you can't deny that it does seem just a little suspicious. Have these two really ever talked much to each other before? Why are they sharing so many scenes now? It just seems interesting that the network is choosing to focus on these characters so intensely.
Even the episode description indicates that Meredith will have a lot more than medical knowledge on the brain during the premiere:
"During the first hour of the two-hour season premiere, the doctors at Grey Sloan Memorial vie for a new position. Meredith is seemingly distracted and struggles to stay focused, and Maggie finds herself the keeper of a big secret while Amelia and Owen try to figure out their relationship. Meanwhile, Jo and Alex's honeymoon doesn't go exactly as planned. In the second hour, new doctors continue to shake up the hospital in typical Grey Sloan manner. Meredith bonds with a patient while Jackson struggles with the meaning behind recent experiences; and after making a life-changing decision, Jo forms an unexpected alliance."
Before now, many fans could take that to mean that Meredith is destracted by DeLuca, given their seemingly imminent hookup, but what if that's not the case. What if it's Tom she can't stop thinking about?
Now, could these two just be working on a case together in a very innocent and unromantic way? Absolutely. But this is Grey's Anatomy we're talking about, so any possibility is up for grabs. We'll find out what's making Meredith and Tom so chummy when the series returns on Thursday, Sept. 27 at 8 p.m. ET on ABC.