Twitter Is OBSESSED With Donald Glover's Look In The New Han Solo Movie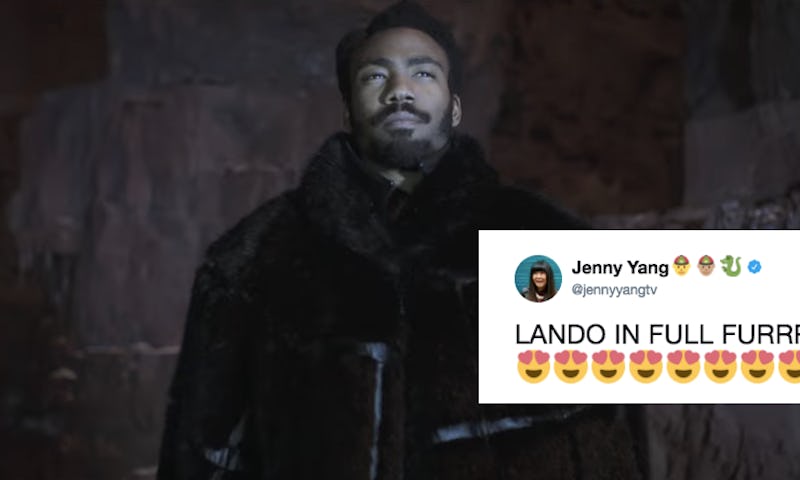 Star Wars/YouTube; jennyyangtv/Twitter
Not caring about football is just fine during the 2018 Super Bowl, because the 2018 Super Bowl has brought the very first trailer for Solo: A Star Wars Story, the Han Solo Star Wars spinoff movie. It has everything — a young Han Solo, a young Lando Calrissian, space, ships, and more. And, of course, Solo: A Star Wars Story has already generated plenty of Star Wars memes and jokes — because if there's one thing that the Star Wars fandom knows how to do, it's turn up. Especially considering how long they've been waiting for footage from the film.
Debuting the Solo: A Star Wars Story trailer during the Super Bowl was the perfect way to do it; so many people are going to see this movie, so why not introduce it during an event where most of your fans will be sure to see it, too? And was your typical teaser trailer: a few people staring pensively into the distance, something flippant uttered by the main character, some lazers, a cool pose by Donald Glover (he is playing Lando Calrissian), great outfits, and plenty of promise.
Of course, everyone has an opinion about how Star Wars stories should play out, and truth be told, some of the opinions are, well not so good.
Of Course, There Are Some Haters
But everyone is entitled to their opinion, even if their opinions are totally wrong.
But Everything Is About Lando
Who wouldn't approve this message? Look at Donald Glover. Look. At. Donald. Glover. If you have a heart at all, it's probably being held in his hands at this time, all because of this single shot.
Other Fans Are Ready To Watch
This is, of course, the correct way to respond to the trailer, and the way that many will be responding for perhaps the rest of the week.
For those of you who aren't Star Wars fans, there's still (a new) hope. You can catch up on the entire canon by the time the film is released on Memorial Day. This film is the origin story of Han Solo, the Millennium Falcon captain and all-around space pirate that eventually gets frozen in a giant block, stuck in a trash compactor, marries a princess, and has an evil son. OK, it's more complicated than that, but the Solo: A Star Wars Story plot will hopefully give viewers a good idea of how Han came to be the man we all met in Star Wars: A New Hope.
In the teaser, we see Alden Ehrenreich applying for work with... the Imperial army. Say what? Han Solo was not on the side of the Empire in the later movies, so something interesting has to happen there. The Imperial officer asks Solo, "Which branch are you interested in joining?" And Solo replies, "I want to be a pilot. Best in the galaxy." The Empire is not your destiny, Han! I guess we have to leave it up to director Ron Howard to tell us how this all unfolds.
Disney cast out original directors Chris Miller and Phil Lord over disagreements in the way the movie was taking form, and, according to the Hollywood Reporter, Disney wasn't sure about Ehrenreich's performance, even hiring an acting coach for him. Whatever drama is taking form behind the scenes, let's hope that it makes for an amazing movie. Creative differences aside, most fans want something fresh that stays true to the essence of the original films. Hopefully, Solo: A Star Wars Story fits that bill. And don't worry — if it doesn't, the fans will certainly say it.