You Should Be Supporting These Inclusive Lingerie Brands, Especially Now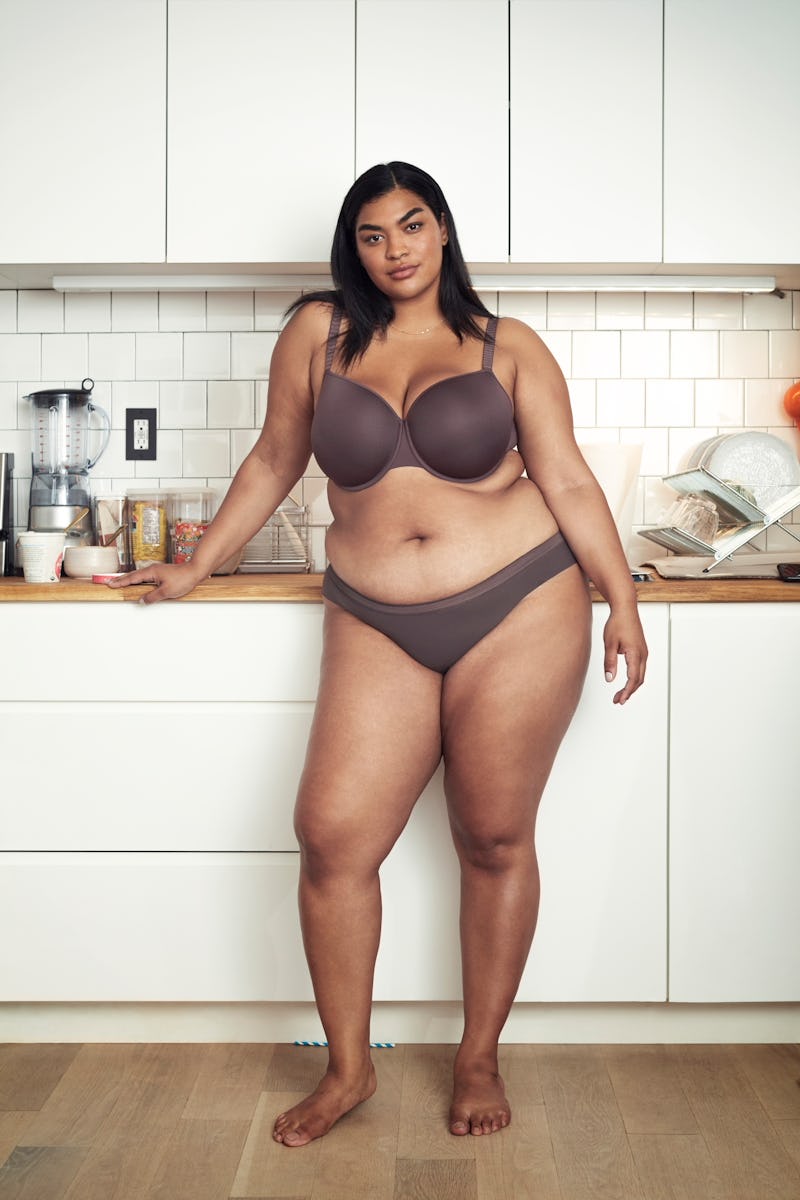 ThirdLove
It was only in September — a few months before Victoria's Secret's chief marketing officer revealed that trans and plus-size models had no place on their runway — that the lingerie giant was ranked No. 1 on the Condé Nast and Goldman Sachs' 2018 Love List, an annual study examining millennial and Generation Z consumer favorites.
This year's top brands in the report, which included Sephora, Nike, and Ulta, could all be considered inclusive, authentic, and personal. At least according to 1,489 13-to-34-year-old U.S. consumers and an additional 1,174 Condé Nast "It Girls" — defined in the report as "those who engage frequently with one or more Condé Nast brands, are influentials among their peer group, love to discover brands before others, and are first among friends to use new products and brands" — surveyed. The report did not include specific demographics like income, size, disability, sexuality, gender, or race.
But not even high praise from the legacy publisher's "It Girls" could save the retailer from the impending backlash that would come only two months later: While the world was growing to embrace an array of bodies, comments by L Brands' (Victoria's Secret's parent company) chief marketing officer Ed Razek revealed that Victoria's Secret did not appear to be doing the same — and consumers were not happy about it.
By now, you've likely heard about the controversy, which began on Nov. 8, the day the annual fashion show was filmed at Pier 94 in New York City. When Razek was asked by Vogue if the legacy intimates line planned to include plus-size and trans women in its shows moving forward, he said that "transsexuals" had no place in the show "because the show is a fantasy." He then went on to say that in 2000, Victoria's Secret attempted to put together a TV special for plus-sizes, but the idea garnered little attention. "No one had any interest in it," he said, "still don't."
The CMO's remarks ignited an online firestorm, and as a result, he issued an apology for his statements via Twitter the following day.
On Nov. 14, People confirmed that Victoria's Secret's CEO Jan Singer would be leaving the company; however, the reason behind her exit was not confirmed.
Bustle reached out to L Brands for an official statement on Singer's departure, and in a public statement released on Nov. 19, which was also sent directly to Bustle, L Brands' chairman and chief executive officer Leslie H. Wexner said, "I wish Jan well. I greatly appreciate her passion and know she will succeed in whatever she pursues next. We appreciate all that she brought to the brand." In the same press release, Wexner also announced that Singer would be replaced by John Mehas, who currently sits as president of Tory Burch, adding yet another male voice to the corporation's C-suite in early 2019.
Despite these actions by Victoria's Secret amongst the controversy, not everyone's on board with the organization's reactive response to the backlash, with many still stuck on Razek's remarks.
"I think Ed's lack of remorse over the comments he made specifically regarding plus size bodies speaks numbers," Canadian plus size fashion blogger Inemesit Etokudo tells Bustle. "I don't even think VS is trying to hide their messaging regarding what they define as sexy — they are standing tall and screaming from the highest peaks."
Etokudo also goes on to explain that while the company makes lingerie for people with bodies that have been historically considered feminine, she firmly believes Victoria's Secret has created its definition of "sexy" around what straight men generally find desirable, and markets directly to a male audience. "[This] explains exactly why their CMO is a 70-year-old white man with outdated views about the female form," she asserts. "It is our bodies — shouldn't we be the ones to define what sexy means?"
Since Victoria's Secret was founded in 1977, the brand has made no qualms about what it defines as "sexy," as well as who its target buyer is. In fact, the company was created by a man, who really only had other men's desires and comfort in mind at the time. "When I tried to buy lingerie for my wife, I was faced with racks of terrycloth robes and ugly floral print nylon nightgowns," Victoria's Secret founder Roy Raymond told Newsweek in 1981, according to TIME. "And I always had the feeling the department store saleswomen thought I was an unwelcome intruder."
The then-30-year-old also began noticing that many of his male peers shared his same feelings. That's when Raymond decided to create a store where men could comfortably shop for lingerie to gift to their lovers — and Victoria's Secret was born.
That said, British transgender model and activist Munroe Bergdorf echos many of Etokudo's points, explaining that her memories of shopping at Victoria's Secret shortly after her transition have now been "tainted" due to Razek's comments. She also questions if the brand would want her as a part of its narrative at all.
"I think that we've seen that their view of beauty is pretty monolithic when it comes to body shape," she shares, while still acknowledging that the brand has become more diverse in terms of casting models of color over the years. "I just kind of feel that [their inclusion] is quite performative. That's dangerous because if you're only celebrating diversity to turn a profit, then it's not going to be from a genuine place of love and excitement, which of course, it should be."
It has been over 40 years since the company's inception, and the world has become a different place. While Victoria's Secret seems to have remained mostly stagnant, several other lingerie brands have come into the market to create fresh, inclusive visions of what intimate apparel should look like, inviting ever body to wear these pieces — which seems to be exactly what today's consumers are looking for.
According to a new study published by Accenture that surveyed 1,500 U.S. participants, 70 percent of millennials ages 21 to 27 and 69 percent ages 28 to 37 said a brand's focus on diversity in promotions would positively influence their purchases. In addition, around 66 to 72 percent of all people surveyed stated that they expect retailers to embrace diversity.
Inclusivity is clearly the way of the future for the lingerie industry, and brands like ThirdLove, Origami Customs, Curvy Kate, and TomboyX are all pushing that message forward. Here's how they're doing it.
ThirdLove
In 2013, after years of struggling to find bras that were the right fit, Heidi Zak left her job at Google to create inclusive lingerie line ThirdLove, alongside designer Ra'el Cohen. Offering 74 standard and half cup sizes from A to H, Zak and Cohen's goal from the start was always to be able to cater to anyone who wears bras.
Still, Zak recognizes that as her customer base continues to diversify, the line will have to adapt with them. "I think inclusivity means if I want to go buy something from you, do you have something for me?" she says. And Zak is making sure to display not only size inclusion, but diversity across the board through both the company's product and social media pages.
ThirdLove's e-commerce site showcases an array of models of different sizes, with features that were once taboo in the lingerie industry, like stomach rolls, proudly on full display. On the brand's Instagram page, people of all different races, ethnicities, skin tones, sizes, and ages are also seen wearing the line's lingerie.
"We've really taken to making sure that life stage is included because when you're thinking about buying a bra, you could be single in your 20s, you may be have a child or be breastfeeding, you may be going through menopause," Zak shares. "There's all these different moments in your life, and at any of those moments you need a bra."
But outside of building a successful, and inclusive lingerie line, Zak has also been a strong vocal critic of Victoria's Secret. Shortly after the contentious Vogue interview went live, the designer created a petition to call for a boycott of the annual show, in partnership with model Robyn Lawley, over the brand's lack of body diversity in its shows. Just under two weeks later, on Nov. 18, ThirdLove ran a full page ad in the Sunday edition of the New York Times where she wrote an open letter to Victoria's Secret, addressing both sizing and gender stereotyping.
"Haven't we moved beyond outdated ideas of femininity and gender roles? It's time to stop telling women what makes them sexy — let us decide," Zak penned in the Times letter. "We're done with pretending certain sizes don't exist or aren't important enough to serve. And please stop insisting that inclusivity is a trend."
"Let's listen to women," she continued. "Let's respect their intelligence. Let's exceed their expectations. Let women define themselves."
Origami Customs
After being unable to find bikinis that worked for their body while living in Honduras, Rae Hill created Origami Customs in 2009, originally as a swimwear line. But a few years later, Hill's friends began asking them to create gender-affirming "underthings," as they call them, since many of their peers could not find garments in stores that they felt comfortable wearing. "[There] was a moment when I realized I wasn't just selling a product — what people were finding through me was self-love, fearless expression, confidence, and security," the 29-year-old reminisces. "I had [a] customer tell me that they cried when they found my website because they never thought they would see trans women like them in the photos!"
Today, the brand carries a wide range of intimates for gender diverse people, from nursing bras to binders, strap-on bottoms, compression gaffs, and more. In terms of sizing, Hill offers all of Origami Custom's pieces from XXS to 5XL, but still also encourages customers to send in their measurements before making a purchase to ensure they get a comfortable, custom fit.
There's no question that the brand itself is inclusive when it comes to the gender spectrum, but the designer still pushes themself to continuously build a platform where anyone — regardless of race, ethnicity, or ability — visiting the site or Instagram page feels seen, despite the financial constraints of being an independent brand.
"It is expensive to hire models," Hill says, admitting that they only shot the products on their own body for many years to save money. "I want to pay models fairly, so I only do a few shoots a year, where I can spend time sharing space with them and have a lot of communication around their needs and how we want the shoot to go."
That said, they believe that major lines have no excuse not to diversify when it comes to imagery. "If they have the budget, they can hire multiple models who look different from each other," they say. "Period."
Hill, who identifies as a non-binary femme, also thinks that mainstream ideals surrounding lingerie only portray one way to be feminine — and that is by solely crafting pieces to appeal to the cis male gaze. Now they think it's time to create a new narrative that only has to do with pleasing oneself. "[Lingerie] is a reflection of how we want to be our own lover, our best friend, our caretaker," Hill explains. "It's about showing our true gender when the world is too scary to show it to. It's a piece of ourselves that we don't have to explain or compromise to anyone."
Curvy Kate
UK-based brand Curvy Kate was created in 2009 to cater to people with larger busts. Offering D to K cup bras, the line was made with a wide range of body types in mind — but creates a lot of its undergarments to serve the plus-size community. "Lingerie is the closest item of clothing to your body," Victoria Ross, head of marketing at Curvy Kate, shares. "It needs to feel like it was made just for you, whether that is in shape, fit, or trend."
And the brand has proved that statement to be true for years — not only when it came to sizing, but also diversity across ethnicity, gender, race, and ability through its campaigns. In July 2016, the lingerie and swimwear brand launched #TheNewSexy, an initiative to push the boundaries on what bodies should be on display.
The photo campaign featured eight models in total — some of which were trans, have had limbs amputated, or have alopecia. And they all came in various shapes, sizes, and races. "Sexy isn't about a certain look or size," Ross explains. "We need to stop aspiring to look like someone else and aspire to be ourselves."
Curvy Kate's latest campaign, titled #MyBodyVictory, encompasses that same vision, but this time encourages its customers to speak openly about "how great their bodies are," through social media, rather than critiquing what they deem as flaws.
And while the fashion community as a whole has started to move toward embracing diverse bodies, Ross shares that there's still more work that needs to be done within the lingerie realm specifically. "People come in all shapes and sizes, and imagery needs to be relatable and inclusive," she explains. "Our customers are vocal, they want to see diversity and inclusivity. People want to see a body like theirs."
TomboyX
Fran Dunaway and wife Naomi Gonzalez originally created TomboyX as a clothing line catering to people who didn't necessarily fit the generalized fashion mold associated with their sex or gender. But after receiving an overwhelmingly positive response to their genderless underwear line, the couple rebranded to primarily focus on non-binary intimates.
"[For] those of us in marginalized communities we've always had to make do with what was out there," Dunaway admits, acknowledging that most lines only offer gendered options. "The problem with that is the subtle shaming that this evokes. Non-feminine women, plus-size people, non-masculine men ... walk into a store and know that they aren't welcome unless you fit the stereotype or conform to societal norms about what it means to be a 'man' or a 'woman.'"
Aside from giving an underserved community a plethora of affordable options, the brand also doesn't use models to display its garments on the website — which was completely intentional. "Putting clothing on gendered models goes against the core of the TomboyX brand," Dunaway says. "We are on a path to gender equality."
TomboyX's Instagram page, however, is filled with a vibrant assortment of photos from their cherished consumer base. "There is no one type of trans, non-binary, gender fluid people," Dunaway says. "They come in all shapes, colors, and sizes, and imagery needs to be representative of that."
She also thinks it's time for other brands to start embracing this trait as well, by simply paying attention to what makes buyers feel comfortable, rather than what a lingerie company envisions as desirable. "I've heard women say, 'I won't wear boxer briefs because my husband won't think I'm sexy," the 57-year-old says. "It always gives me pause — the power dynamic is so skewed and flawed."
Bergdorf believes that the VS fashion show could redeem itself after this year's controversy, though she says that any inclusivity is likely to come across as a reactive response, rather than genuine.
"I'm of the mindset that Victoria's Secret could be one of the most inclusive and exciting shows — if it applied itself to being inclusive and exciting," she says.
Still, the model thinks that the company as a whole can eventually be turned around — but admits that would likely take a total revamp of the retailer's employee base. "You would need an inclusive, diverse crew behind the scenes," she adds.
Etokudo agrees, but isn't holding out hope that these changes will happen any time soon, if ever.
In her opinion, "they need to start at the top first and eliminate the old boys club," the blogger firmly states. "Am I supposed to sit back and seriously believe that these men [running the company] live in the same world as me: A black, fat woman?"
But even if Victoria's Secret does turn things around, the fashion expert still isn't all that interested in tuning into the show in the future, either.
"I would much rather throw my support behind shows ... that include visibly plus models on an internationally celebrated stage," she continues. "Thank you — next."
This piece was updated at 9:56 a.m. on Dec. 5, 2018 to include Victoria Secret's statement on Jan Singer's departure.