This Inclusive Nude Underwear Line Is For People Of All Sizes, Colors & Genders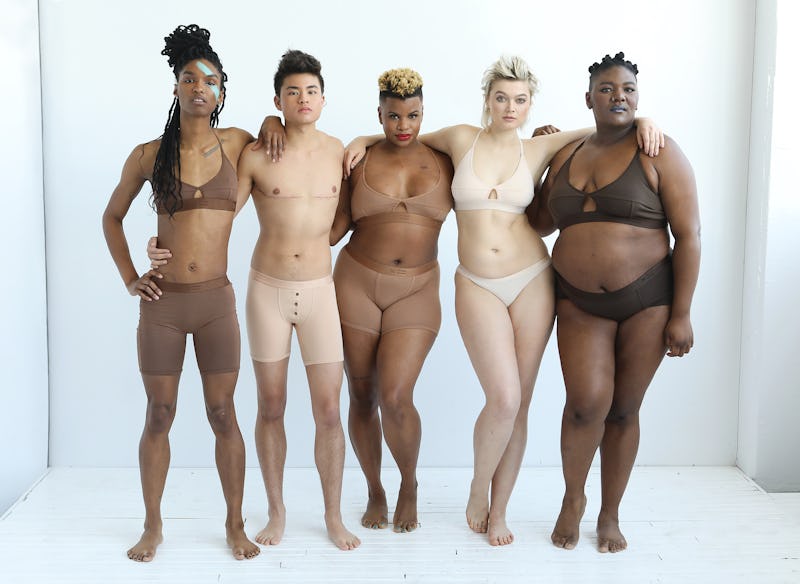 Courtesy of TomboyX
If there's any one thing that's nearly impossible to find, it's nude-colored anything for your complexion. Combine that struggle with finding decent underthings that suit your body type, and you've got a real recipe for disaster. Here to solve that conundrum, TomboyX just launched a nude underwear line that's not only size-inclusive, but also gender neutral.
When it comes to underwear, TomboyX is equipped with the best of the best. On a mission to help their clientele feel comfortable in their skin, the undies brand packs sizes up to a 4x, so they're truly stocked with plus-size friendly lingerie. But it's not just their size selection that makes them absolutely for the people. The brand creates unmentionables with the LGBTQ community in mind, making their offerings ideal for any and everyone.
As if the brand with a badass message couldn't get any better, TomboyX's newest line of neutral undergarments just hit virtual shelves. It's the groundbreaking collection that tells its wearers to unapologetically be themselves, and it can't get much better than that. Once you catch a glimpse of all of the flesh-toned options, it's going to be hard to resist not snatching up every single thing.
Curating a diverse selection of activists, artists, and norm-breakers to model their collection, TomboyX introduced their new must-haves. Available in beige, tan, and espresso tones, the undergarments are just as POC-friendly as they are body-inclusive, so this certainly isn't your typical underwear line.
"This is not your average nude. These underwear don't want you to blend in," wrote the brand on the collection's landing page. "These underwear know that your body is the canvas you use to tell the world who you are."
Going forth and rocking the skin you're in is easy to do when the selection is so on point. Here's a peak at every body-positive thing up for grabs.
The ever-popular boy short style is worth adding to your underwear drawer. They're signature TomboyX MicroModal material guarantees they'll feel incredibly comfy all day, while their stay-put waistband ensures they never slip. Grab a pair to experience the high of feeling not you're wearing anything at all.
A mid-length boxer with decorative buttons for a faux fly, these undies have quite the boyish charm. They run in sizes XS to 4X, so you're likely to find your best fit.
It's worth investing in this underwear featuring a bikini cut and a mid-rise fit. They're ideal for throwing underneath your favorite pair of jeans or comfy sweats. You'll hardly even notice they're caressing your bottom as you test them.
'Tis the season for bralettes, and one like this cross-back is worth adding to your collection. Its keyhole cutout and cup design lines give it flair. Sans padding or underwire, it's guaranteed to wear comfortably all day long.
Silky soft, and feather-light, this pair of trunks will feel like heaven against the skin. Its classic style and smooth fit were made to hug your shape beautifully, no matter your size.
If ever there were a pair of undies you desperately need in your life, it's these 9-inch boxer briefs. Featuring the same silky, MicroModal material as the nude line's other garments, they feel like a dream. Its moisture-wicking makeup ensure they always feel breezy against the skin and their long-length fit is the key to never chafing or suffering from your undies riding up.
You have no choice but to hand it to TomboyX for such a killer underwear line. The brand truly put customers of every gender, color, and size at the forefront with their nude collection, effortlessly doing what many underwear lines haven't dared to do.