These Are The LGBTQ Victories From The 2017 Election That Will Go Down In History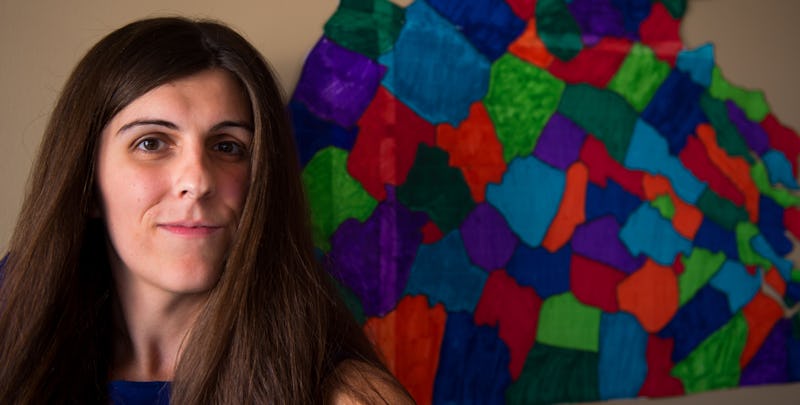 PAUL J. RICHARDS/AFP/Getty Images
There were plenty of reasons progressives were so overjoyed by the results in Tuesday night's elections. Dozens of Democrats — many of them political newcomers — unseated Republican incumbents in a wave of victories that surprised even those whose hope was unwavering. But there was an especially good reason for LGBTQ people to celebrate the 2017 election results, considering just how monumental some of the wins were.
First there was Danica Roem, whose campaign for state delegate garnered national attention. On Tuesday, Roem became the first openly transgender legislator in Virginia and will be the first out transgender woman to serve as an elected official in the U.S. Roem's win was especially remarkable given that she ran against a vehemently anti-trans incumbent, Bob Marshall, who spearheaded the state's bathroom bill. Throughout the campaign, Marshall refused to refer to Roem using female pronouns, even asking a reporter once: "Why do you call Danica a female? Did Danica's DNA change?"
On Tuesday night after she was declared winner, Roem displayed the same sense of composure that she did in the face of anti-trans insults from her opponent over the past few months. When a reporter asked her about Marshall, Roem's reply was: "I don't attack my constituents. Bob is my constituent now."
Then there's Andrea Jenkins, who on Tuesday night became the first openly transgender woman of color elected to Minneapolis city council. Jenkins' victory is an especially important one. Transgender women of color are among the most persecuted groups in America today; in early November, Human Rights Campaign noted that 23 transgender women have been killed in 2017 alone, 21 of them racial minorities.
In her acceptance speech on Tuesday, Jenkins touched on the discrimination that trans women of color face, and spoke of her vision for the future:
As an African American trans-identified woman, I know firsthand the feeling of being marginalized, left out, thrown under the bus. Those days are over. We don't just want a seat at the table, we want to set the table.
And another transgender woman broke a glass ceiling on Tuesday — Lisa Middleton, who was elected to city council in Palm Springs and became California's first openly transgender non-judicial elected official.
Over in Seattle, Washington, Jenny Durkins made her mark when she was elected mayor of the city. Durkins will be Seattle's first openly lesbian mayor, and only the second in the country. What's more, she's also the city's first female mayor since the 1920s, something she joked about after she was declared mayor-elect.
"Ninety-two years later, Seattle is about to have a new woman mayor," she told The Seattle Times after her win. "Just imagine what they're going to blame on me."
Women weren't the only ones who triumphed on Tuesday. Tyler Titus, a 33-year-old father, was elected member of the Erie School Board, making him the first ever transgender person to hold elected office in Pennsylvania's history.
In a statement following Titus' win, Victory Fund President and CEO Aisha C. Moodie-Mills told PennLive that it was a "historic night for trans candidates" in the country, adding, "Tyler is part of a vanguard of leaders who are determined to be part of the conversation on issues that affect their lives."
The election results on Tuesday night are significant. As the federal government continues to clamp down on LGBTQ rights through various "religious liberty" policies, that LGBTQ people can run for office and achieve resounding victories speaks to the tide of progress on the local level.
Representation matters, particularly in politics today. If Tuesday night is a precursor for the future, expect more LGBTQ people to run for office — and win handily.