Every Single "First" From The Magical 2017 Election Night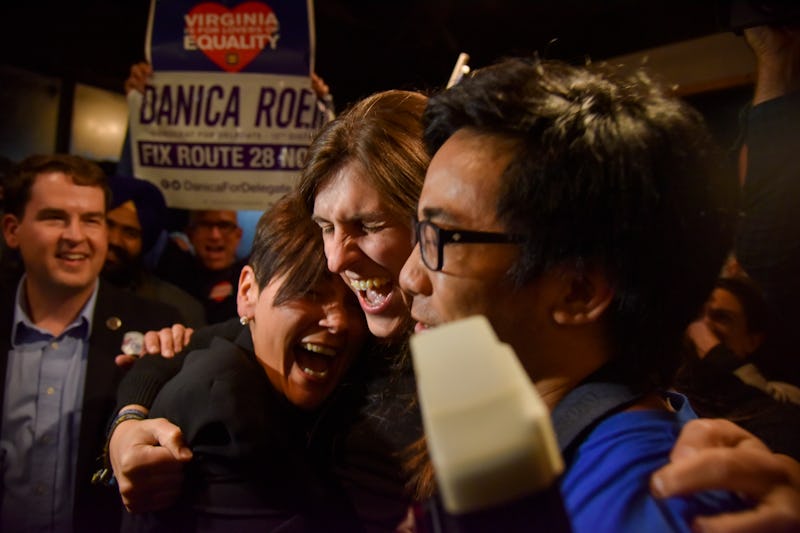 The Washington Post/The Washington Post/Getty Images
Ayala One year after a shocking presidential election result, Americans headed to the polling stations again on Nov. 7, 2017, this time to vote in crucial local elections. As the clock ticked towards midnight, the results came in with a resounding Democratic sweep on every level. In fact, the 2017 election night saw so many firsts that those watching on Twitter noted they felt an emotion that, in this relentlessly disheartening news cycle, felt somewhat unfamiliar: Hope.
In elections across the country, LGBTQ people, African Americans, Asian Americans, refugees, and Latina women running as Democrats trounced their Republican opponents. In some instances, the conservative politicians they ran against had openly denigrated their identities and pushed agendas that harmed their communities.
The Tuesday night elections were an important one for the Democratic Party. Many saw it as a final chance for Democrats to prove they could win elections in Trump's America. They had already suffered multiple defeats in June's special elections, and with the recent internal controversy stirred up by former Democratic National Committee chair Donna Brazile's new book, the party's prospects looked uncertain. But the roaring victories on Nov. 7 unveiled a colorful new crop of Democrats who could well represent the future of the Democratic party — and perhaps even the country.
Andrea Jenkins, Minneapolis
Jenkins made history on Tuesday night when Minneapolis voters elected her to the city council. She is the first openly transgender black woman elected to public office in the U.S.
Amid a deeply hostile climate for transgender women of color, Jenkins' win is remarkable. "As an African American trans-identified woman, I know firsthand the feeling of being marginalized, left out, thrown under the bus," she said in her victory speech. "Those days are over. We don't just want a seat at the table, we want to set the table."
Danica Roem, Virginia
On Tuesday evening, Roem was declared winner in the race for Virginia state delegate, making her the U.S.' first openly transgender state legislator in history. Throughout the campaign, Roem — who is also the singer of a metal band — tackled questions about her identity head on without neglecting local issues like traffic and education.
Her win didn't come easy; Roem's opponent, Republican incumbent Bob Marshall, refused to refer to her using female pronouns and was an avowed anti-transgender lawmaker who authored the state's bathroom bill. After she won on Tuesday, when asked about Marshall, Roem said: "I don't attack my constituents. Bob is my constituent now."
Vi Lyles, Charlotte, NC
On Tuesday night, Lyles became the first black woman elected mayor of Charlotte, North Carolina, defeating incumbent Republican Kenny Smith.
After the results of the election came in, an emotional Lyles told her supporters, "You've proven that a woman whose father didn't graduate from high school can become this city's first female African-American mayor," according to the Charlotte Observer.
Kathy Tran, Virginia
Of all the places that saw huge progressive wins on Tuesday night, Virginia was on the top of the list. Tran, a refugee from Vietnam who came to the U.S. as a baby, became the first Asian American woman elected to Virginia's House of Delegates.
Tran was a first-time candidate and among the many women who decided to run for office after Donald Trump's election last year. Tran told CityLab that her daughter, Elise Minh Khanh — who was born days after the inauguration — was part of the reason she decided to run. "I couldn't sit on the sidelines and leave [her daughter] with this responsibility," Tran reportedly said. "The time was now for me to stand up and fight hard for my kids."
Justin Fairfax, Virginia
Alongside governor-elect Ralph Northam, Fairfax defeated his Republican opponent in the lieutenant governor race, Jill Vogel. A former federal prosecutor, he is only the second African American to win a statewide race in Virginia's history. Like Tran, this will be the first time Northam holds public office.
At a victory party on Tuesday night, Northam told his supporters:
I am so grateful for this opportunity. We are changing the course of history in this commonwealth.
Ravinder Bhalla, New Jersey
In the week leading up to the Hoboken mayoral election, racist flyers calling Bhalla a terrorist were distributed across the city. Despite the ugly attack on his identity, Bhalla was elected mayor of Hoboken, becoming the New Jersey city's first-ever Sikh mayor.
Sheila Oliver, New Jersey
Democrats went from zero black lieutenant governors to two overnight. Oliver was elected New Jersey's lieutenant governor on Nov. 7, after already making history for becoming the first black woman to be elected Assembly Speaker in New Jersey, and the second in all of the U.S.
"I hope somewhere in this great state of New Jersey, a young girl of color is watching tonight and realizing that she does not have a limit to how high she can go," Oliver said at the victory party.
Jenny Durkan, Seattle
Durkan's election as Seattle mayor on Tuesday night is another one for the history books: she will become the city's first openly lesbian mayor, and only the second lesbian mayor of a major U.S. city. Durkan is also Seattle's first female mayor in 90 years.
Janet Diaz, Pennsylvania
Diaz announced her candidacy for Lancaster City Council in January with a bang. "We need a government that looks like the people it serves ... that looks like its constituents," Diaz said at the time. On Tuesday, she became the first Latina member of the Pennsylvania city council.
Wilmot Collins, Montana
Wilmot Collins, a refugee who fled Liberia decades ago, became the first black mayor Montana's ever had. Collins will lead the state's capital, Helena, after defeating four-term incumbent Jim Smith on Tuesday. His spokesperson told the New York Daily News:
After last night's historic firsts for many leaders across the country, Wilmot is confident that the future of this country favors a union of people from all different walks of life.
Mazahir Salih, Iowa
Iowa made headlines on Nov. 7, too. Salih became the first Sudanese American elected to the Iowa City Council in history. A former community organizer, this is her first time holding public office.
Lisa Middleton, California
Middleton was elected a member of the Palm Springs city council on Tuesday night, marking another monumental win for the LGBTQ community. She is the first openly transgender person to win an election to a non-judicial office in California.
Yvonne Spicer, Massachusetts
Spicer won a special seat on Tuesday, after voters elected her as first-ever mayor of Massachusetts' new city, Framingham. (Framingham changed its status from town to city, and Spicer picked up the open position for mayor.)
Mary Parham Copelan, Georgia
In the race to become mayor of Milledgeville, Georgia, Copelan beat her opponent by a mere six votes.
Every. Vote. Counts.
Tyler Titus, Pennsylvania
Another transgender candidate made history on Tuesday, when Titus was elected Erie City School Director. He is Pennsylvania's first openly transgender elected official. Victory Fund President and CEO Aisha C. Moodie-Mills told PennLive in a statement after his win:
Tyler Titus shattered a lavender ceiling in Pennsylvania today — and his victory will resonate well-beyond state boundaries. ... This is a historic night for trans candidates across the country — and Tyler is part of a vanguard of leaders who are determined to be part of the conversation on issues that affect their lives.
Elizabeth Guzman, Virginia
Guzman became one of the first two Latina state representatives in Virginia's history. She ousted an NRA-friendly Republican incumbent, Scott Lingamfelter. "Our delegate never stood up for the Latino community, and I wish he had," Guzman said after her win. "But I hope tonight sends a message loud and clear; everyone is welcome in Prince William County."
Hala Ayala, Virginia
Like Guzman, Ayala became one of Virginia House of Delegates' first Latina representatives. Ayala also defeated a Republican incumbent, Rich Anderson.
Melvin Carter, Minnesota
Carter won the St. Paul mayoral election by a landslide on Tuesday, making him the first African American to ever become the city's mayor. Minnesota governor Mark Dayton said in a statement during the mayoral campaign:
Melvin Carter has been a thoughtful, passionate, and effective leader, who has worked hard to give kids strong starts and better chances of success in school and life.
Joyce Craig, New Hampshire
Craig will become the first female mayor of New Hampshire's largest city, Manchester. She defeated a four-term Republican incumbent, Mayor Ted Gatsas, by a few hundred votes.
Jonathan McCollar, Georgia
Seven African American candidates won their mayoral races on Tuesday. Among them was McCollar, who ran on a platform of change and diversity. According to WTOC, he said after his win:
It's that the city was ready for a change. This is just evidence of the work of the people that were part of this movement.
Brendon Barber, South Carolina
Georgetown, South Carolina, has a new mayor, Brendon Barber, marking the first time an African American will lead the city in that post. Barber reportedly won 60 percent of the vote.
Cathy Murillo, California
Santa Barbara elected its first Latina mayor in history on Tuesday when they voted for Murillo. She's no newbie; Murillo was city councilwoman since 2011.
Laura Curran, New York
Campaigning on an anti-corruption platform, Curran, a Democrat, became the Nassau County's first female executive. After her win, she said, "Now, we have to come together — all of us — Democrats, Republicans, and independents, so we can enact the safeguards needed to stop corruption before it can happen, and ensure that our tax dollars are going only to real, critical government services."
Booker Gainor, Georgia
Gainor is among the seven people who became an American city's first black mayor when he was elected to lead Cairo, Georgia, on Tuesday. "It feels amazing," the 27-year-old said of his win. "I don't even know how to describe it."