Trump Stared At The Eclipse Without Glasses & Twitter Knew This Would Happen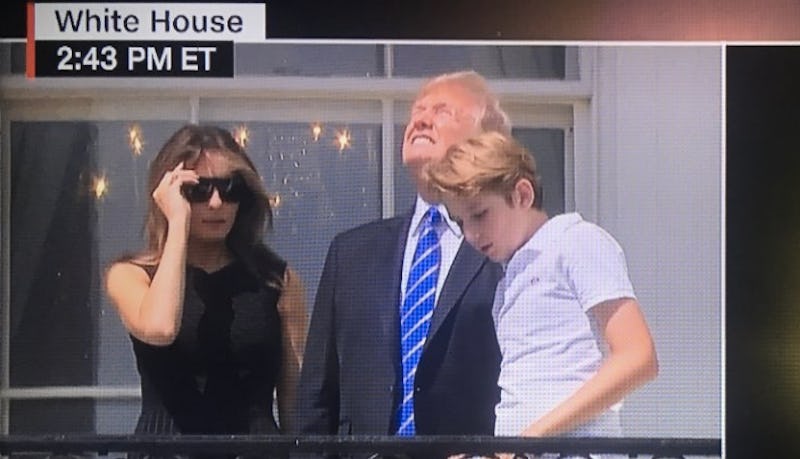 CNN
As Americans across the country rushed to witness the total solar eclipse on Monday, Donald Trump looked at the solar eclipse without glasses. The report of Trump glaring into the total solar eclipse came from Ted Mann, a journalist working for the Wall Street Journal. Mann tweeted an image of Trump standing next to his wife Melania and son Barron while squinting at the sky from the terrace of the White House. "As [Trump] did this, someone in a crowd of aides below shouted, 'Don't look.'" Clearly, the president paid no heed to the advice and decided to lock eyes with the sun.
The incident may have stunned some, but many on Twitter had already kind of predicted the scenario, with jokes about the president refusing to believe the scientific fact that looking at a total solar eclipse could cause significant damage to one's vision.
In a video shared by Evan McMurry, you can hear someone shout at Trump, "Don't look!" But the president can be seen smiling happily standing next to the First Lady, gesturing, and then pointing at the sky while looking at the eclipse. Several in the crowd laughed incredulously at the spectacle.
Naturally, Twitter came out with the jokes.
1. This GIF
Just glaring up.
2. Fake News!
An inevitable "fake news" joke.
3. Is He Even Listening?
Doing what he pleases.
4. Don't Look
A man of his own will.
5. A Pretty Great Tucker Carlson Joke
This rules.
6. Worth Pondering Over
It's a reasonable question.
7. Sad!
"Only losers take advice from scientists. Sad!"
8. He Doesn't Care, It Seems
9. Both Sides
You have to blame the sun and the moon.
10. Peak Trump
For some, this scenario encapsulated what Trump meant to them.
11. Embarrassing
For others, it was just embarrassing.
12. Drama
A few had a rather dramatic interpretation of events.
13. Unbelievable
For some, it is still stunning that he did it.
14. Trump Beat You To It
Many noticed how their jokes turned out to be true.
15. A Glorious Close-Up
Just basking in the sun.
On a more serious note, however, it is important to remember that solar retinopathy is an actual thing with actual consequences for your eyesight. Staring at a solar eclipse is uniquely devastating for your eyes because our natural reaction to avert our gaze is lowered during the dim light of a solar eclipse. But the damage is just as bad, if not more, as staring at the regular sun.
If you really want to look at the total solar eclipse, just invest in proper glasses or create your own pinhole camera. And remember that it's always better to be safe than sorry.
Want To Know More About Trump & The Eclipse?
Eclipse-Loving Trump Has Yet To Appoint Someone To Run NASA
So, For Real Though, Is Trump Going To Go Blind Now?
This Moment Might Actually Sum Up Trump's Presidency
Photos Of Trump Watching The Eclipse (Sometimes With Glasses!)