Kate Middleton Is Pregnant With Her Third Child & Twitter Is Losing It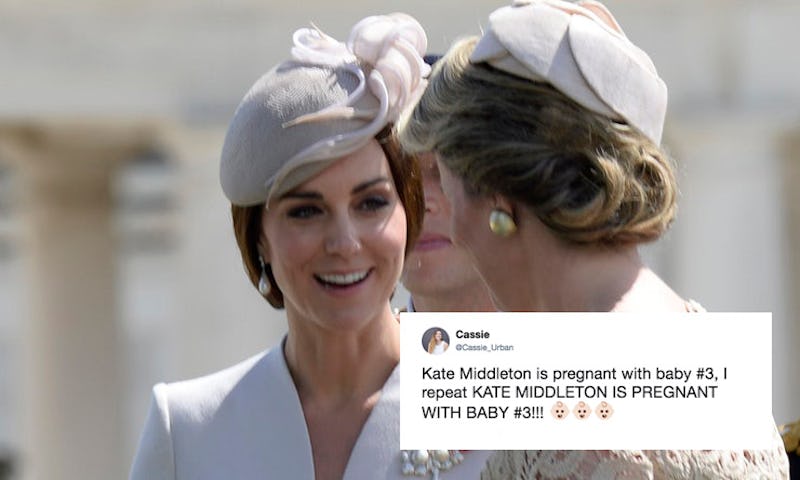 Getty Images/Bustle
Celebrity baby news is often a gold mine for congratulatory tweets, but with royal baby news, the stakes are even higher. So, it's no surprise that the announcement that Kate Middleton is pregnant with her third child has sent social media into a tailspin. In fact, these memes and tweets about Kate Middleton's baby show just how ecstatic fans are to welcome the next royal child.
For those still catching up, Kensington Palace confirmed on Monday via a press release that Prince William and Middleton are expecting their third child, joining son George Alexander Louis, 4, and daughter Charlotte Elizabeth Diana, 2. According to CNN, Middleton is under 12 weeks into her pregnancy, so the baby's gender is not yet known. The couple decided to reveal the news early due to Middleton's illness, which forced her to cancel a planned engagement at the Hornsey Road Children's Centre in London scheduled to take place on Monday morning. As with her previous two pregnancies, Middleton is suffering from hyperemesis gravidarum, a complication that involves nausea and vomiting more severe than the typical morning sickness women endure.
For now, though, she's being cared for at the palace and is doing well, so bring on the celebration.
1. Some Fans Broke Out The Gifs
The gif game is strong.
2. Others Cleared Their Schedules
This news demands immediate attention.
3. This Woman Had No Patience For The Haters
Boy, bye.
4. And This Person Thought It Was About Time Already
Apparently, the palace was looking a little empty.
5. This Guy Noted Their Smart Timing
Well played,.
6. This One Was Concerned For Prince Harry
But he's already a prince, so...
7. While This Person Had An Easy Solution
You've been cordially invited.
8. George, On The Other Hand, Is Sitting Pretty
George is living his best life.
9. Some Fans Couldn't Keep Up
There are already a lot of royals to keep track of.
10. Others Were Already Stoking The Sibling Rivalry
Thanks to some recently abolished antiquated rules, however, Charlotte will still be fourth in line to the throne, regardless of the new baby's gender.
11. But Mostly, People Were Just Freaking Out
This is not a drill.
The internet is happy for Will and Kate, and the celebratory fever is catching.