Twitter Had FEELINGS About Bradley Cooper & Lady Gaga's Oscars Performance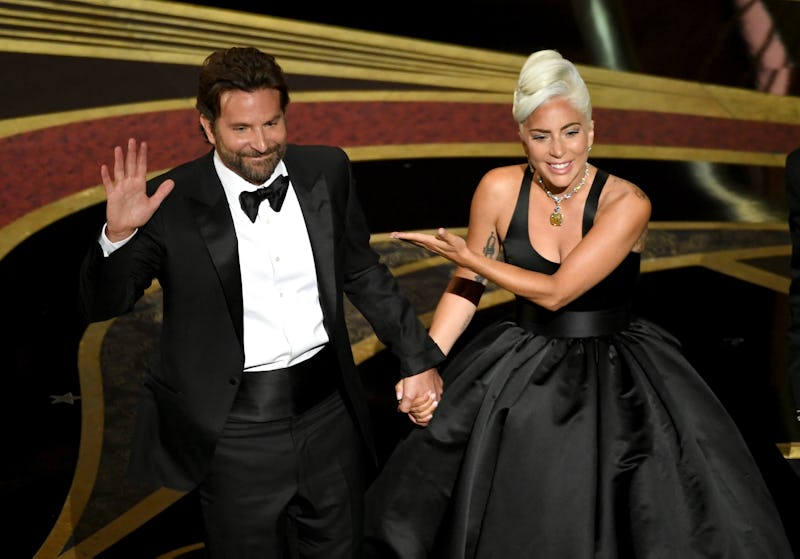 Kevin Winter/Getty Images Entertainment/Getty Images
A Star Is Born is arguably one of the fan-favorite movies of the year, whether it wins all the awards or not. That's mostly because of the song from the movie, "Shallow," becoming such a hit since it's release — even if you haven't watched the movie, you likely know the tune. And Lady Gaga and Bradley Cooper's Oscar performance of "Shallow" paid tribute to just how extra the song, the movie, and the chemistry between these two stars really is.
It was really intense, and that much was clear to everyone watching the performance. It began with a crew setting up a piano and two mics and just walking off stage. Then, Cooper and Gaga walked onto the stage together from the crowd. The duo then launched right into the song, each of them doing the most. The song is power ballad-y enough, but Cooper and Gaga brought some intense energy to the performance.
For the end of the song, Cooper walked around the piano and sat down next to Gaga. There was a moment where Gaga looked at him as he leaned in to share the mic.
Before we get into how people reacted, it should be noted that these two are actors who played a couple in the movie. Basically, they're trained to make you believe that they're really feeling it for each other. It's their job. Not to mention, Cooper is in a long-term relationship with Irina Shayk, and Gaga just called off her engagement to Christian Carino earlier this month — so IRL, they are definitely not a couple.
That being said, people were having some real reactions to the two on stage together.
They Just Stared Into Each Other's Eyes
It Made People Rethink Some Things
You Really Can't Deny This "Love"
Just Look At These Two
Just after the performance, Lady Gaga won the award for Best Song, as if anyone else could have won it post-that piano seat moment. In her speech, Gaga thanked Cooper explicitly, saying, "Bradley, there is not a single person on the planet that could've sang this song with me but you. Thank you for believing in us. Thank you so much."
She added in her speech, "And if you are at home, and you're sitting on your couch and you're watching this right now, all I have to say is that this is hard work. I've worked hard for a long time, and it's not about, you know...it's not about winning. But what it's about is not giving up. If you have a dream, fight for it."