These Photos Of George H.W. Bush Honor Major Milestones In His Life
by Priscilla Totiyapungprasert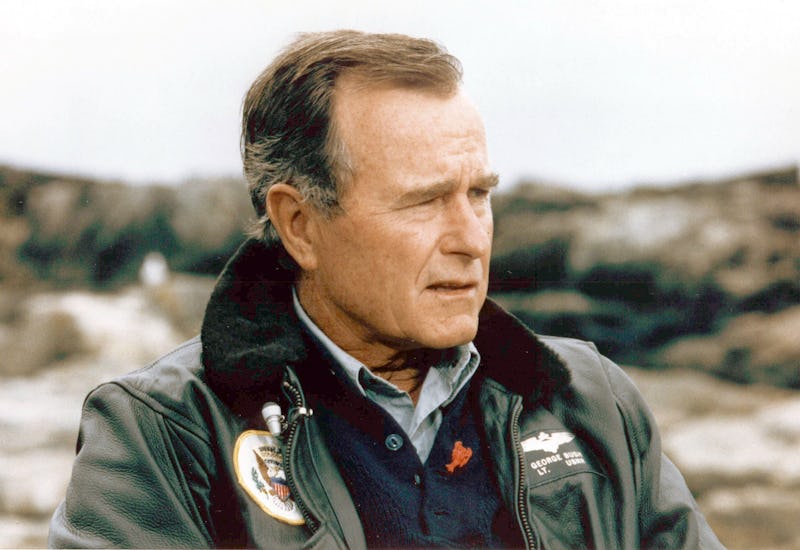 Greg Mathieson/Shutterstock
With his recent death, Americans are taking the time to look back at photos of George H.W. Bush to remember his life, his highs and lows, and the national impact of the Bush family political dynasty. The 41st president of the United States died at age 94.
The former president had been in and out of the hospital since his wife, Barbara Bush, died on April 17 at the age of 92. He and Barbara were married for 73 years before she passed away. The couple had been in declining health, but George H.W. held the distinction of being America's longest-living president.
The Bush family is now in the midst of planning its second funeral this year. Bush's illustrious career in highly public positions includes several government jobs before serving 41st president of the United States. Upon Bush's death, George W. Bush released the following statement through a spokesperson:
Jeb, Neil, Marvin, Doro, and I are saddened to announce that after 94 remarkable years, our dear Dad has died. George H.W. Bush was a man of the highest character and the best dad a son or daughter could ask for. The entire Bush family is deeply grateful for 41's life and love, for the compassion of those who have cared and prayed for Dad, and for the condolences of our friends and fellow citizens.
Bush and his wife were teenage sweethearts who had six children after marrying. Two of their children became politicians: former President George W. Bush and former Florida Gov. Jeb Bush. In memory of their father, below are moments in the life of the the late Bush Sr., as told in pictures that depict his relationship with Barbara, his career, and even his love for baseball.