14 Photos Of Melania & Trump Over The Years That Show Their Transformation As A Couple
by Priscilla Totiyapungprasert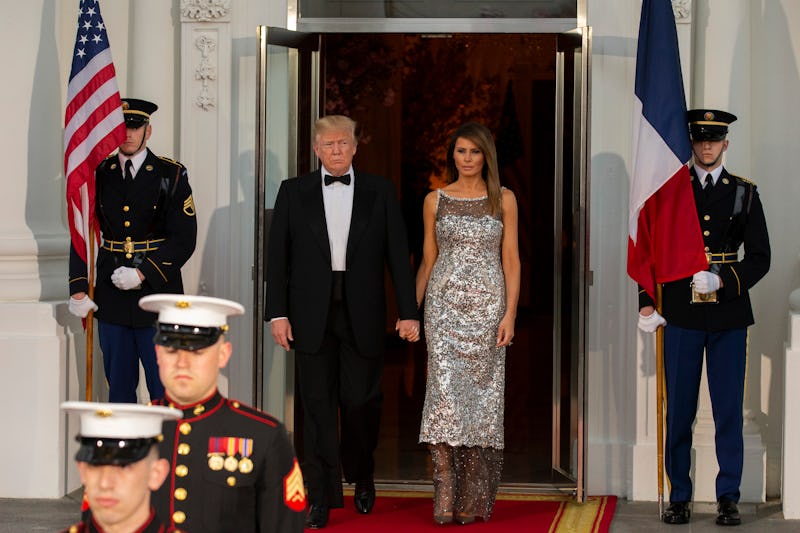 Pool/Getty Images News/Getty Images
Most serious couples, including Melania and Donald Trump, go through changes in their relationship as they navigate life's twists and turns together. The celebrity of being president and first lady, however, puts those changes in the public spotlight. The couple has certainly weathered some major changes in recent years, and photos of Trump and Melania show how their relationship has been portrayed to the public over the past decade or so.
Body language experts have pored over photos and videos of Trump and Melania, analyzing every hand hold and hand swat. And the verdict speculates that these are two people who might not feel the same way they felt when they first got together. "There is evidence that they are not happy," Patti Wood told Bustle in November 2017. She contrasted their tense, non-verbal communication to the warmth of the Obamas.
"Obama would offer helpful gestures, like helping her into places. Putting an arm around her," Wood said. "There were spontaneous little moments of leaning in and touch. Those tiny moments of affection show real support for one another." Unless you personally know the Trumps and interact with them on a personal level, you can't judge the state of their marriage with certainty. Who knows — maybe behind the scenes Trump and Melania really are cozied up in warm, loving bliss.
But let's look at some photos of Trump and Melania to see how their relationship has seemed to evolve, for better or worse, since Trump won the election.