What Body Language Experts Have To Say About Trump Awkwardly Trying To Hold Melania's Hand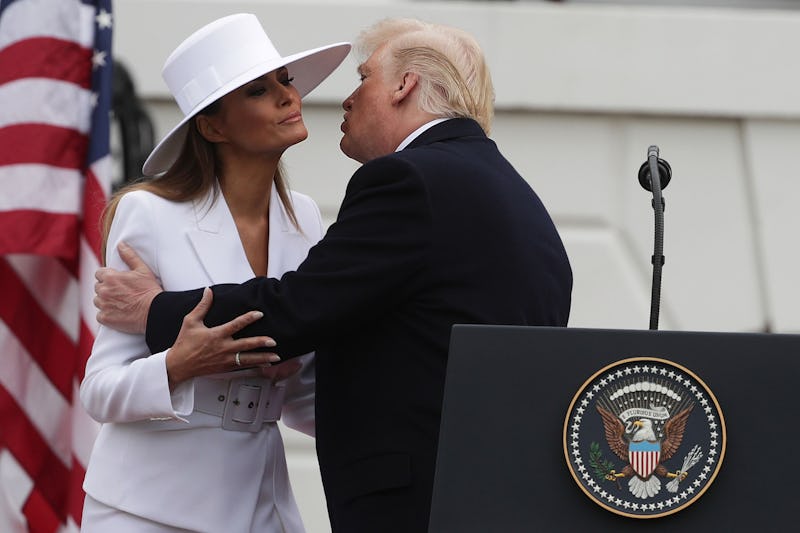 Alex Wong/Getty Images News/Getty Images
This week, President Trump greeted French President Emmanuel Macron, who's in Washington for a three-day visit to the White House. Donald Trump, Melania Trump, Macron, and French first lady Brigitte Macron all appeared in front of the press, and many noted a series of awkward physical encounters between them. Bustle asked several body language experts about Trump and Melania's hand-holding struggles, as well as other interactions between them on Tuesday.
In one clip from Tuesday, Trump is seen attempting to hold Melania's hand, brushing his fingers against hers for several seconds, but she doesn't react or take his hand. After about 10 seconds, she finally acquiesces. In another interaction, Trump appeared to give Melania a "phantom kiss," stopping several inches short of actually touching his wife but planting a bona fide smooch on Brigitte's cheek.
Body language expert Chris Ulrich tells Bustle that it's important to view interactions such as this in context, and that while it may be tempting to draw sweeping conclusions about the first couple's relationship based on their difficulty in holding hands, it's a bit more complicated than that.
"We don't know what it's about," Ulrich tells Bustle. "It could be like, 'no, not now, now's not the right time.' Or it could be, 'don't you try to hold my hand!' We don't know." He added that it's entirely possible that the two were simply unsure of what's the proper hand-holding protocol at an official state dinner.
Nevertheless, Ulrich says that in the totality of Trump's interactions with Melania, "there's a perceived tension going on between the two of them," and that "we continue to see signs of it" in their public appearances. He notes that the two are often "not in congruence" when they walk side by side, and that this can give an impression of separation between the two of them.
"When we see those moments between Trump and Melania, there's a perception that there is potential tension there," Ulrich says. "What that tension is about, we don't know. If we really wanted to know, we'd have to sit them down, or at least ask her, 'what's going on for you? Why did you snap his hand away?'"
Another expert on body language, Patti Wood, tells Bustle that the awkward hand-holding might indeed tell us something — not about the Trumps' relationship, but about the president's political calculus.
"He made multiple attempts [to hold her hand], which is a little more humbling on his part — giving away a little bit of his power to do so," Wood tells Bustle. "And the way he did it was slightly tender."
But that doesn't mean Trump's attempt at hand-holding was motivated by tenderness, or indeed, by anything relating to his relationship with his Melania. Wood believes that instead, Trump was aware of Macron's presence, and may have simply been trying to avoid being outdone by his guest.
"I was seeing Macron with his wife, and how affectionate they are, and how happy she was, and even her making a little bit of an attempt to make sure she was holding hands with her husband," Wood explains. "I believe Trump's motivation in that moment, putting his fingers out to hold her hand, was so that he would look better."
Interestingly, both Ulrich and Wood point out that there's been a marked change in how Trump and Melania interact since Trump launched his political career. Ulrich says that Melania was "much more at ease" in her public appearances before Trump was a presidential candidate, while Wood notes that two "had a very affectionate relationship" when they were merely private citizens.
This changed when Trump entered politics, however. Melania has been "incredibly tense" in Trump's presence since he became a politician, Wood says, "with her arms close to her body and her legs close together," while Trump too has backed off of the physical affection.
"To me, changes of any kind are revealing," Wood adds. "[Trump] made a decision early on in his run for office not to be sexually affectionate with her in public, and I believe that was a bid for power. I think he said, 'I want to be seen as their president, and I want to be seen as powerful.'"
Lastly, Wood notes that the phantom kiss incident between Trump and Melania from Tuesday may not be as meaningful as it appeared. Wood explains: "He didn't know how to get around her hat."