These Photos Of Pandemic Plastic Fitness Pods Are As Post-Apocalyptic As You'd Imagine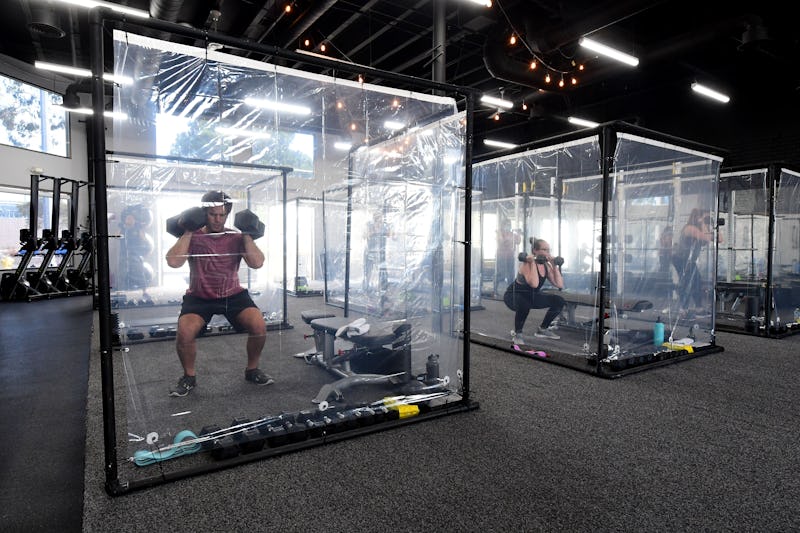 FREDERIC J. BROWN/AFP/Getty Images
Move over, Facebook barre fusion classes. Get outta here, Zoom Zumba. The next innovation in pandemic fitness is plastic exercise pods. As AFP news agency reports, one California gym is using plastic fitness pods to help enforce social distancing rules as the state starts to reopen. So, whoever has "living out my Bubble Boy fantasies" on their pandemic bingo card wins.
On June 12, California schools, bars, gyms, and a handful of other facilities in the state could reopen after an order from Governor Gavin Newsom. Of course, reopening comes with more than a few caveats. Per rules from the California Department of Health, in order to reopen, gyms have to abide by a number of stricter health and safety guidelines. This includes things like requiring guests to wear masks while entering and exiting the gym, encouraging the use of masks while working out, more stringent sanitation processes, and consistently enforcing social distancing guidelines. The guidelines also recommend fitness centers like yoga studios require guests to bring their own mats and towels. While "plastic pods" is not listed in the guidelines, Inspire South Bay Fitness in Redondo Beach, California saw an opportunity and just went for it.
The gym has transformed its communal workout space into something that looks like HIIT class meets Love is Blind meets a global pandemic. The pictures are as post-apocalyptic as you'd imagine.