Pics Of Harry & Meghan On The Day Before The Wedding Will Make You Say, "OMG It's Happening!"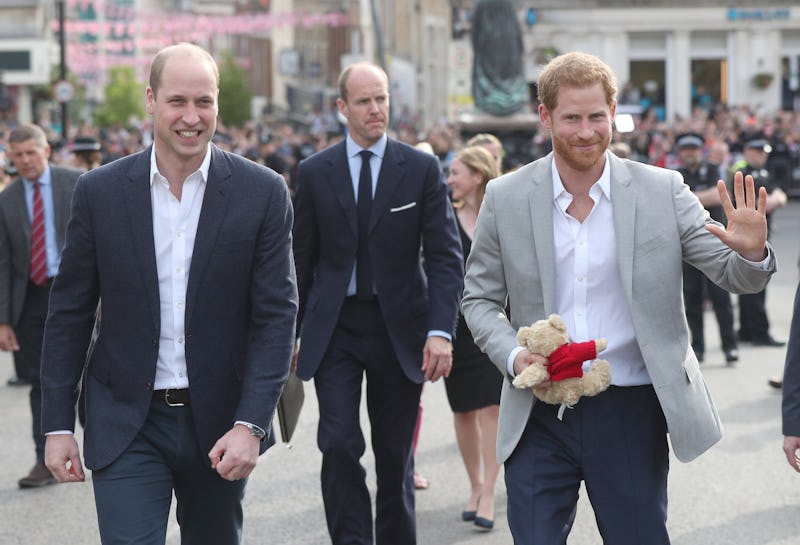 WPA Pool/Getty Images Entertainment/Getty Images
Everything is coming together ahead of Saturday's royal wedding. Prince Harry and Meghan Markle have arrived in Windsor, so it looks like the couple is ready to roll. Here's everything fans know about what Harry and Markle are doing before their wedding on May 19.
The groom spent Friday greeting well-wishers alongside his best man. Prince Harry and Prince William shook hands with crowds in Castle Hill, Windsor, on Friday. CNN reports that the two brothers spent longer with the crowd members than people expected them to, talking with the well-wishers for about 10 minutes. And Prince Harry even had a conversation with a young child, who gave him a stuffed bear.
BBC News reports that before Harry went into Windsor Castle, someone asked him how he felt ahead of the wedding, and he responded, "Relaxed, of course." While he might have been being sarcastic about being relaxed — the wedding is a huge, life-changing event watched by people around the world, after all — he did look overjoyed in all of the photos.
Markle has also arrived to where she'll be staying near Windsor, Kensington Palace has confirmed. She and her mother, Doria Ragland, are spending the night at the Cliveden House hotel in Berkshire. The palace's official Twitter account shared a video showing the two of them walking up to the hotel and waving to cameras.
Friday was a big day for Markle and Ragland, and not just because it was the day before the wedding. According to E!, Ragland met Queen Elizabeth II on Friday, which is a huge step for Markle and Prince Harry. Apparently, the couple had afternoon tea with the Queen and Markle's mother at Windsor Castle.
E! News notes that Ragland also met Prince Charles on Wednesday. Prince Harry, Markle, and her mom had afternoon tea with Prince Charles and Camilla, Duchess of Cornwall at their residence, Clarence House.
Friday wasn't the first time Markle met the Queen, though. During the couple's engagement interview with the BBC last November, Markle described what it was like to meet her the first time. She told the BBC,
"To be able to meet her through his lens, not just with his honor and respect for her as the monarch, but the love that he has for her as his grandmother, all of those layers have been so important for me so that when I met her, I had such a deep understanding and, of course, incredible respect for being able to have that time with her... She's an incredible woman."
The Queen gave her formal consent to Harry and Markle's marriage back in March, so she's clearly on board with the wedding.
While Markle and her mom will spend Friday night at Cliveden House, Prince Harry will be staying at the Coworth Park Hotel, where Prince William will reportedly join him, according to CNN.
It sounds like everything is falling into place for the wedding, with both members of the couple near Windsor ahead of the festivities. And now that there's no more speculation about who will walk Markle down the aisle, it seems like everything is set for the big day. (Markle's father was originally supposed to walk his daughter down the aisle, but since he can no longer make the wedding, Prince Charles will walk Markle down the aisle instead.)
On Saturday, fans watching the televised wedding can expert to see Markle and Ragland arrive at St. George's Chapel together. Prince Harry and Prince William will arrive at the church together, too. Even though Markle's father won't be able to attend the wedding, it sounds like she has plenty of support ahead of the big day.