The Queen's Formal Statement Approving Harry & Meghan's Marriage Is Actually Really Cute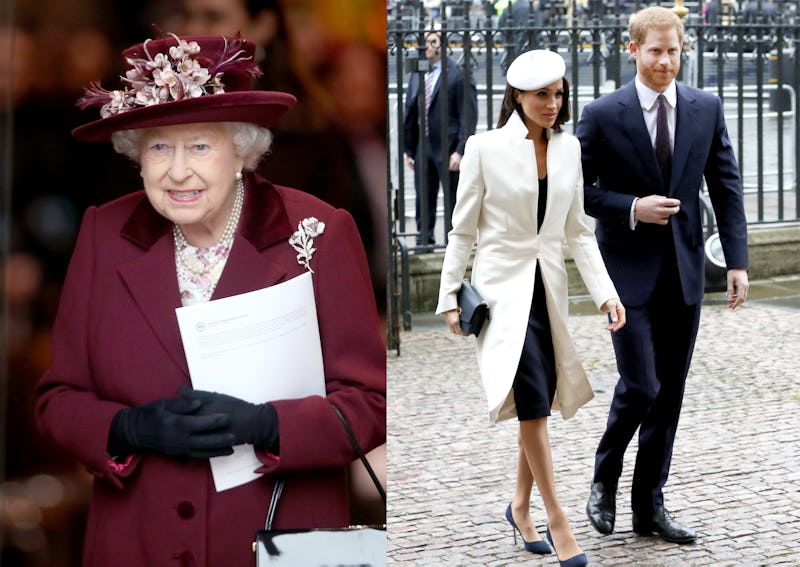 Chris Jackson/Getty Images Entertainment/Getty Images (2)
Prince Harry and Meghan Markle's big day is quickly taking shape. On Thursday, the Daily Mail announced Queen Elizabeth II blessed Harry and Markle's wedding by giving her formal consent. The best part of her statement is how she sweetly refers to Harry by calling him her "most dearly beloved grandson." How cute is that? Here's her statement in full:
My Lords, I declare My Consent to a Contract of Matrimony between My Most Dearly Beloved Grandson Prince Henry Charles Albert David of Wales and Rachel Meghan Markle, which Consent I am causing to be signified under the Great Seal and to be entered in the Books of the Privy Council.
To be fair, the Queen also gave a similar statement when blessing Prince William and Kate Middleton's 2011 wedding. Her formal consent given to William and Middleton in April 2011 read:
NOW KNOW YE that We have consented and do by these Presents signify Our Consent to the contracting of Matrimony between Our Most Dearly Beloved Grandson Prince William Arthur Philip Louis of Wales K.G. and Our Trusty and Well-beloved Catherine Elizabeth Middleton.
It doesn't seem like she was favoring Harry over his big brother by using so many loving adjectives to describe him. As for Markle, the Queen didn't call her "trusty or well-beloved" like she did Middleton, but was only referred to her by her birth name. According to E! News, these aren't the official handwritten documents, but once they are drawn there's a good chance Markle will be praised in a similar fashion to Middleton.
Speaking of the official documents, William and Middleton's papers included decorative artwork that best represented the couple. At the time their "Instrument of Consent" was given, the official British Royal Family website released a statement reading, "A white lily represents St. Catherine of Siena, whose feast day falls on April 29th and with whom Miss Middleton shares her name." It continued, "Beneath it is a Welsh leek surrounded by Prince William's white three-pronged second in line to the throne label and a tiny red escallop from the Spencer family Arms."
Their special artwork even had a red dragon, representing "the heraldic symbol of Wales." In addition, the rose, thistle and shamrock (the United Kingdom's floral emblems), a large gold E for Elizabeth, and William's blue and gold Order of the Garter belt, were also included. It will be interesting to see what artwork is designed for Harry and Markle.
The reason they — and William and Middleton — need Queen Elizabeth's consent to get married dates all the way back to an 18th century law. According to the official British Royal Family website, "Under the Royal Marriages Act 1772, all descendants of King George II must obtain the Sovereign's agreement before they wed."
After Harry and Markle announced their engagement in November 2017, the Queen and her husband, Prince Philip, expressed how "delighted" they were about the news and wished "them every happiness".
On March 12, Markle made her first official appearance with Queen Elizabeth. Alongside Harry, William, and Middleton, they celebrated Commonwealth Day at Westminster Abbey. Their joint appearance was a big deal because Markle and Harry aren't married yet. Unlike Middleton, who didn't make any official appearances with the Queen until after she and William said "I do", Markle has already spent quite a bit of time with Harry's grandmother. She even attended her first royal Christmas in December 2017. Middleton didn't have her first Christmas with William's family until eight months after they married. Markle's definitely making a name for herself as a soon-to-be royal.
It's good to see the Queen has blessed Harry and Markle's wedding. Now all everyone has to do is wait until May 19 to see them finally tie the knot.