Prince Charles Is Officially Walking Meghan Markle Down The Aisle Instead Of Her Dad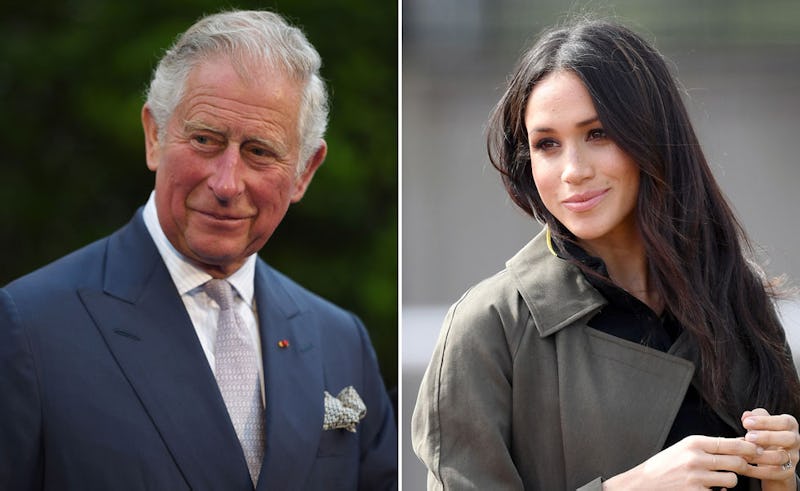 Jean-Pierre Amet/Getty Samir Hussein /Getty
After days of speculation, Kensington Palace has announced Prince Charles will walk Meghan Markle down the aisle at her wedding to Prince Harry on Saturday. The American actress had previously said it would be her father, Thomas Markle, who would escort her into St George's Chapel in Windsor on May 19. However, after Thomas Markle underwent heart surgery, the Palace reported via a statement from the bride-to-be that he would no longer be attending the wedding.
Speculation as to who would fill his shoes followed, with The Independent reporting that Markle might ask her mother, Doria Ragland, to do the honors. But instead she has asked Harry's father, the Prince of Wales, to give her away. Meanwhile, the bride's mom will accompany her to the chapel in the bridal car.
Kensington Palace confirmed the news in a statement:
Ms. Meghan Markle has asked His Royal Highness The Prince of Wales to accompany her down the aisle of the Quire of St George's Chapel on her Wedding Day. The Prince of Wales is pleased to be able to welcome Ms. Markle to The Royal Family in this way.
Prince Charles previously expressed his excitement at the couple's upcoming nuptials, telling press while in Nice on May 9: "It's absolutely marvellous. It's going to be a very special day for everybody."
The build-up to the royal wedding hasn't been without some road bumps. Earlier this week, doubt was cast over whether Thomas would be attending his daughter's wedding after it was reported by the Mail on Sunday that he had posed for paparazzi photos. Kensington Palace issued the following about the reports on May 14: "This is a deeply personal moment for Ms. Markle in the days before her wedding. She and Prince Harry ask again for understanding and respect to be extended to Mr. Markle in this difficult situation."
It was then rumored that Thomas had decided not to attend following the incident. However, according to TMZ, the father-of-the-bride changed his mind after allegedly receiving supportive texts from Markle. "I hate the idea of missing one of the greatest moments in history and walking my daughter down the aisle," he told the site. "Of course I'd walk her down the aisle. This is a historic moment. I'd like to be a part of history."
Sadly, though, TMZ then reported was then given strict instructions by doctors that he would not be well enough unwell to travel to the UK to walk his daughter down the aisle following his heart surgery. The site claims Thomas said that his heart was "seriously damaged" after he reportedly suffered a heart attack two weeks ago.
Markle confirmed in a statement on Thursday that her dad would remain in the U.S. to focus on his health following the procedure. She said: "Sadly, my father will not be attending our wedding. I have always cared for my father and hope he can be given the space he needs to focus on his health. I would like to thank everyone who has offered generous messages of support. Please know how much Harry and I look forward to sharing our special day with you on Saturday."
On a brighter note, Buckingham Palace confirmed on Friday that Prince Philip will be attending the wedding alongside The Queen. There were concerns he would not be well enough to go to the big day after he recently underwent a hip operation. However, doctors have given him the all-clear to watch his grandson get married.
Although the future princess will undoubtedly be sad to not to have her own father by her side on the big day, it looks like the Royal Family will be taking care of her as she prepares to start her new life with Prince Harry.