Here Is Photographic Evidence That Selena Gomez's Blonde Hair Is The REAL DEAL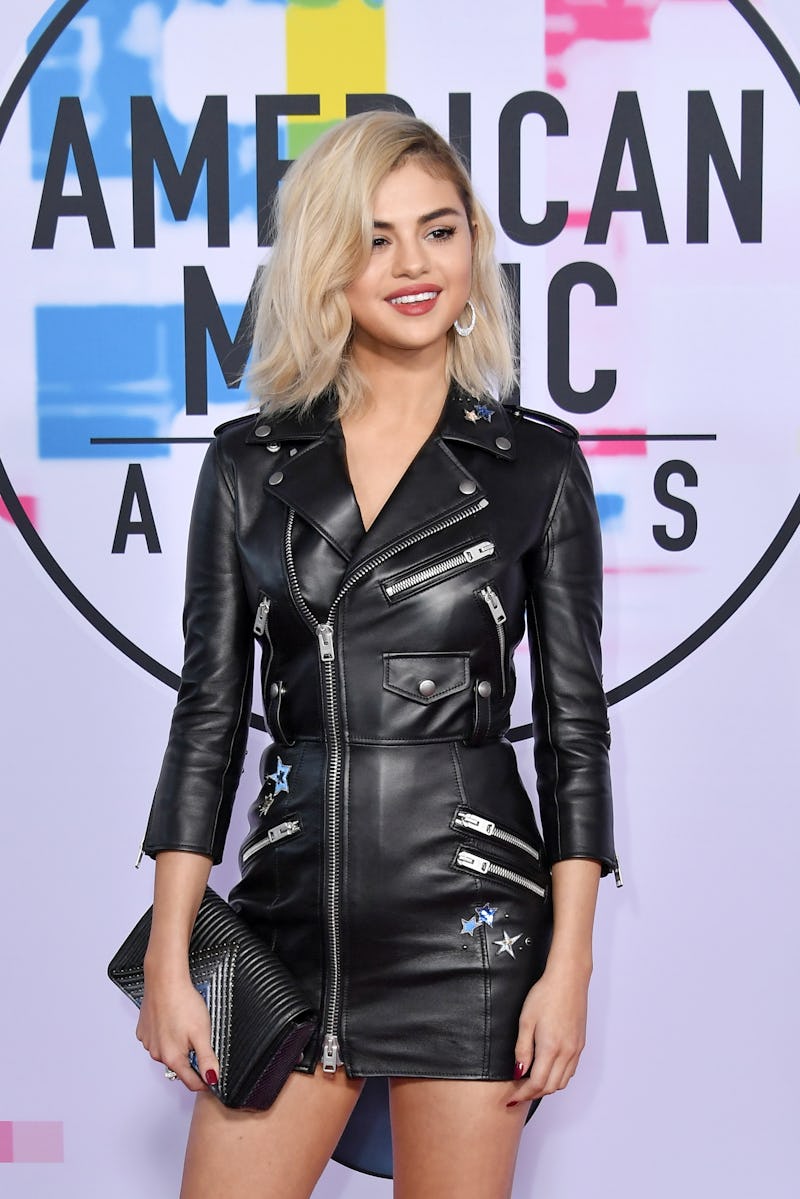 Neilson Barnard/Getty Images Entertainment/Getty Images
Selena Gomez never disappoints on the red carpet, but she certainly can shock. Selena Gomez's blonde hair was a stand-out on the AMA red carpet, and fans can't get enough. The dramatic transition look was stunning on the singer, and while there's some mystery about whether or not the new ashy blonde is real, it hasn't stopped fans from going hard with the Selena love.
While Gomez's red carpet look was stunning — hello, leather mini dress, let's be best friends — it was her hair that stole show on the red carpet. Gomez has never gone blonde in any form be it ashy, platinum, or strawberry. Now, on the red carpet, she took the plunge, and fans are sure to be stoked. Not only is social media losing its mind, but back in 2016, an Instagram fan account was created just to photoshop Gomez with blonde hair. Clearly, Selenators have been awaiting this hair change from her, and on the AMAs red carpet, they got it.
After debuting her look on the red carpet itself, Gomez took to her social media accounts to give an even closer look at her blonde looks. Her blonde polaroids are leading some serious credence to the fact that the hair may be real, and fans can only hope.
Gomez's polaroids make the hair change look incredibly authentic, and that mystery about whether or not the "Wolves" singer is actually rocking real blonde? Well, her hair stylist may have cleared that up. According to a post by stylist Marissa Marino, her color was done by celebriy colorists and Nine Zero One founders Nikki Lee and Riawna Capri. Both Marino and Capri posted Instagram images of Gomez's hair and captioned them with commentary on transitioning to the new "Nirvana" blonde color.
Gomez herself even caption and image on her personal account with "so i am blonde now." For those skeptical of the change, it looks like fans should get used to see the singer with lighter hair because it certainly seems here to stay now.
Gomez didn't just post images either. She also took to Instagram stories to show the hair off in video form, and the just-above-the-shoulder length looks perfectly disheveled in a way mere mortals couldn't possibly achieve.
Those messy, beach waves are the stuff beauty lovers' dreams are made of, and since Gomez is basically the epitome of cool meets classic beauty, of course, she crushing this hair change.
On the AMA red carpet, Gomez's hair looked no less flawless than it did on her Instagram.
The hair change was the perfect compliment to her black leather mini dress with silver zippers. If a look could scream, "I am a badass," Gomez's would be shouting from the rooftops.
Whether its her hair on the red carpet or her AMAs performance of "Wolves," Gomez is officially trending worldwide on Twitter. The general consensus of her Twitter fans? Blonde hair didn't exist before Selena.
While fans had already been pumped for her performance with Marshmellow, they've got a new reason to bow down at the altar of Gomez. From her hair to her outfit to her everything, she slayed the AMAs.
Whether it's Gomez's Instagram polaroids, her red carpet images, or photos from her "Wolves" performance, the one thing everyone can take away from the AMAs is that Gomez's blonde hair is everything.
Regardless of whether you see Selena Gomez's blonde as "Nirvana blonde" has her colorist called it or just a fresh, non-themed change for the star, it's huge. The always brunette star switched things up majorly, and now, fans get even more chances to see what she'll do with the look. Fingers crossed for more to come from Gomez and her blonde locks.