Rachel & Bryan Wedding Updates Reveal What Kind Of Ceremony 'The Bachelorette' Couple Wants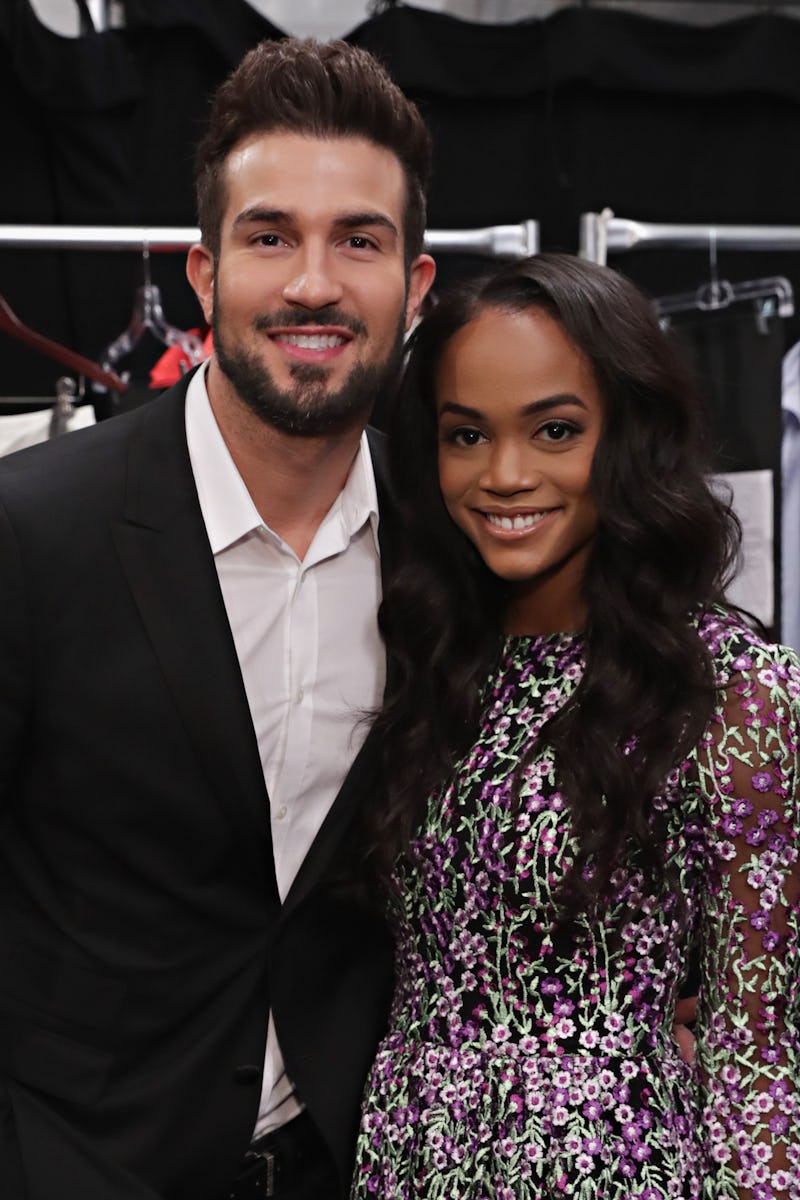 Cindy Ord/Getty Images Entertainment/Getty Images
As The Bachelor gears up for a new season with an old favorite, the Nation's latest success story still has an important chapter left in it. Yes, Rachel & Bryan's Bachelorette wedding is still happening. They're officially living together now, and fans should know more any day now.
A firm date has not been set, but the year has — 2018, according to an interview with People. Whether it's fall, spring, or something else remains to be seen. According to an interview with Us Weekly during her and Bryan's engagement party at the end of November, Rachel said she's ready to elope "tomorrow," but there is still plenty to be done. They're considering a destination wedding, maybe in Colombia. That would take a while to arrange for any couple, much less one that may/or may not be televised.
That isn't to say that some details haven't been worked out already. Rachel is planning on wearing a white suit in lieu of a gown on the big day, according to Us Weekly. At the aforementioned engagement event, Rachel also debuted a bridesmaid dress named in her honor and designed by Monique Lhuillier Bridesmaids that maybe her own team of ladies will be wearing on her big day. Partnering with Wedspire, as Rachel explained in the Instagram below, shows that she's accepting all the planning help she can get.
"I've never been the wedding type to have everything set and all planned," Lindsay said in the interview with People. "I just want good vibes. I want my friends there and my family there and for everyone to have a good time. And I love yellow. If it's in spring, there will be a lot of yellow around," she explained of her vision for the couple's big day. "I don't want it to be too uptight. I want it to be laid-back. I want it to be casual. I want people to feel like they can take off their shoes and dance the night away."
But, will the wedding be televised like Sean and Catherine's or Jade and Tanner's? In an interview with US Weekly, Rachel further discussed her latest thoughts and plans, saying that they're unsure about about whether or not they want ABC cameras there and have not yet reached out to the network. Surely that wouldn't be difficult at all to negotiate and/or pitch, but the couple is entitled to some privacy.
That said, members of Bachelor Nation will definitely be involved. "My new thing is that I think we're going to have a couple of rows," Lindsay said to Us Weekly. "A row dedicated to the girls from [the ABC series] and a front row for my sorority sisters. He's got the same thing, [a row of] Bachelorette guys, fraternity guys." She also said that her bridal party would be family only, just her sisters. That's the best way not to offend any friends, if possible, honestly.
Bryan, on the other hand, is more focused on the holidays than wedding planning at the moment — but at least he's doing them right.
"The bridezilla is going to come out at the bachelorette party," Abasolo joked to Entertainment Tonight, saying that the planning itself wasn't going to get stressful. "She is more excited about the bachelorette party than the wedding."
And, Rachel is also excited for the future after "I do." She told People, "We're both eager to have that family unit. I'm ready to start our life together and I think that's going to be a beautiful thing. We're ready. [Bryan]'s going to be a great dad."
So, while there's no date to save and nothing more than a few vague aesthetic details locked down, never fear. Rachel and Bryan are still going strong, and looking ahead to a life together.