Rachel & Bryan From 'Bachelorette' Just Took A Major Step Together & It's Too Sweet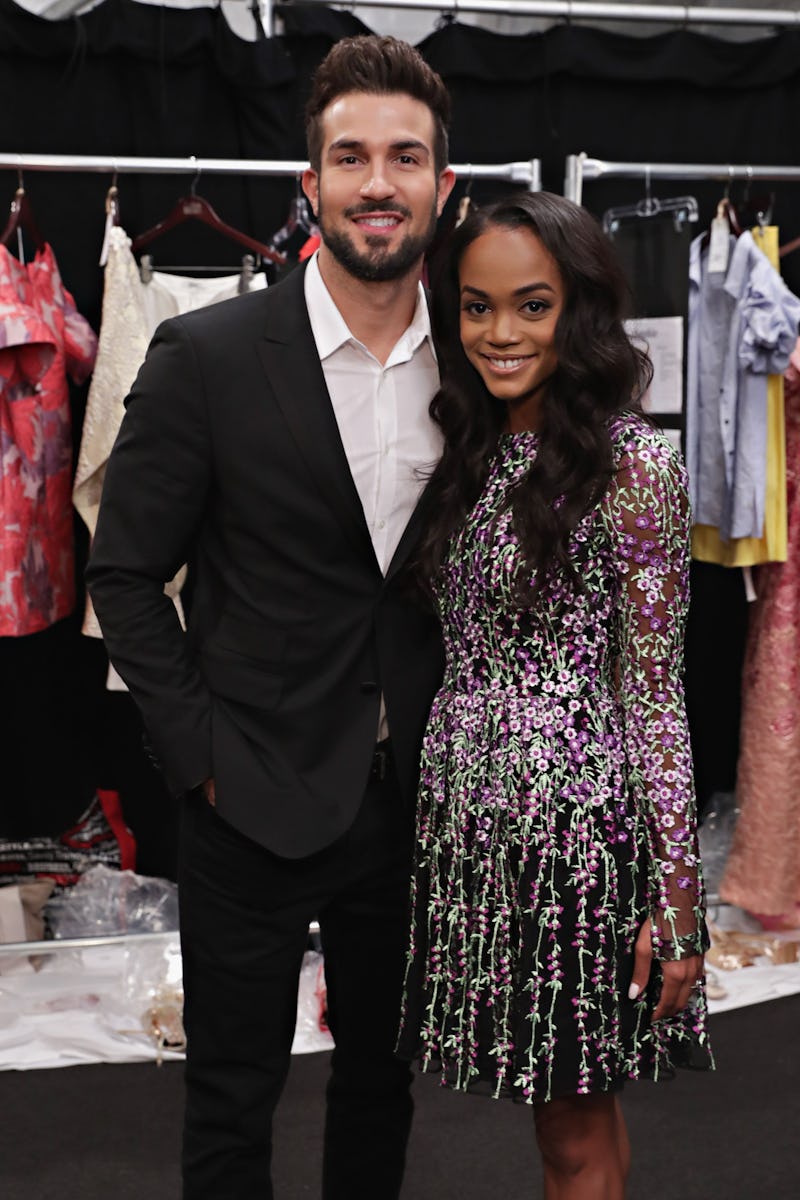 Cindy Ord/Getty Images Entertainment/Getty Images
First comes love, then comes the final rose, then comes moving in together and getting a chiropractic license in another state. (That ditty really has a breezy flow, doesn't it?) In a new interview with Entertainment Tonight, The Bachelorette cutie pies Bryan Abasolo and Rachel Lindsay revealed they've moved in together— and no, they haven't pulled up the stakes and gone to California like they originally said they would. Not yet, at least. Bryan told ET that he's left his hometown of Miami behind and is living full-time in Dallas with Rachel.
When Rachel and Bryan appeared on The Wendy Williams Show back in September, they told the daytime chat show host that they had set their sights on moving to California as a couple. Rachel confirmed that she intends to take the bar exam, and Bryan revealed that he was "in the process of getting [his] license" in the Golden State. He also said he was "taking a break [from practicing] at the moment." It sounded like they were clamoring to get to Los Angeles, and taking steps to make the move happen.
However, when The Bachelorette Season 13 duo spoke to ET's Lauren Zima on Wednesday, they shared a relationship update that didn't involve the West Coast. They confirmed that they are living together in Dallas, and Bryan added that he got a chiropractic license so he can work in Texas. Sort of sounds like they're setting down roots in Rachel's home state, right?
Eh, maybe not. According to ET, the pair may very well be "establishing a permanent residence" in Los Angeles at some point in the near future. The site adds that Bryan interviewed at practices in California back in October, and Rachel's plans to take the bar exam still stand.
So, Bryan went through the trouble of obtaining his license so he could practice in Texas even though they are apparently all about moving to another state? Huh. Hey, can't knock that; if the guy wants to work wherever he is, he's got to do what he's got to do. It might be a while before they do decamp to the City of Angels, and getting a license in the interim can't hurt. Also? Getting certified to work in his fiancée's hometown even though there's a chance they'll leave soon seems like a pretty big relationship step; he's committed to Rachel and to Dallas. So uh, take that, Rachel and Bryan doubters.
Speaking of future plans, Rachel and Bryan told ET that they would like to get married relatively soon. Though the "serious wedding planning" stage has yet to commence, the Bachelorette couple is itching to tie the knot at some point next year. Rachel said,
"Now we're talking about fall. To be honest, I can do spring. It's really been six months at this point, since we've been engaged. We know at this point how we feel about each other and that we want to get married. I used to think spring was too soon. Now I'm like, 'Bring on the spring wedding.'"
And spring, as you might've heard, is sort of around the corner. Rachel and Bryan could feasibly make things official-official in, like, a few months. Aw.
They're living together, getting licenses in new states, eager to marry each other, and potentially packing up and relocating to a new city together. Wendy Williams can doubt the authenticity of a relationship that took shape on a reality TV show all she wants, but you know what? Rachel and Bryan seem genuinely happy, excited about their future together, and in love. And hey, can't knock that, either.