Trump Immediately Labeled Barcelona "Terrorism" & Twitter Is Fuming Over His Hypocrisy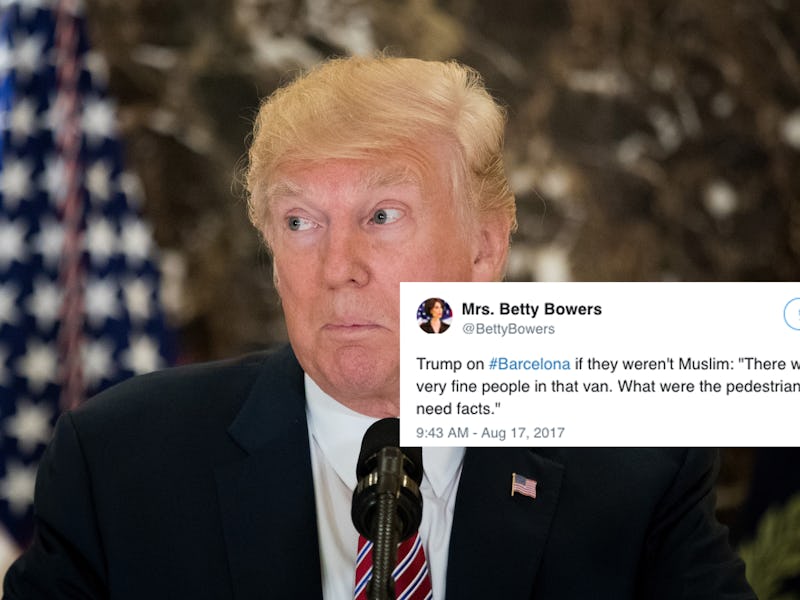 Getty Images
On Thursday morning, a van crashed into a group of tourists near the Las Ramblas neighborhood in Barcelona. More than 10 people are reported dead, with as many as 50 people injured. Local police have deemed the incident a terrorist attack and are investigating the area.
Hours after the attack, the president wrote his condolences to the victims, and people are calling out Trump for his response to Barcelona, and how he called it terrorism without question, much different than his response to last weekend's victims of white supremacist violence in Charlottesville, Virginia.
The United States condemns the terror attack in Barcelona, Spain, and will do whatever is necessary to help. Be tough & strong, we love you!
Trump's refusal to condemn the white supremacists in Charlottesville present a stark contrast to his response to Barcelona. "I think there is blame on both sides. You had a group on one side that was bad. You had a group on the other side that was also very violent. Nobody wants to say that. I'll say it right now," Trump told reporters at The Trump Tower on Tuesday.
During the rally on Saturday, a neo-Nazi hit a group of anti-racist protesters with his car, killing 32-year-old Heather Heyer. Despite this tragedy, Trump did not directly call out the white supremacists or name the incident as terrorism. In contrast, his statement on the Barcelona tragedy is far more direct, and therefore, feels hypocritical to many.
Here are some of the responses to his statement.
This Critique Of Trump's Speedy Response
Calling Out Trump's Racial Double Standard
Using Trump's Own Words To Make A Point
Trump's Defense Of Nazis
The Mysterious Timing
Needles And Pins
That Perfect Jim Carrey GIF
How Trump Treats Islam Vs. White Supremacy
A Meta Critique Of The Liberal Critiques
Deploying The Pig Blood Bullets
An Absurd Shout Out To Gas Station Sushi
When Melania Got Called Out For Tone Policing
The Crucial Reminder That All Of It Is Horrible
When Song Lyrics Are All That's Left
When Even Mario Has No Idea What's Happening
Another Shout Out To Trump's "Both Sides Are Bad" Statement
The Countdown Ahead Of Time
A Time To Place Your Bets
As with all trending topics on Twitter, particularly pertaining to the current political climate, the responses to Trump's hypocrisy are continuing to pile up. Hopefully, in the future we'll reach a place where terrorism is condemned indiscriminately and victims receive justice across the globe. Those recovering from Charlottesville and the Barcelona crash deserve that much.