These Signs People Made For The Royal Wedding Are *Chef's Kiss*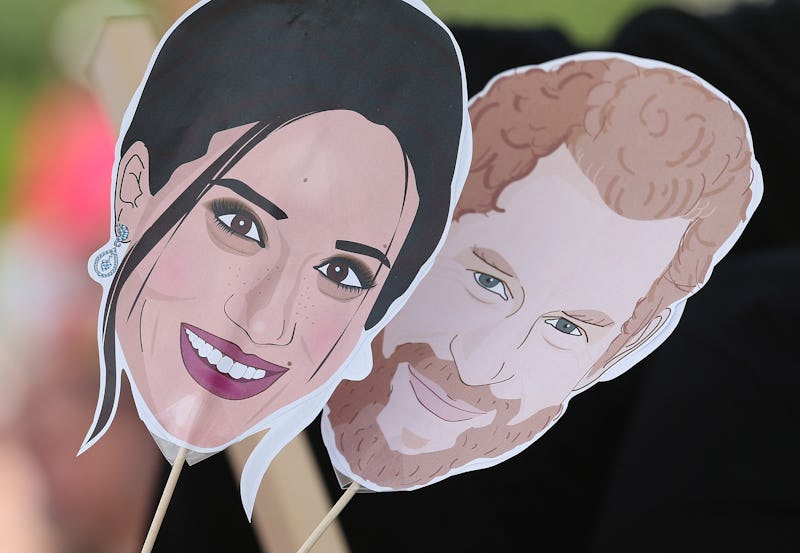 Sean Gallup/Getty Images News/Getty Images
Handmade poster board signs aren't just for protests — they're for royal weddings, too! Spectators at Saturday's royal wedding in Windsor, England, showed their support and excitement for Prince Harry and Meghan Markle's nuptials with signs that ranged from clever to comical and even downright practical.
Markle and Prince Harry said "I do" Saturday at St. George's Chapel at Windsor Castle in a ceremony that melded centuries of British royal traditions with a few modern American ones. Archbishop of Canterbury Justin Welby presided over the ceremony while Presiding Bishop of the American Episcopalian Church Michael Curry delivered an address in which he spoke of love's power and quoted famed civil rights leader Martin Luther King Jr. Other notable speakers included Prince Harry's aunt Lady Jane Fellowes, who is the sister of the late Princess Diana.
In attendance were Queen Elizabeth II and her husband Prince Philip, Harry's father Prince Charles and his wife Camilla Parker Bowles as well as the Duchess of Cambridge, Kate Middleton. Prince William, Prince Harry's older brother, served as the groom's best man.
The couple, which have been given the titles of the Duke and Duchess of Sussex, departed St. George's Chapel in a horse-drawn carriage following the nuptials for a procession through the streets of Windsor. Proving that royal wedding fever is contagious, tens of thousands of spectators lined the streets around Windsor Castle hoping to catch a glimpse of the young newlyweds.
Here's some of the signs that greeted the young royal couple:
I Married A Ginge Too
One royal wedding spectator greeted the newlyweds with a sign celebrating her connection to Meghan Markle. "I married a ginge too," the sign read. Ginge is a pejorative term used to reference people with red hair.
Royal Wedding This Way
Spectators looking to cheer on the newly-married couple welcomed the addition of specially-made "royal wedding this way" road signs on streets around Windsor Castle. Now that's a souvenir.
Everyone Loves A Bobblehead
Spectators from Sussex wished the newly titled Duke and Duchess of Sussex well with a festive sign rimmed in tinsel garland.
Markle & Sparkle
British retailer Marks & Spencer got into the royal wedding spirit by temporarily rebranding themselves "Markle & Sparkle" in honor of Markle's wedding to Prince Harry. While it may not be a handmade poster board sign, it certainly is clever.
Harry & Meghan Central
Marks & Spencer wasn't the only one to catch royal wedding fever. The British railway company Great Western Railway temporarily renamed its Windsor & Eton Central station to Harry & Meghan Central in honor of the big day.
Just Married
While Prince Harry and Markle are unlikely to make their wedding departure by train, Great Western Railway also gave one of the trains servicing its Slough-Windsor line a "just married" makeover to celebrate the young royal couple's wedding.
Here In Spirit
One festive spectator brought a sign celebrating Prince Harry's mother, the late Princess Diana. The brightly-colored sign featured hand-drawn hearts surrounding a photo of Princess Diana and the words "here in spirit." The phrases "Meghan we are here for you" and "Prince Harry you are our prince" were also visible on the sign.
Meghan Suits You Harry
Some spectators got clever and merged their excitement for the royal wedding with their love for Suits, the television drama Markle previously starred in. We see what you did there, ladies.
Life-Size Cardboard Cutouts Made An Appearance, Too
What's a royal wedding without life-sized cardboard cutouts? Some spectators — perhaps fearful they wouldn't manage to catch a glimpse of the royal couple — brought a giant cardboard cutout of Markle and Prince Harry with them to ensure they'd snag the ultra rare royal wedding selfie.
After their wedding, Markle and Prince Harry joined 600 guests, including a few high-profile celebrity guests, at a lunchtime reception hosted by Prince William at St. George's Hall at Windsor Castle.