Need-To-Know Rules For Signs At The Women's March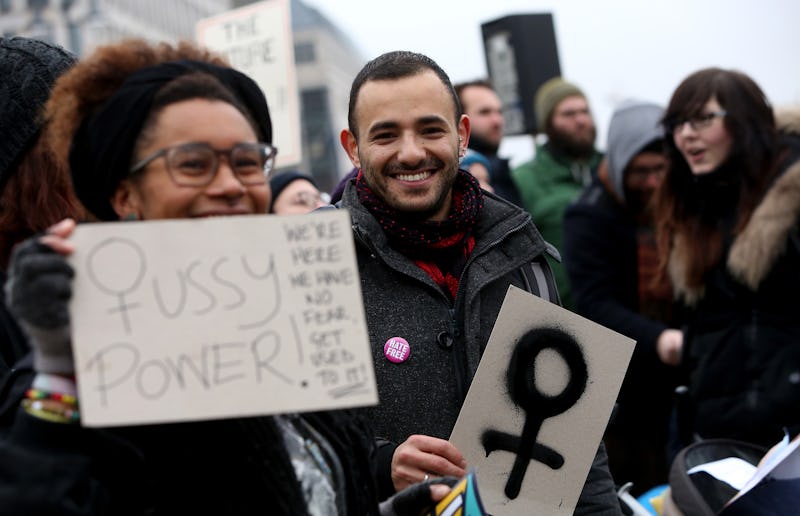 Adam Berry/Getty Images News/Getty Images
By now, nearly 200,000 people are expected to attend the Women's March on Washington on Saturday, Jan. 21 after Trump's inauguration. It's not uncommon for people participating in demonstrations to bring signs stating their stance on them — but there are specific sign rules for the Women's March that everyone who is considering marching should know about before they head out for the rally point this weekend. The march is a peaceful demonstration, and the many rules and guidelines in place for the event are aimed at keeping the proceedings safe. This includes guidelines for signs, so they're worth getting acquainted with in advance.
The Women's March, which begins at 10 a.m. on Saturday, is believed to be the largest inauguration-related protest in the history of the United States. The mission of the march, according to its platform, is to unite people of all identities and backgrounds — age, culture, race, political affiliation, everything — who want to bring social justice and human rights issues to the attention of the government, particularly the incoming president's administration. And although the movement is led by women, people of all genders are encouraged to participate and show their support for equality for every American, regardless of background.
Marchers are planning to meet near the U.S. Capitol, where president-elect Donald Trump will be sworn into office as the country's new Commander-in-Chief the day before. In order to keep the march organized and efficient, all marchers should register for the event beforehand. Keep in mind that there are smaller demonstrations with a similar message taking place all around the nation, so your local Women's March may have different regulations or protocols than the D.C. branch.
Here is what you need to know before making a sign and bringing it to The Women's March in Washington, D.C.: