These Photos From 'The Office' Cast's Mini-Reunion On 'SNL' Will Make You Wish For A Reboot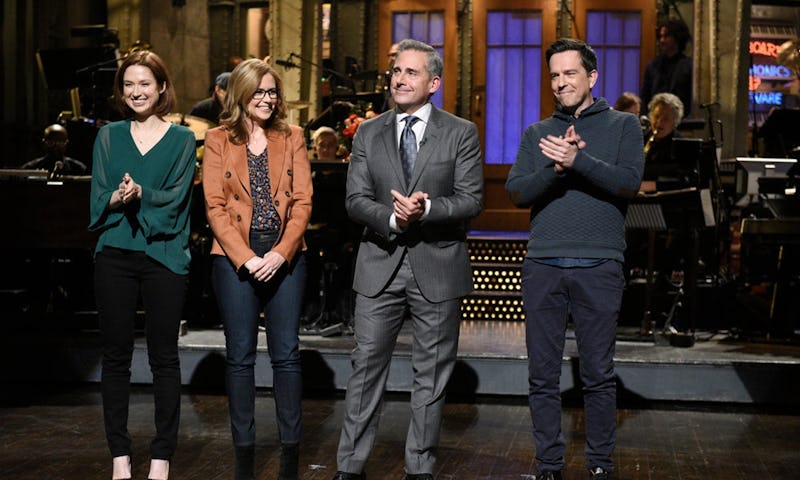 Will Heath/NBC
Been itching for a return to Dunder Mifflin since roughly 2013? Well, an Office reboot might not be happening (or, if it is, the beloved series' cast is doing a great job of keeping us in the dark about it) but these backstage photos from the mini-Office reunion on SNL Saturday night, Nov. 17, honestly kind of felt like the next best thing. For those who watched the evening's mini reunion snapshots roll in via their Instagram news feeds already: How's the nostalgia treatin' you?
"Backstage at #SNL with a couple of my FAVORITE PEOPLE," wrote Office veteran Ed Helms — perhaps better known by fans as Andy Bernard — captioning an Instagram post that pictured him smiling alongside two of his former costars, Ellie Kemper and Jenna Fischer. Continuing, Helms referenced the real-life Michael Scott's big-time emcee gig for the evening. "Steve Carell hosting! What a night!!!" his caption finished. (In addition to a few additional posts from the evening, Fischer shared a similarly adorable photo of the trio to her own Instagram account Saturday night, accompanied by the hashtag, #officereunion.)
Speaking of, did everyone catch Carell's Office-centric monologue Saturday night? There were a few surprises in store, including but certainly not limited to: Helms, Kemper, and Fischer, respectively. (Oh, Carell's wife, Nancy Carell neé Walls, made a little cameo, too.) So, to what did we owe the Dunder Mifflin crew's wonderfully silly reunion appearance?
After watching the group's subsequent Office-themed sketch, which SNL's official Twitter account shared with the social platform during the wee hours of Sunday morning, Nov. 18, it sounds like they wanted to weigh in on the possibility of an Office reboot series. "People would really love to see an Office reboot," Kemper chirped, mid-way through Carell's monologue, after popping up from the audience. Continuing, she admitted, "I mean, especially me."
But Carell, for whatever reason, wasn't feeling it. "I'm sorry, Ellie. I just don't think it's a good idea," he told her, to which Kemper promptly replied, "You're a jerk." Helms and Fischer followed suit shortly after, though Carell remained unconvinced. "Why don't we just have a party instead?" he said, in maybe the most acutely Michael Scott way possible. Though some longstanding Office fans were hoping the comedians' quick reboot bit was actually their way of segueing into some sort of announcement about a real revival series, those who watched know that's pretty much the opposite of what happened.
But, even though the large-scale reunion reboot of every diehard Office fan's dreams isn't currently in the works over at NBC, Saturday night's mini reunion (and all the social media gems that came out of it: quick shoutout to Tina Fey's cameo on Kemper's IG account) was definitely one for the books. So, while we might not be able to revel in the forthcoming resurgence of everyone's favorite band of fictional employees, at least we can revel in all the tangible reunion excitement that's written all over the Office cast's faces in pretty much all of Saturday evening's group photos.
Even the cast members who weren't at the SNL taping chimed in on social media with their own thoughts about the reunion and the potential for a reboot. In short, they're here for it. In fact, Angela Kinsey revealed she's already in character, tweeting, "Currently wearing a gray turtleneck and holding a cast... so yes. I'm ready."
Not quite the full-fledged Office revival series fans have been hoping for, but as far as IRL reunions go, it seems safe to say this one was still totally epic.