SoulCycle x Poolside Collective's Totes Are Your New Summer Staple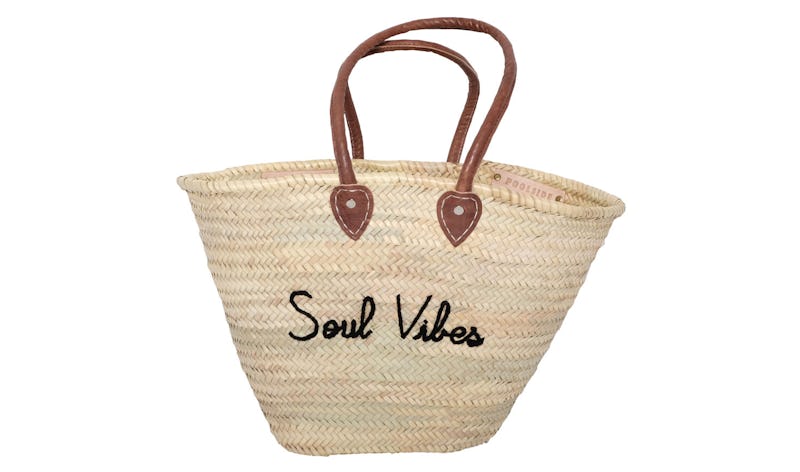 Whether you've got a vacation coming up in summer 2017 or you're just eagerly planning on spending as many days as possible by the pool with a book, a solid beach tote is an absolute essential. Poolside Collective has got some of the chicest ones around, and now they're teaming up with one of the most popular fitness studios out there for the perfect cross between hard work and relaxation. The SoulCycle x Poolside Collective Tote Bags are available right now, and they turn a studio-to-street look into a studio-to-beach look.
Poolside Collective Tote Bag, $175, Soul Cycle
The straw totes feature the signature Poolside Collective aesthetic, with long leather handles and cute embroidered phrases. The first of the three totes in the exclusive limited edition collection reads "Soul Vibes," and it's available on SoulCycle's online shop. To get your hands on the other two, though, you'll need to go to one of SoulCycle's Hamptons locations. The "Cute, But Sweaty, But Cute" and the "New York to the Hamptons" totes will be sold exclusively in store.
These structured totes pretty much define carryall — there's room for anything and everything, from beach towels to beach reads to suncreen to your favorite flavor of La Croix to snacks on snacks...you get the picture.
Here's a look at all three totes, which retail for $175 each.
Poolside Collective Tote Bag, $198, Soul Cycle
It's easy to channel those Soul Vibes when you're lounging on the sand.
Poolside Collective New York to the Hamptons Tote, $175, Soul Cycle Hamptons Locations (In Store Only)
This tote pretty much describes my dream life.
Poolside Collective Cute But Sweaty Tote, $175, Soul Cycle Hamptons Locations (In Store Only)
Because you can definitely be cute and sweaty at the same time.