Bravo Fans Are LOVING These 'Southern Charm' & 'Below The Deck' Crossover Tweets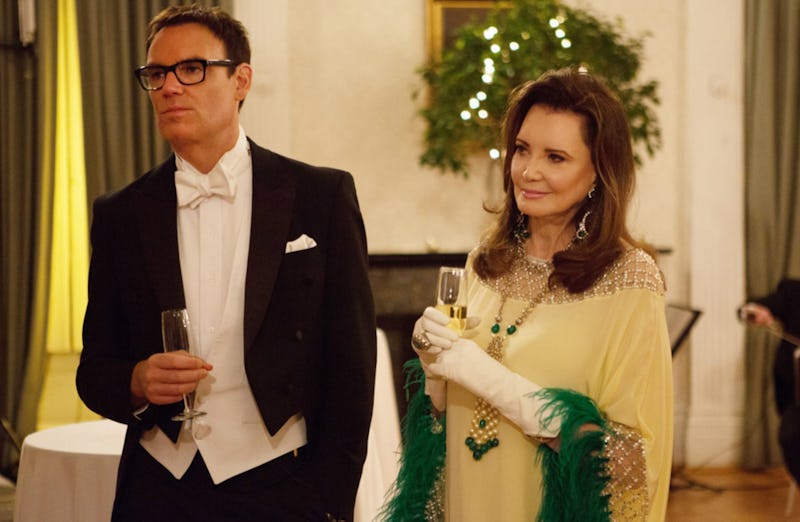 Paul Cheney/Bravo
You know that feeling you get when you see Bravo stars from different Bravo shows connect on social media? Get ready to feel that feeling multiplied by a trillion. Thursday afternoon, Southern Charm's Patricia Altschul told Below Deck's Captain Lee Rosbach that she would like to charter his boat. Naturally, the Stud of the Sea let Patricia know he would be on board (pun intended), Below Deck chief stew Kate Chastain chimed in, and the Bravo fandom freaked out. And rightfully so: This Below Deck and Southern Charm crossover would probably be as perfect as one of Michael Kelcourse's martinis.
As Bravo's The Daily Dish noted, Patricia's request came about after Captain Lee commented on the glamorous Charlestonian's photo of her dog subbing in for her dishwasher. The caftan connoisseur cut right to the chase, tweeting, "I want to charter your boat." By "boat," she presumably meant a super yacht that comes equipped with an inflatable slide, a hot tub, a reality TV crew, and a team of deckhands and stews who know a thing or two about ensuring the charter guests enjoy their time out at sea (oh, and who know a thing or two about making extremely good reality TV). And with that, one of the most glorious Bravolebrity tweet-versations in Bravo history happened.
It's all...
...so...
...perfect.
If this dream of a crossover actually came true, Patricia would bring Michael, right? Patricia loves her martinis, and her butler is the only person who can make a martini that meets her standards. If Michael were to join her, that would mean she wouldn't have to give up her daily dose of "medicine" for a few days on a yacht. And this wouldn't be out of character: Back in Season 2, Patricia invited Michael and his martini kit to someone else's party because she has "no interest in an inferior martini."
And it sounds like Kate would be up to the challenge.
Uh, wait a second. If Patricia was on Below Deck, and if Michael went on the yacht with her… there could be a martini competition between Kate and Michael. Patricia would be the judge, of course. What a thrilling face-off that would be.
Sure, Michael's had years of practice prepping martinis for Patricia just the way she likes 'em, but Kate a) knows a thing or two about making well-received cocktails and b) has been making cocktails out in the middle of the bumpy ocean in a galley that is a fraction of the size of Patricia's kitchen for quite some time. Kate would have home court advantage. That's not to say Michael wouldn't be able to adapt (he seems like a go-with-the-flow guy), but it may take a few practice martinis before he gets his Seagrams legs.
Martini competition or not, Patricia needs to be on Below Deck.
The math has spoken.
Fans are clamoring to see Patricia do her thing out at sea.
And some fans want to be in the mix.
Oh, man. Patricia's preference sheet. Patricia's preference sheet.
And it has been put out in the universe. Ball's in your court, Andy Cohen.