19 Things That Only 'Below Deck' Fans Understand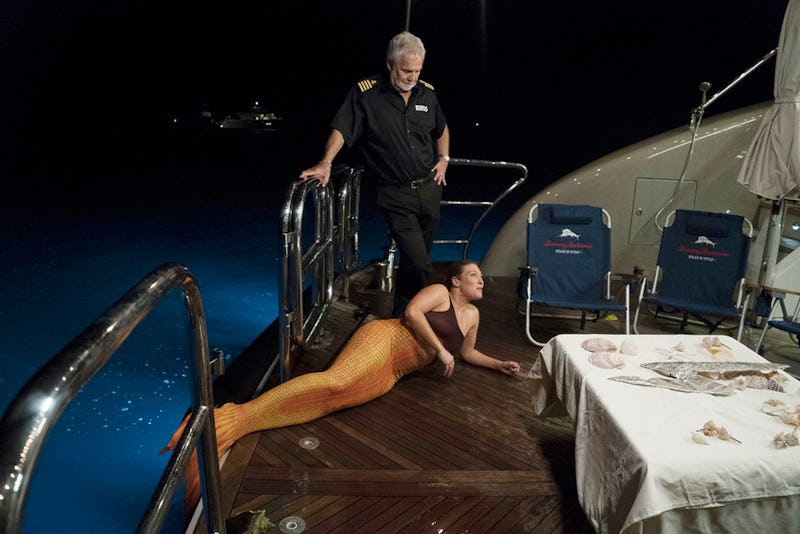 There are a few things that I dream about doing if I win the lottery, and that includes traveling the world, visiting tropical locations, and living on a luxury yacht. Unfortunately, I haven't won the lottery, and I probably won't be living on the high seas anytime soon. Luckily, I can get as close as possible by watching Below Deck every week as new crew members join, romances flourish, and cast members challenge authority.
Despite being a Bravo reality television fanatic, I didn't start watching Below Deck until Season 2. I then became invested and immediately went back to watch Season 1. By the time Season 3 premiered on Aug. 25, I was obsessed. And I wasn't the only one— the series had its highest-rated season premiere with 1.6 million viewers, according to Bravo. The show follows the lives of the crew working "below deck" to make sure that high-ticketed boating trips run smoothly. The crew is a mix of personalities all forced to work and live together in close quarters. Once you add in the often demanding and nutty charter guests, there's no way for an episode of Below Deck to be boring.
Of course not every Below Deck fan shares the same opinion — some people actually liked Adrienne in Season 1. Still, a majority of us can agree that the power trio will always be Eddie, Kate, and Captain Lee.
For those of you that live vicariously through the yachties on Below Deck, here are 19 things that only fans can understand.
1. Kate Is The Queen Of Sassy Comebacks
I did not always appreciate Kate's cut-throat honesty and high standards. But over time, I began to relate to her desire to finish jobs effectively. Her personality guides and commentary are always spot-on, and I look forward to her input.
2. You Always Wonder If The Charter Guests Watch The Show
The guests on the yacht differ drastically from one another and sometimes the crew has to improvise to appease them. For example, Kate improvised "mojitos" using mint extract and cilantro when she didn't have the right ingredients. I think it's genius, but I'm not sure I would feel the same if I was a guest paying hundreds of thousands of dollars. But will that guest ever know the truth? They must watch Below Deck eventually and see what the crew was really saying about them.
3. Watching Kate & Amy Get Along This Season Is So Confusing
When talking about their relationship during Season 3 in an interview with Bustle, Kate said, "I think that was my greatest takeaway on this season, was my friendship with Amy." Talk about an unexpected 180. But seeing the two coworkers work together so well only makes the show that much better.
4. That This Is Hands Down The Funniest Moment In Below Deck History
When I saw Adrienne returning in the commercials during Season 2, I wanted to sweep the entire cast away to safety. So watching Eddie jump into the water and swim away to escape Adrienne was reality TV gold.
5. Eddie Will Always Be Your Favorite Male Cast Member
When Amy admitted she had a crush on Eddie on the last day of their charter, we could all relate. Sadly, he was still dating his long-time girlfriend and there was no way to 'ship their romance. But it seems like something might have changed in his relationship status during filming for Season 3. Either way, I'm hoping he's around for Season 4.
6. You're Not Sure If Rocky Dodged A Bullet On Her Date With Emile...
I've watched too many reality dating series in my lifetime, and I still feel like Rocky and Emile's date was one of the most awkward TV dates of all time. He actually says to her, "I don't date, I mate... Wine and dine, 69."
7. ...Or If Emile Dodged A Bullet With Rocky...
Rocky seems to be really talented at getting Emile into trouble. That's not to say that Emile doesn't make his own choices, but there's definitely danger ahead when the two make decisions to go off on adventures together.
8. You Know That If You Ever Rented A Yacht, You'd Make Weird Requests Too
Do you want a foam party? Check. Do you want every night to have a new theme? Done. Do you want a diving show? No problem. The crew is really at your command.
9. Captain Lee Is Truly The "Stud Of The Sea"
Captain Lee is a really fascinating man. He started his career as a restaurateur, but at 35 years old he left the food industry and plunged into the yachting world, according to Bravo.
10. You Really, Really Miss Kat
Kat was a comedic relief and a solid source of entertainment for viewers. If I could be any cast member on Below Deck, I would choose her. By Season 2, she even learned how to have fun and finish all of her stewardess duties.
11. You Really Hope Chef Ben Will Return
Sorry Chef Leon, I have to side with Kate on this one. Even though Leon's food looks delicious and the guests rave about his concoctions, his personality falls short. I miss British Ben's presence on the show and really hope his brief appearance in the Season 3 trailer means he'll be back for good.
12. The Cast Changes Only Make It More Exciting
Cast changes are the reason that we have cheerful Amy there to balance out Kate's cynical behavior. They're the reason we briefly got to watch the sibling bond between Amy and her brother Kelly return. The show always benefits from a fresh face, as long as a few old ones stick around.
13. You Still Don't Know Why Andrew Thought He Could Lie About His Experience
While there may not seem to be a lot of requirements to join the Below Deck crew, somebody still has to dock the boat. So lying about deckhand experience is probably not the best idea when it puts the entire crew in jeopardy. Could Andrew Sturby really have been that shocked when they let him go?
14. You Are Really Sad That Kelley & Jennice's Relationship Didn't Work Out
The second season ended with their relationship on a huge cliffhanger, only to reveal in the reunion that the duo had split up. It was an on-deck romance too good to be true, but I still wish it wasn't over.
15. How Amy Brings The Necessary Amount Of Optimism
Whenever I see Amy, she reminds me of the kid practicing thanking people for his gifts on Christmas. She always cheerful and takes care of the guests, whether that means participating in foam parties or dressing up. She's accountable, kind-hearted, and the ideal addition to the boat.
16. You Want To Try Mexican Spaghetti (And All Of Chef Leon's Weird Dishes)
Chef Leon's Mexican spaghetti sounds weirdly good. Then again, it's a real dish called Fideo and a lot more popular than you may think. Even though I'm slightly confused by Leon's dishes, I trust the charter guests who rave about them.
17. If There's A Season 4, You Really Hope It Brings Dean Back
Dean Slover just can't stay away from the crew, and I don't mind at all. Of course he's made some unkind comments about Kate's demeanor in the past, but at least he laughed at her "rocket ship" origami.
18. You Can't Wait To Watch The Spinoff, Below Deck Mediterranean.
Like all fans, I hope there are many seasons to come, with my favorite yachties returning to work under the watchful eye of Captain Lee. But, I'm not opposed to this spinoff. I envision a world where a Below Deck franchise exists, with different groups heading off on luxury yachts in remote tropical locations. It worked for The Real Housewives, right?
19. Being A Yachtie Looks Like Hard Work, But You'd Love To Give It A Try
Below Deck makes me wish that I could move to Florida and work on luxury yachts trekking through the Bahamas — even though I'm not actually patient enough for that. It's just one of the effects this Bravo series has on fans.
Images: Virginia Sherwood/Bravo; Giphy (14); bricesander, realitytvgifs/tumblr;