These Stories Of Bravery During The Las Vegas Shooting Will Bring You To Tears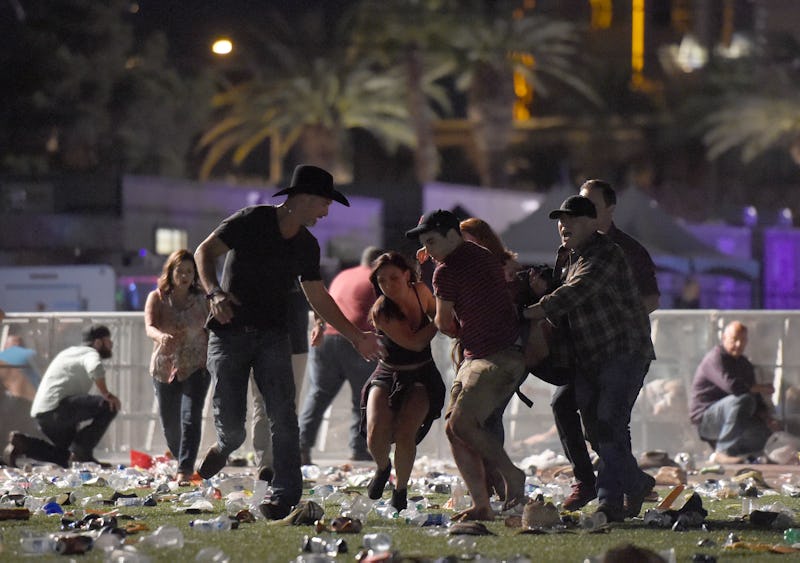 David Becker/Getty Images News/Getty Images
Most people don't know how they will react during a tragedy until it happens, but in Las Vegas, NV, scores of people rushed to help others as a gunman opened fire on concert-goers from his hotel room Oct. 1. And, these stories of bravery during the Las Vegas shooting will bring you to tears. Sacramento's KCRA News reported that, "Witnesses told stories of police officers shielding citizens, military veterans plugging wounds, and people turning their trucks into makeshift ambulances," to aid victims of the largest mass shooting in U.S. history, which is now being reported as more than 500 people injured and over 58 dead.
The TODAY Show posted a video on Twitter with a quote from one witness that read, "I saw guys plugging bullet holes with their fingers." Others turned their vehicles into makeshift ambulances to help transport the injured. KRCA reported that people who were not at the concert also sprung into action donating blood and stocking local food banks.
One Twitter user thanked "The brave Las Vegas police officers who raced towards an active shooter during this horrible mass shooting." Democratic Rep. Dina Titus praised everyone who helped after the shooting in a statement she released on Twitter. "My hearts aches for the victims, their loved ones, and our community. I am grateful for law enforcement's swift response and the many good samaritans whose selfless acts of bravery showcased Las Vegas' values to the world."
If you're feeling like the world is one big dumpster fire, the words of children's hero Mr. Fred Rogers are pretty relevant right now. "When I was a boy and I would see scary things in the news, my mother would say to me, 'Look for the helpers. You will always find people who are helping.'"
Here are some other acts of bravery that will restore your faith in humanity.
Woman Drives Strangers To The Hospital
One woman told ABC News that she loaded as many as six people into her car, some of whom needed immediate medical attention, and took them to the hospital during the frightening aftermath of the Las Vegas mass shooting that occurred during a country concert on the Las Vegas strip. In a video montage from Good Morning America one witness recounted the terror of the event, and said it was unlike anything he'd ever experienced, and worse than anything he'd seen on TV or in a movie.
Off-Duty Military Plug Bullet Holes With Fingers
A witness told the TODAY Show that when the shooting started, concert-goers with military training sprang into action with some even plugging bullet wounds with their fingers. He noted that police stood up and used themselves as human shields to protect civilians during the mass shooting in Las Vegas.
Multiple People Help Woman Get To Safety
Tiffany Michelle was at the concert on the Las Vegas strip when a shooter rained bullets down on the crowd from the window of a high floor at the adjacent Mandalay Bay Hotel & Casino. Michelle thanked multiple friends and strangers who helped her escape to safety when mayhem ensued, ABC News in Philadelphia reported.
"Thank you to the man who pulled me over the fence when my boot was stuck," Michelle wrote in an Instagram post. "Thank you to the girls who grabbed me and ran with me when they saw I'd been separated from my husband and friends. Thank you to the friends that came and got me from my place of refuge even when the shooter was still active. Thank you for the man who was willing to pile us in his car and drive us to safety... Above all thank you for my brave husband who used his own body to shield me and others from bullets as those next to us were shot. When we were separated and he realized he could no longer protect me he stayed behind to hold pressure on gunshot wounds and carry people to trucks for departure to hospitals. He and all the other off duty officers, military personal, and anyone else in the venue and out who helped save a life tonight are the true heroes."
Strangers Help Each Other Get Medical Attention
A witness told ABC News that he helped at least three people who were injured by the shooter get loaded into ambulances, and he held another victim who died in his arms.
People Used Their Bodies As Shields
In a true act of selflessness, Channel News Asia reported that Mike McGarry, a 53-year-old financial adviser from Philadelphia, used his body as a human shield to protect younger concert-goers from the spray of bullets that rained down on the country concert on the Las Vegas strip. "It was crazy — I laid on top of the kids. They're 20. I'm 53. I lived a good life," McGarry is quoted as saying by Channel News Asia, which added that the back of McGarry's shirt bore footmarks, after people ran over him in the panicked crowd.
Another woman shielded her younger brother during the shooting. "Every time the crowd got up the shooting started again. I was laying on my brother shielding him. I'm 30, he's 21. I love him to death; he has more life to live," Channel News Asia quoted concert-goer Corrine Lomas as saying.
Still another women threw herself on top of her 4-year-old daughter until the shooting subsided. "I put the baby on the ground and got on top of her," Carly Krygier told CNN.
How To Cope & Help In Wake Of The Las Vegas Shooting
It's likely that everyone's nervous system is feeling highjacked in the wake of the mass shooting in Las Vegas. Lady Gaga is hosting a 20-minute silent meditation on Instagram Live at 6:30 ET for anyone who wants to join.
You can also call your congressperson and ask them to support gun control reform and to oppose the Constitutional Concealed Carry Reciprocity Act of 2017, and donate to relief funds supporting victims of the mass shooting in Las Vegas. While this will go down as one of the darkness days in modern U.S. history, remember to look for the helpers, and try to lend a hand if you can.