Mandy Moore's Comments On 'This is Us' Season 3 Will Make You Breathe A Major Sigh Of Relief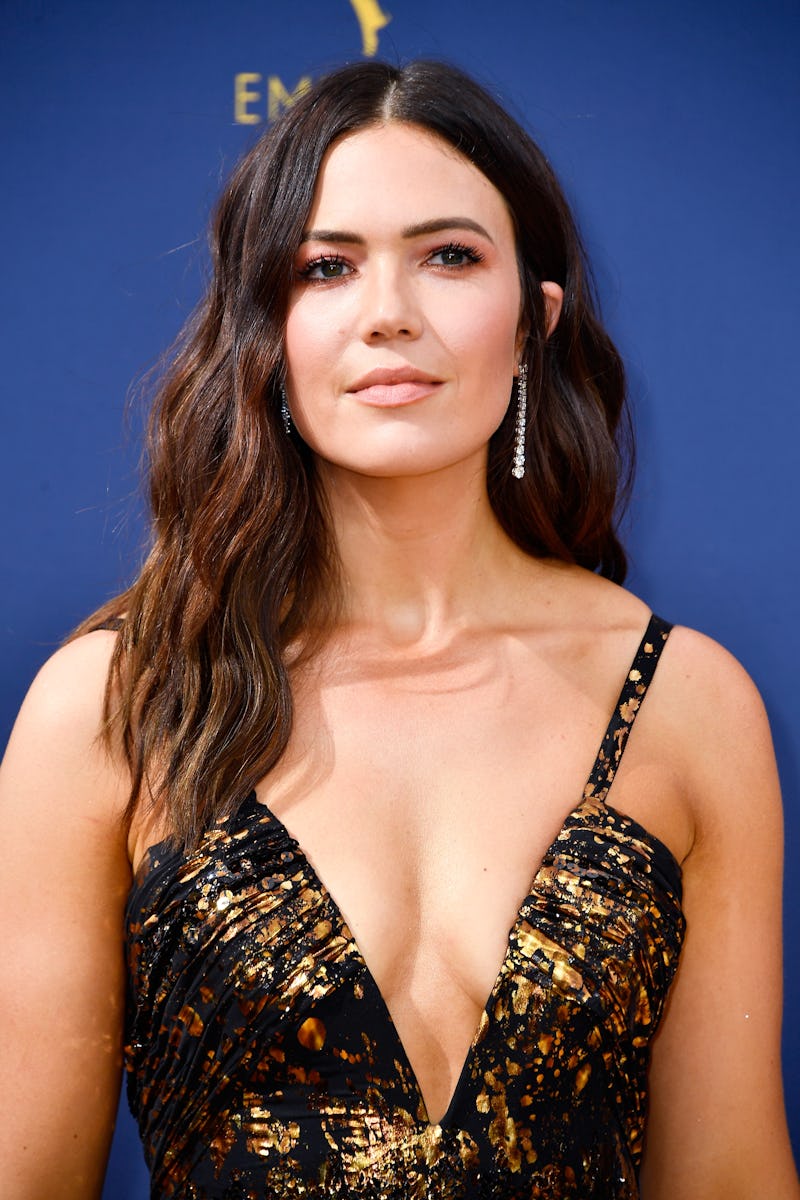 Frazer Harrison/Getty Images Entertainment/Getty Images
Mandy Moore might have the night off from work shooting her hit NBC drama This Is Us to attend the 2018 Emmy Awards, but she'll always be Rebecca Pearson. The actor and singer walked the red carpet as herself, but she still had some time to dish on what's in store for her character. Mandy Moore dished on This Is Us Season 3 on the Emmy Awards red carpet, and her comments will make fans breathe a big sigh of relief.
"It's exciting," Moore told E! News on the red carpet. "I feel like this season, selfishly from my perspective, has a little bit more light and levity." Yes, you read that correctly — levity on This Is Us. In fact, Moore went on to say that fans can expect a lot of fun from this coming season, meaning viewers can finally put away their tissue boxes. "I think I cried all of the tears physically possible last season, so I'm happy that we're exploring — at least this first half of the season — Jack and Rebecca's courtship," Moore added. She's certainly not wrong. What with Jack's death and Rebecca's struggle to connect with her daughter Kate, there were many, many tears shed, both by the actor and the audience watching at home.
Moore didn't go into specifics, but she did reveal that the Pearson courtship would involve a lot of '70s fun. "It's fun, and happier times and young love, and them sort of finding their way to falling in love and living their life together," she told E! News.
Fans already knew that Jack and Rebecca's first date will be depicted on the show. This Is Us creator Dan Fogelman revealed that fans would get to see the beginnings of Jack and Rebecca's love story earlier this summer. "It's extremely good television to watch these two have their origin story," he told Entertainment Weekly in August. However, though Moore may have teased a lighter, more carefree Jack and Rebecca storyline in Season 3 on Emmy night, earlier she hinted that things wouldn't be all sunshine and roses for pre-Big 3 Jack and Rebecca. "People expect it to be a straight line to finding one another and living happily ever after — and that may not be the case," Moore told EW.
So, which is it? Will Jack and Rebecca's early courtship be light and fun, or will it take fans on yet another roller coaster of emotions? Granted, any relationship drama Jack and Rebecca face in courtship can't be any more harrowing than his sudden and unexpected death from Season 2. So, even the most intense relationship drama has got to feel pretty "light" in comparison — it's all relative on This Is Us.
Milo Ventimiglia, Moore's onscreen husband, also teased that Jack and Rebecca's courtship would be a more "positive" storyline in Season 3. During an appearance on The Tonight Show Starring Jimmy Fallon, Ventimiglia teased that Season 3 would delve into Jack's service in Vietnam, adding, "And also on the positive side, we get to see Jack and Rebecca budding love, their courtship." Again, when compared to war, what's a little bit of discord among lovers?
Regardless of just how happy or sad Jack and Rebecca's early romance is, there's no doubt that fans will love it just as much as they end up loving each other.