All The Running Gags You May Have Missed In 'WHAS: Ten Years Later'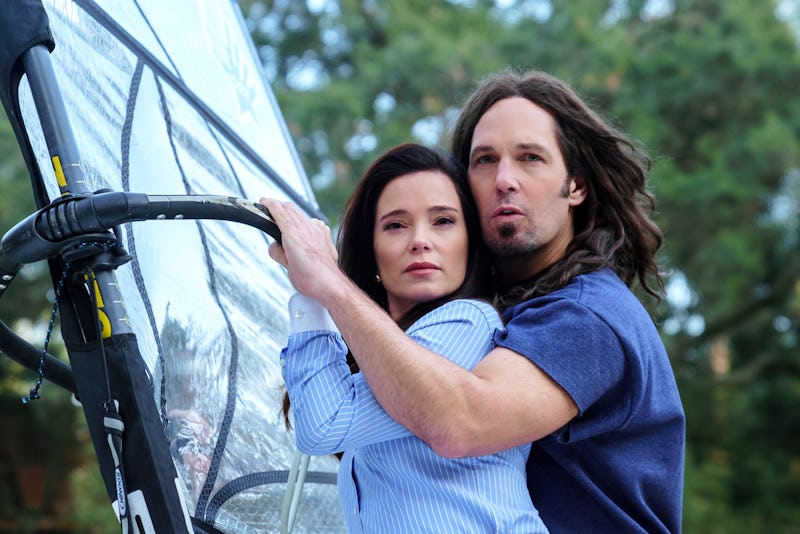 Saeed Adyani/Netflix
On the last day of camp in 1981, the junior counselors at Camp Firewood made a promise to get back together exactly 10 years later. Thanks to the power of Netflix revivals, this joke that started as an early post-credits sequence in the original Wet Hot American Summer cult movie has become an eight-episode series that also incorporates characters and gags from the prequel series First Day Of Camp. The Easter Eggs in Wet Hot American Summer: Ten Years Later reward fans who have stuck it out through both tales.
By this point, with three chapters in this saga, some of the references are more like running gags and recurring characters than Easter Eggs. Ten Years Later also incorporates footage from the original film to fold in new characters and establish the premise. Mitch returns, both as a can of vegetables and as himself, mysteriously. Since this takes place after the original film, more of that story's plot is incorporated too — like Coop and Katie's last day of camp flirtation, for example.
Some things just don't change. Beth and Nurse Nancy start every day on the steps with a cup of coffee. Victor is still a virgin. Susie is still a multihyphenate in the performing arts. Coop is still unlucky in love. If the plot is overcomplicated, it will be oversimplified and explained away at the end. As for the sneakier nods to this beloved franchise, here's what I spied:
Samm Levine's Big Moment
After dubbing the voice for Arty, Camp Firewood's daytime radio DJ, the Freaks and Geeks star finally gets to appear on screen as the Beekeeper himself.
"Heart-Attack Love"
The song from Electro-City, the fictional musical in First Day Of Camp, is playing on the radio as Lindsay makes her way to the reunion.
Ben & McKinley's Wedding
Before Adam Scott is revealed as Bradley Cooper's character, his husband passes a photo of their camp wedding.
"A Lot Happened That Summer"
Episode 1 recaps both the movie and First Day Of Camp with a brief jog down Memory Lane.
The Crash Sound Effect
Whenever items are tossed aside in Wet Hot, an exaggerated ceramic pottery crashing sound effect accompanies it. This happens in Episode 2 of Ten Years Later when Mark hits a camper's craft with an arrow.
Coop's Flannel
Katie references the original movie's play on a typical romantic comedy scene.
Andy's Signature Look
Mot of the former counselors have updated their style, but Andy is still hanging a red bandana from his back jeans pocket.
Courtney's Frenemy Whitney
Just like in FDOC, Kristen Wiig's character makes a remark to the unseen character at Camp Firewood.
"Higher & Higher"
In moments of triumph, Eric's anthem creeps in.
Abby Bernstein Is A Counselor Again
Was she a camper? Was she a Junior Counselor? We may never know. She attends the reunion, so who cares.
The Dead Rise Again
Chris Pine and Jason Schwartzman's characters both died in First Day of Camp, but reappear in the sequel as a '90s jam band.
David Hyde Pierce Phones It In, Literally
I'm not sure if this counts as an Easter Egg, but I want to talk about it. His one scene, as the professor turned NASA employee, is clearly shot in Pierce's own home on Skype. There are Emmys in the background, and he even breaks character.
Obstacles
Just like the scene above from the original movie, Elizabeth Banks traps her coworkers with an illogical obstacle during a chase.
McKinley's Trapper Keeper Full Of Appointments
Well, really just one appointment at 11 a.m. on August 18th that he can't get out of because it's already moved it twice. That's the biggest lasting mystery in Ten Years Later. We may never find out where Michael Ian Black's character needed to be.
Did you spot any more WHAS Easter Eggs? If so, a big Camp Firewood "walla walla woo" to you!