See How These Midterm Election Wins For LGBTQ Rights Played Out Across The Country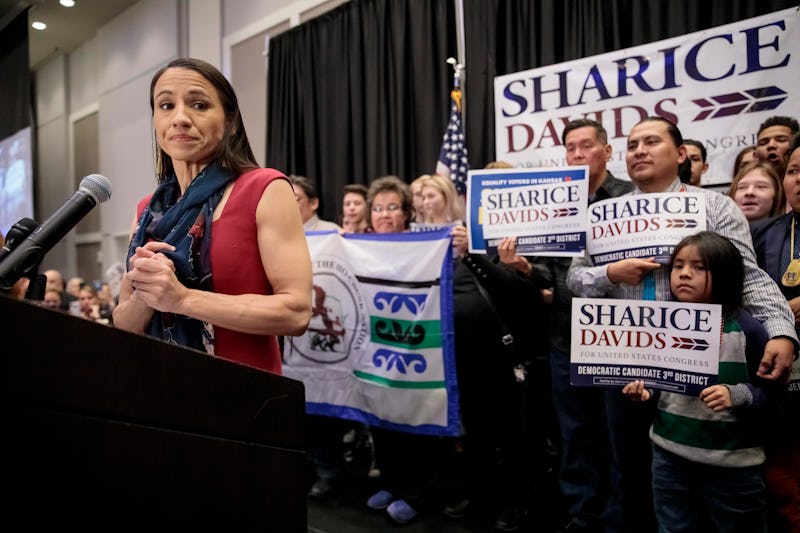 Whitney Curtis/Getty Images News/Getty Images
From coast to coast on Tuesday — and in many states in the middle — races fell in favor of LGBTQ rights and openly LGBTQ candidates on election night. After a lot of hype following successful primaries, these wins for LGBTQ rights in the 2018 midterm elections do, in fact, constitute a rainbow wave.
LGBTQ candidates won no matter what type of race you're looking at. They were elected to the House in record numbers, and the only openly LGBTQ senator will be going back to Washington as well. Two governorships now land on the rainbow map, and out candidates won other statewide races, too. It's hard to even quantify the rest of the down-ballot wins in statehouses, city councils, and more.
There were, however, some disappointments. Gina Ortiz Jones, an out Iraq War veteran running for the House in Texas, was in a too close to call race as of Wednesday morning, according to The Texas Tribune. In the race for governor in Texas, Lupe Valdez lost, as did Christine Hallquist in the Vermont governor's race. She would have been the first transgender governor elected in the country.
Besides the election of out candidates, there a few more wins. Massachusetts saw an effort to overturn legal protections for its transgender citizens via a ballot initiative, Question 3, fail. And from California to Kentucky, straight politicians who grew famous in the fight for marriage equality won and lost their races in ways that can be seen as symbolic wins for LGBTQ rights.
These wins, taken together, can definitely be seen as a rainbow wave.