This $1,790 Gucci Fanny Pack Is Having An Identity Crisis & Wants To Be Literally EVERYTHING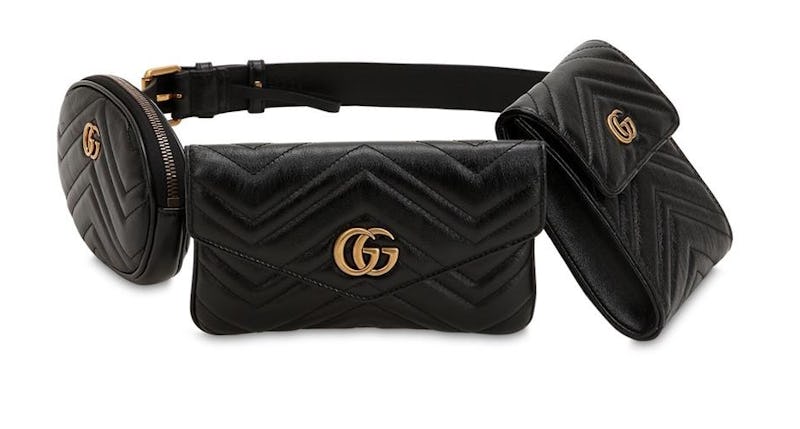 Courtesy of Luisaviaroma.com
Most people navigate an existential and/or identity crisis at least once, twice, or 20 times. Figuring out who you are and your exact place in the world is a part of life, your evolution, and your human experience. Well, Gucci's GG Marmont Leather Belt Pack bag appears to be having one such dilemma. It's not sure if it wants to be a belt, a fanny pack, a change purse, a cell phone holder, or a wallet. So rather than make a difficult decision, the black, quilted, and adjustable accessory opts to be all of the above.
It looks like a high fashion tool belt that serves many functions.
As Hypebae notes, Gucci has been trafficking in belt bags in recent times. If you are digging that bag style and it's body placement — since you don't have to lug it over your shoulder or toss it across your body — this could be a viable investment "It" bag.
Since the Marmont belt bag comes with a cool $1790 price tag and doesn't quite fit many people's budgets, the fact that it offers rounded, rectangular, and square compartments might veritably make it worth the splurge.
Another cool feature of the bag, which features the gold Gucci logo on each pouch? The compartments are removable.
So if you want to lighten the load and to tote only a lip gloss, ID, and some cash, you can remove the one of the pieces. If you need additional storage for your phone, eyeliner, mascara, and more, you can use the others.
If you just need to carry your iPhone and perhaps a pen, you can opt for the square sack a la carte.
The oval pouch looks like a super-sized belt buckle, so it's stylin'. It can fit some cash and credit cards, as well as your driver's license. The Marmont is both minimalist and maximalist.
The rectangular pouch appears to be the roomiest of the three storage options. If you need more space, add another! Regardless, all of your night out essentials will be easily accessible.
Here's the view from the back. Since the bag has the removable compartments, it's super versatile and you can style it in multiple ways. It'll look different each time you wear it depending on which pouches you remove and or leave attached. It will also look different based on where you place it on your body. You can remove two pouches and wear one slung on your hip or leave it front-facing. So it's not just utilitarian. It's also fashionable — your belt bag would offer additional aesthetic value to your OOTD.
Here's a look under the hood of the rectangular pouch, which has a button closure. It feels best suited for a night out and as an outfit enhancer, as opposed to an everyday, "go to" bag.
It's a pricy, investment piece — that's for sure. But the Gucci GG Marmont Belt Bag has additional value because of its versatility and its removable components. It's a high-fashion fanny pack that emphasizes both form and function.