This 8-Year-Old Dressed Up As Ruth Bader Ginsburg…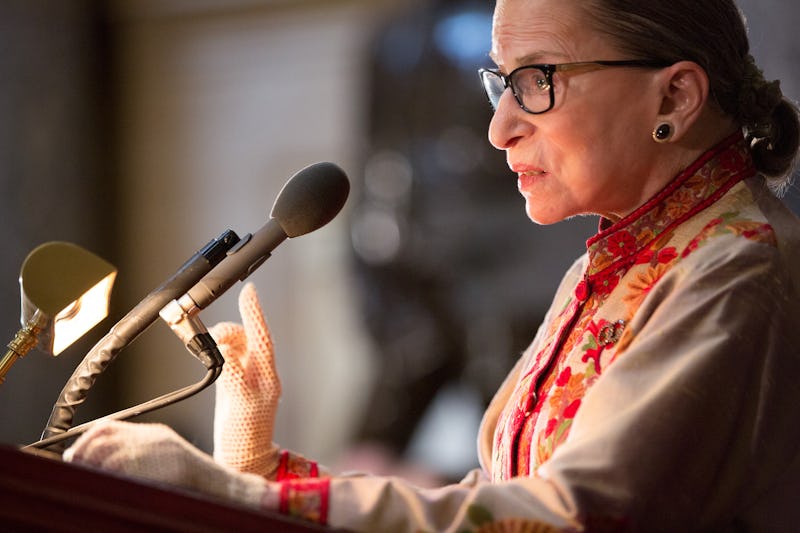 Allison Shelley/Getty Images News/Getty Images
I think we can all agree that 2016 hasn't been the greatest year for feminists, or for people interested in furthering social justice in general. But this photo of an eight-year-old dressed as Ruth Bader Ginsburg gives us hope that amid all the chaos of this year, things are getting better. Why? Because the youngest generation is far more socially conscious, more woke, and more feminist than we are. And it's only a matter of time before they take over.
The picture is of a girl named Michele on her school's "Superhero Day." Most of the students went as actual superheroes, according to CBS News, but Michele went as her human hero. She's not only dressed as the Supreme Court justice but also carrying I Dissent, a picture book that tells her life story. Her mom, Krista Wujek Threefoot, posted a photo on Facebook with text overlaying it reading "girls who read are dangerous." It's gotten over 2,000 reactions and many supportive comments.
Threfoot tells Bustle over Facebook message that she added that line because "all little girls are fierce and mighty, and when we encourage them to read, as much as they can and as broadly as they can, they are dangerous to any society that tries to hold them and others back."
Threefoot made the post public with the hope that Ginsburg herself might acknowledge Michele and make her dreams come true. And she did: The justice's assistant sent Threefoot an email saying she loved the photo and would write a note to Michele herself.
So, what is it about this little girl's costume that's gotten everyone so excited? Maybe it's the fact that it shows how passionate she and other kids her age are about fighting injustice. In a video of Michele sent by Threefoot to Bustle via Facebook message, she explains why she's inspired by Ginsburg.
"When she was trying to be a lawyer and she was in the head of the class... they said she couldn't be in it because she was a girl, and she had a baby at home, so they thought she wasn't going to pay attention to her work," she recalled. "She dissented until they hired her to become a lawyer."
"Michele gets pretty fired up about inequality and unkindness, so those stories resonated with her," Threefoot tells Bustle. "And the theme of standing up and saying 'no' was something she relates to. I wrote a blog post about her reaction after Trump was elected — basically her response was that it's our job to say 'NO' when he tries to bully people."
If the generation that'll one day run this country has an attitude like that, 2017 just might be a better year for us after all.