This 80-Mile "Donut Trail" Has 12 Stops & Each One Looks More Wildly Delicious Than The Last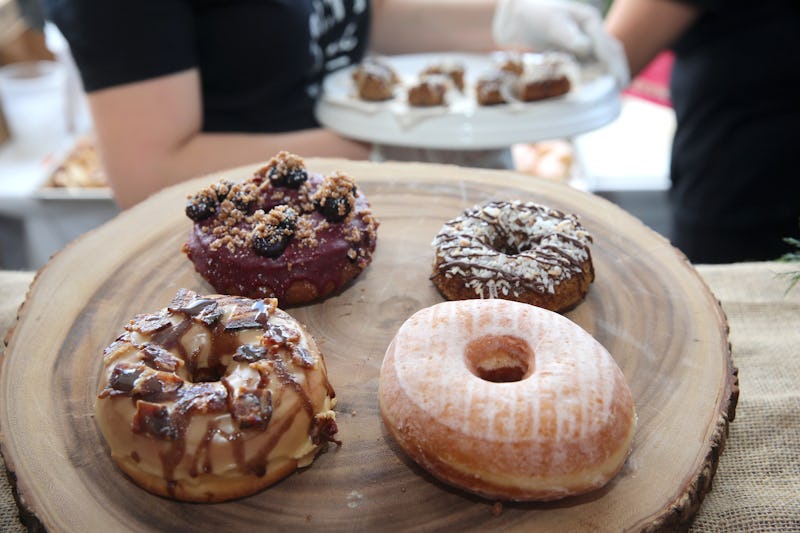 Aaron Davidson/Getty Images Entertainment/Getty Images
I'll admit that Ohio is not a state I've ever had a particularly compelling reason to visit — but the game just changed: There is an 80-mile doughnut trail in Ohio, and it is calling my name, beckoning me to take its sweet, pastry-paved road to glory. Officially called the Butler County Donut Trail (in the great "doughnut" versus "donut" debate, the Donut Trail makes its allegiance very clearly known), its shops are mostly located north of Cincinnati… and I have never wanted to truck down a food-related trail more in my life.
The Donut Trail isn't exactly new, but it's taken it a few years to come to the attention of those not living in the Cincinnati area. According to Food & Wine, the Butler County Visitors Bureau launched the trail in 2016 in order to celebrate the fact that this particular area of Butler County has "more doughnut shops per capita than almost anywhere else in the country." At the time, nine bakeries — all mom-and-pop operations — made up the trail, according to the Cincinnati Moms Blog's coverage of it during its first year of operation; the 2018 route, however, has 12, bringing the whole thing up to a round dozen. Comparing Cincinnati Moms Blog's list to this year's, it looks like the recent additions are Central Pastry Shop in Middletown, Holtman's Donuts in West Chester, and The Donut House in West Chester. Just, y'know, for the curious.
Here's how it works: First, grab yourself a Donut Trail map and passport; they can be found at any of the bakeries along the route, at the Butler County Visitors Bureau, or online (here's the map, and here's the passport). Then, starting wherever you like, visit each of the shops featured on the trail, get a doughnut, and have the folks at the bakery stamp your Donut Trail passport before you leave. Once you've hit up every shop on the list and your passport is full, you can either bring the passport directly to the Visitors Bureau, or you can mail it. (The address is at the bottom of the passport itself.) Why would you want to return your completed passport to the Visitors Bureau? Because if you do, you get a prize out of the deal: A new T-shirt commemorating the Donut Trail is designed each year, which is then gifted to those who complete the Donut Trail. Wearing the T-shirt can then get you discounts and deals at other spots of interest in Butler County, from shops to sculpture parks.
There's no timeline in which you have to complete the Donut Trail; you can try to hit it up in one day, or you can spread out across multiple days. Indeed, multiple days might be the way to go; the Donut Trail's FAQ warns participants that not all the shops are necessarily open on the same days, and that many of them tend to sell out and close up shop early in the day — by which I mean 10 a.m.-ish. What's more, the free T-shirts for those who complete the trail are limited to the stock on hand, so bear in mind that the number available might be limited.
Doughnuts that you might encounter along your delicious journey include:
Fruity Pebbles and Lucky Charms doughnuts at the West Chester location of Holtman's Donuts;
These gorgeously frosted beauties from Jupiter Coffee and Donuts in Fairfield;
And GIRL SCOUT COOKIE DOUGHNUTS at the Oxford Doughnut Shoppe in Oxford. (This stop is optional, though, so if you have trouble making it there before they sell out for the day, you can still complete the Donut Trail passport without it.)
Heck, and yes.
Around 9,000 people from 44 different states have completed the Donut Trail in its two and a half years of life, which has had a major impact on Butler County's economy; according to USA Today site Cincinnati.com, it brought in $1 million in tourist dollars in both 2016 and 2017. What's more, it's a success story that took the county by surprise: Said Tracy Kocher, spokesperson for the Butler County Visitors Bureau, to Food & Wine in March of 2018, "When we started the trail, I wasn't sure if anyone would actually do it." But you know what they say: Build it, and they will come — and boy, did the doughnut fans come. "We didn't exactly know that we were tapping into something the world needed," Kocher continued, but it turns out they were. Still, though, the whole thing is also about "more than just doughnuts": Said Kocher, "It's a vehicle for connection. It's the stories we hear — who did the trail, and who they did it with, and why they did it — that makes the trail really rewarding."
Oh, and hey, guess what? If geocaching is your jam, the Butler County Visitors Bureau has also put together a Donut Trail GeoTour. Separate from the regular Donut Trail, it has a passport all its own where you log 15 geocaches as you locate them; then, when you've found them all, you can redeem the passport for "a shiny new Donut Trail trackable Geocoin." (Admittedly I am not completely sure what that is, but it sounds cool regardless.)
Now if you'll excuse me, I have a trip to Ohio to plan… or at least a doughnut to buy.