Alexandria Ocasio-Cortez Says People Keep Assuming She's A Capitol Hill Intern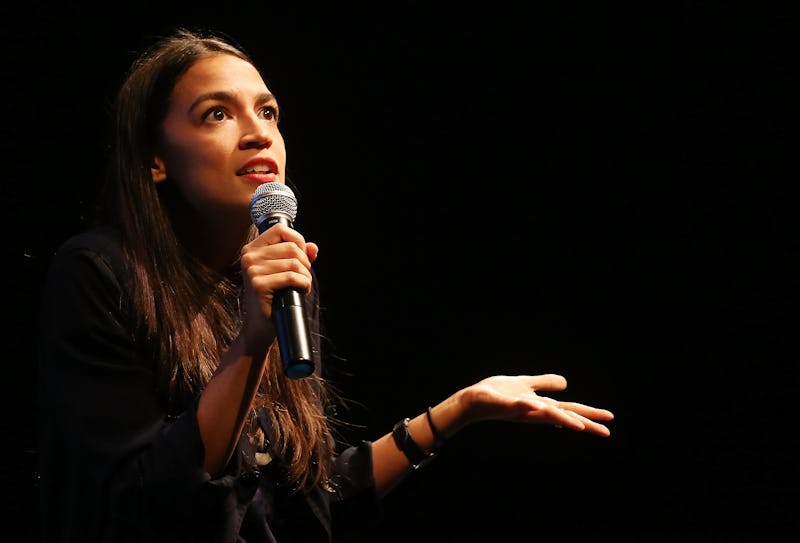 Mario Tama/Getty Images News/Getty Images
A woman newly-elected to be a freshman representative from New York has been making a splash in Washington this week as she attends an orientation for first-time incoming congressional members. But on Wednesday, an Alexandria Ocasio-Cortez tweet revealed soft sexism on Capitol Hill, where the congresswoman-elect said people were reportedly and repeatedly mistaking her for an intern, or else someone else's spouse.
"People keep giving me directions to the spouse and intern events instead of the ones for members of Congress," Ocasio-Cortez tweeted on Wednesday, accompanied by the facepalm emoji. She offered no immediate follow-up tweets explaining what had happened. Bustle has reached out for comment.
Ocasio-Cortez is one of the youngest women to ever be elected to Congress, meaning she may well not "look" like her older peers. But she has garnered a tremendous amount of national attention since her successful primary bid earlier this year, as well as her subsequent win on Nov. 6. That means that many — if not most — of the people working for Congress have likely seen her face before, whether on television news, on Twitter, or as part of political news coverage online. That she has reportedly been mistaken for anyone other than herself suggests that soft sexism might be at play.
Although she has not begun work on Capitol Hill in an official capacity, Ocasio-Cortez has certainly drawn attention. On Tuesday, for example, she went viral for participating in a protest in Rep. Nancy Pelosi's office, where in hundreds of young activists demanded immediate action on climate change.
After news of her participation in the protest circulated widely on social media, Ocasio-Cortez confirmed the reports on Twitter, and also revealed that she had spoken with Rep. Pelosi regarding House action on climate change. "I have spoken with @NancyPelosi about how our commitments to climate change should take shape in the 116th Congress," Ocasio-Cortez wrote Tuesday afternoon. "Her office has responded quickly, and she has recommended the reinstatement of the Select Committee on Climate Change."
But even before she was officially elected, Ocasio-Cortez made electoral history for unseating a 10-term incumbent during the Democratic primary in New York's 14th congressional district. She has demonstrated a willingness to go toe-to-toe with big political names since she entered the field.
This has, at times, included the president, himself. "Well, you know, the president is from Queens, and with all due respect — half of my district is from Queens — I don't think he knows how to deal with a girl from the Bronx," Ocasio-Cortez told Stephen Colbert during an appearance on The Late Show with Stephen Colbert, shortly after her primary win.
Even with all of this media attention, Ocasio-Cortez's tweet suggests that many people still do not associate young women with elected leadership, even though she has spent months demonstrating that a young woman can be just that. While ingrained stereotypes definitely won't change overnight, her successful campaign shows that, if nothing else, they certainly aren't always based in reality, and hopefully, over time, they will change.