This Wild Fan Theory About Ariana Grande's Engagement Ring Will Make You Second-Guess Things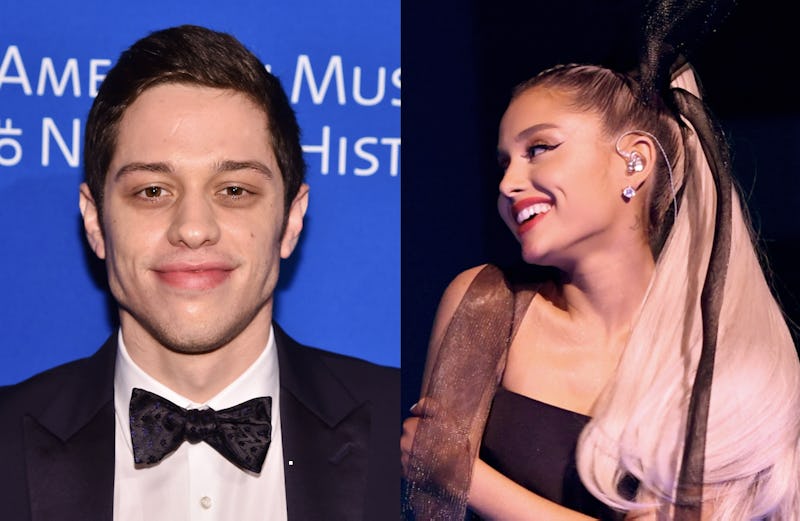 Michael Loccisano/Getty Images Entertainment/Getty Images; Kevin Winter/Getty Images Entertainment/Getty Images
Even though it's only been a few weeks, Ariana Grande's relationship with Saturday Night Live cast member Pete Davidson has been a lot to keep up with. It feels like there is a new update almost every day. Reports of their rumored engagement spread on June 11. Now some fans are claiming Grande had her "engagement ring" before she even dated Davidson. The Arianators have always been very avid fans with strong opinions, but is this just a conspiracy theory? Or are they really onto something here? (Bustle reached out to Grande's rep about the engagement reports, as well as the ring theory, but did not receive an immediate response.)
On the same day that the engagement rumored started to circulate, a fan with the username @sighorionn tweeted side-by-side images, writing, "y'all ariana just went along with the rumor she's probably sitting at home watching us all freak out and laughing her ASS off. issa scam she's been wearing this ring for ages bye." Another Arianator, @arithatbxtch, tweeted, "ok but Ariana has literally had that ring forever."
The very next day, the Twitter account Shady Music Facts tweeted, "Ariana Grande has been wearing her 'engagement ring' since 2016.. She also has 3 songs coming this week, a perfume and album pre order! Are you thinking what we are thinking?" Another Twitter user @fifth_mendes wrote, "Wait.....hasn't Ariana been wearing that ring since like 2016....."
One person, @wigsnatchedari, took the "she already had this ring" theory even further by tweeting, "conspiracy theory: as ariana has worn a ring on her finger for years now, she has been engaged to pete this whole time but covered it up by 'dating' mac miller..." Did that tweet go too far? Well, another fan @knnewagb theorized that Grande actually is wearing a new ring and wondered, "Did he mean to buy a replica of a ring Ariana already owned."
Do these Twitter users have a point? Or did the fan theories get out of hand? There are a lot of possible explanations for this, so let's examine the "evidence."
Exhibit A: This is a photo of Grande with her brother Frankie Grande and her mother Joan Grande taken from the singer's Instagram Story earlier this week.
Exhibit B: This is the singer at the American Music Awards in November 2016. Even though the photo isn't a close-up, that ring on her right hand does actually look pretty similar to the one she's sporting recently.
There's a lot of speculation and no concrete evidence to support this fan theory, but maybe Grande will set the record straight at some point soon. If she doesn't, there's bound to be a new story about this relationship to occupy the fandom any minute now. But in the meantime, let's get back to the ring in question: According to a June 12 TMZ article, Davidson had the engagement ring custom made for Grande last month. It was commissioned by New York City jeweler Greg Yuna, who is known as "Mr. Flawless." The 3.03 carat ring has a reported value of $93,000 and apparently took two weeks to make.
That's just a lot to unpack. First of all, the Saturday Night Live star got that ring last month? They only started dating last month. Or at least that's when the public found out about their relationship. Second, the diamond ring cost nearly $100,000. That is wild. And now, there are fans theorizing that this is a ring that Grande has rocked all along.
Maybe she just has multiple gigantic diamond rings in her closet. That would make the most sense, especially since some Arianators really do think that she is just sporting a ring that she already had. After all, she never confirmed it's even an engagement ring in the first place.
Even though this relationship sprouts a different "news" story on a daily basis, the two of them have been pretty tight-lipped about the whole thing. Yes, they've been posting a lot via their Instagram comments and captions, but the only thing social media confirms is that these two are head over heels for each other. Aside from that, pretty much everything else is just pure speculation.