There's ANOTHER Aubrey O'Day Song That's Reportedly About Donald Trump Jr.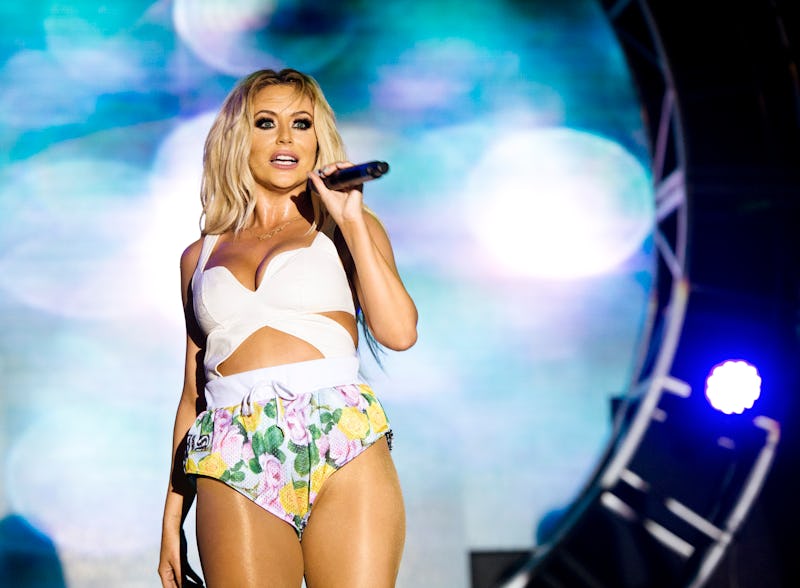 Chelsea Guglielmino/Getty Images Entertainment/Getty Images
According to Us Weekly, former Danity Kane band member and ex-Celebrity Apprentice contestant Aubrey O'Day may have hinted at her reported relationship with Donald Trump Jr. in her cover of Gotye's "Somebody That I Used To Know." So far, there have been no public confirmations on the report that O'Day's Gotye cover song is about Trump Jr., but the intense lyrics are worth reading.
In her cover of "Somebody That I Used To Know," O'Day sings, "Now and then I think of when we were together. Like when you told me that your marriage was a lie." And it goes on. Further into the song, O'Day sings about having an affair with this unnamed married man who "couldn't live without" her by his side.
She then coos, "You can get addicted to a certain kind of madness. You'd love to be a man; your life just won't allow. You said that was the reason for your pain."
In her cover, O'Day also sings, "You didn't have to cut me off." She laments that the man had told his wife "it never happened and that we were nothing." She also sings, "But you were scared to ruin your family's name. Your wife's the only one glad we are over."
This isn't the only song by O'Day that is receiving significant attention in light of the reports about her affair with the president's son; some people think that O'Day's song titled "DJT" is also about Donald John Trump Jr., whose initials are identical. There is also no confirmation about whether the speculation is true, but that hasn't stopped people from trying to figure it out on social media.
In the song "DJT," O'Day sings:
I'll always want you and always wonder about it.
But it doesn't matter because I have to stay here.
What made you stop believing in our world?
You know, I think probably the loss of the other world.
I'm torn between two worlds both of which I wanted.
The renewed interest in O'Day's old songs arrives after a bombshell Page Six report that Trump Jr. had an affair with O'Day while he was married to Vanessa Trump. Vanessa, who filed for divorce in March, married Trump Jr. in 2005, and has been with him for nearly 13 years.
According to the Page Six report, Trump Jr. and O'Day began an affair while she was on Celebrity Apprentice. Sources close to Vanessa and Trump Jr., who are currently in the middle of a divorce, told Page Six that Vanessa was heartbroken after finding out about the reported affair. O'Day's representative declined to respond to a comment request from Page Six.
According to the report, sources close to O'Day and Trump Jr. say that the president's son was after O'Day but was told by his father to "knock it off." Trump Jr. reportedly told O'Day that he would leave his wife for the former Danity Kane member. But he ended up staying with his wife who was pregnant with their third child at the time. Trump Jr. and Vanessa's representatives did not respond to Page Six's request for comments.
Whether it's mysterious "DJT" or her cover of Gotye's "Somebody I Used To Know," it's not known if Trump Jr. is indeed the source of inspiration for these songs. But it is clear that O'Day's lyrics point to a particularly distressing relationship, one that she wanted more out of. That much is evident when you listen to her say in "DJT" that, "I have to move on, I need your help. I can't believe that this was all a lie. You have to tell me you love me."