This Bestselling Author Writes In A Cave... In Japan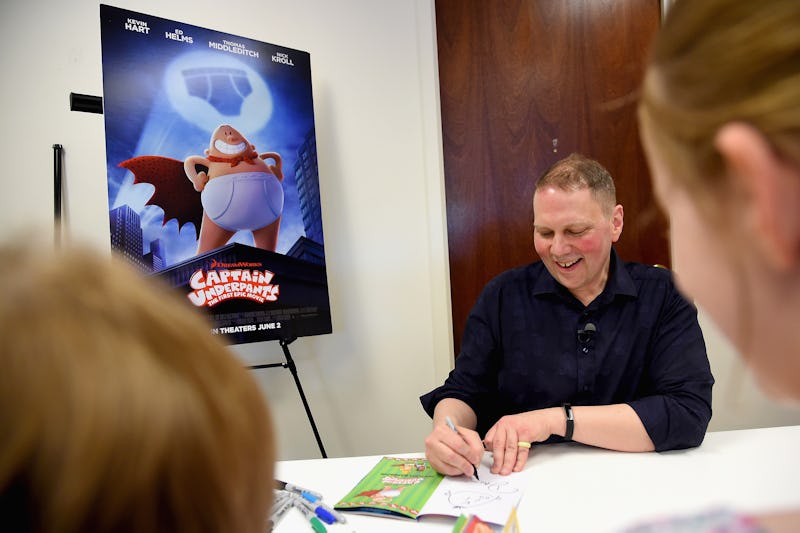 Ben Gabbe/Getty Images Entertainment/Getty Images
Today in Things You Didn't Know Regarding Your Favorite Childhood Authors: Dav Pilkey writes the Captain Underpants books in an unusual location — a Japanese cave. Pilkey, who divides his time between the U.S. and Japan, found his favorite Japanese writing spot after monkeys drove him off of the beach near his home in Minamiizu, Japan. In response to the ousting, Pilkey hopped in a kayak and found a monkey-free cave in Minamiizu.
Seriously, you can't make this stuff up.
This revelation to the New York Post may not surprise many among Pilkey's legion of fans, however. For the last 20 years, the Ohio-born author has generated controversy with his Captain Underpants books, named for a potty-humored superhero created by a pair of fourth-graders turned comic-book writers.
Besties George and Harold write independent comics about Captain Underpants, but when they hypnotize their school principal, they accidentally bring their superhero creation to life. The series regularly features a number of offbeat villains — such as the Dandelion of Doom, Dr. Diaper, and Wedgie Woman — for George, Harold, and the good Captain to take down.
The Captain Underpants books have landed on the American Library Association's annual list of frequently challenged books several times over the last two decades. Since 2001, the series has made the ALA's Top 10 Most Challenged Books List five times, and even beat out Fifty Shades of Grey, Thirteen Reasons Why, and The Absolutely True Diary of a Part-Time Indian for the No. 1 spot in 2012. The Captain Underpants books were the 13th most challenged titles between 2000 and 2009.
The first film adaptation of Pilkey's novels, simply titled Captain Underpants: The First Epic Movie, hits theaters on Friday. It maybe probably doesn't have monkeys or a Japanese cave.