This Stunning Tour Video Has Fans Convinced Beyonce & Jay-Z Recently Renewed Their Vows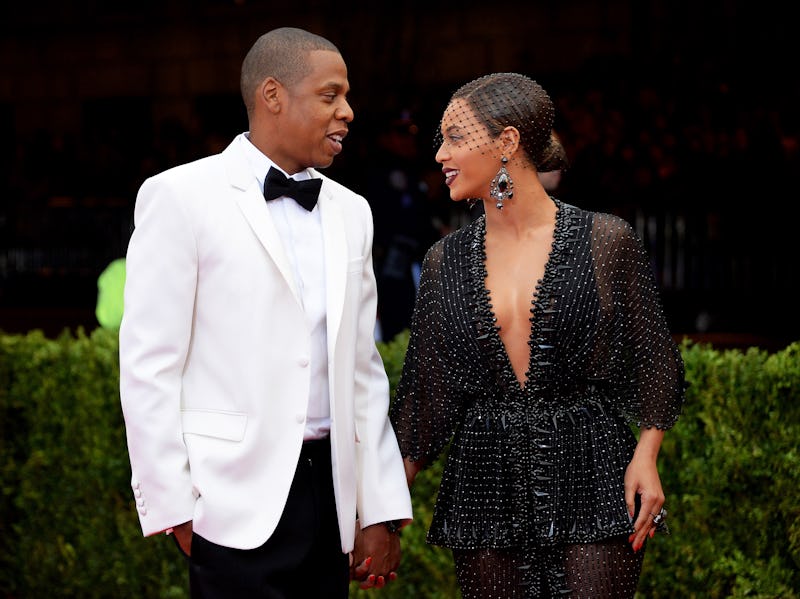 Mike Coppola/Getty Images Entertainment/Getty Images
On the first night of their On The Run II, a possible Beyonce and Jay-Z vow renewal tour video had fans falling in love with them all over again. The concert, which took place in Cardiff, Wales, reportedly revealed a series of intimate family photos and videos throughout the night. And if Beyoncé and Jay-Z did, in fact, renew their vows, it would be a very Beyoncé-and-Jay-Z move to dispel this information in the coolest way possible: as the backdrop to a live performance by the iconic duo.
This isn't necessarily a new style of communication for the couple. In their first On The Run tour, they had a similar style, revealing intimate moments with their daughter, Blue, as well as with each other, through various video and photo montages that played throughout the performance. What's more, their rap song-turned-duet "Forever Young" has played an important role for both tours. In the first On the Run tour, this song served to display a long, beautiful video montage of family moments (as seen in the video below). For this current tour, the song might have been used to show the world that Beyoncé and Jay-Z are stronger than ever, both as performers and as a married couple.
In this recent video, Jay-Z and Beyoncé appear to be participating in a ceremony that looks pretty similar to a wedding. They're joined by their daughter Blue, as well as their twins Rumi and Sir in the video. The clip is short and simple, taking up less than three seconds of air time, but it was enough to send fans into screams. Followed by the video was a simple caption, set in white font surrounded by black: "This is real love."
This caption almost served as a callback to earlier in the show, where the performance reportedly began as the words "This is real life" flashed on the screen.
Needless to say, fans of the duo have completely lost their chill on Twitter. Given the tumultuous last few years that have unfolded publicly for Beyoncé and Jay-Z, their potential renewal of wedding vows seems to be the most concrete statement they've made about their marriage so far.
According to ET Online, the couple celebrated their tenth wedding anniversary on April 4. Ten years of marriage is a big deal for any couple. But for two performers who have both chosen to use their music as forms of catharsis for their marital troubles, this wedding anniversary seems especially profound.
According to Rolling Stone's Mark Sutherland, the rest of the kickoff night for the On The Run II tour was equally fantastic, as the two stars managed to "retool their back catalogues to work seamlessly together."
The quick snapshot of a potential wedding vow renewal isn't the only spoiler that Beyoncé and Jay-Z were teasing out to their fans, either. Vulture was quick to point out that other inside jokes were littered throughout the performance. It started with the couple entering the performance in an elevator (Beyoncé's sister Solange got in a now infamous physical altercation with Jay-Z in an elevator, and Beyoncé later acknowledged it in a killer song lyric). Later, they offered up footage from their time spent in Jamaica earlier this year, and shared a series of home videos while Beyoncé performed a cover of Ed Sheeran's "Perfect."
Though neither Beyoncé or Jay-Z have made any effort to confirm or deny the true origins of that potential vow renewal video, the internet is pretty much in total consensus that this was, in fact, their wedding renewal ceremony, which might just have garnered a higher RSVP list than the royal wedding, if they'd decided to extend the offer out to the public.