'Black Girl Magic' Got Turned Into A Beautiful Illustrated Poem — And You Can See It Here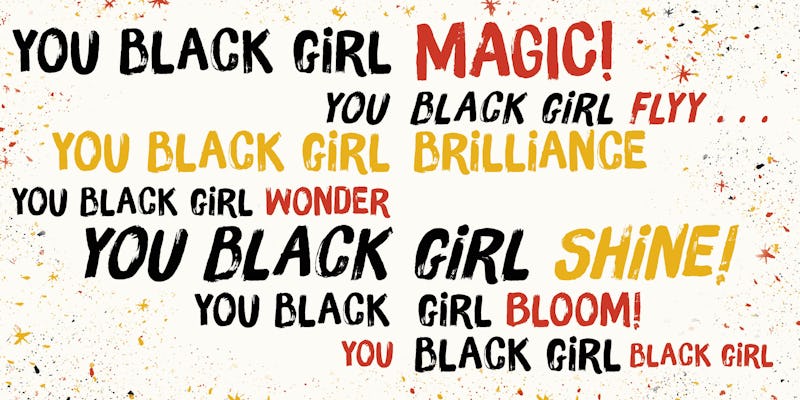 Words by Mahogany L. Browne/Art by Jess X. Snow
Women have been in the media a lot this year, for reasons both good and horrifyingly bad. From fighting against legislation that seeks to threaten women's rights and autonomy, to the outcry of the #MeToo movement, women have taken center stage in many ways, speaking out, speaking up and seeking to move forward. And it has now become more crucial than ever to stem the tide of White Feminism and lift up the voices of marginalized women, these women who have actually always been leading the movement to inclusivity, even as they are relegated to the shadows. Part of that includes fighting back against the media and social representation of women of color, and with her illustrated poem Black Girl Magic, Mahogany L. Browne is doing just that.
It's no secret that much of what black girls are told is not pretty: Don't wear this; don't smile at that. Don't have an opinion; don't dream big. And most of all, don't love yourself. In response to these pervasive destructive ideas, Browne has added her poem to a Black Girl Magic movement that challenges the conditioning of society; by crafting an anthem of strength for women of color everywhere. Browne has traveled the world sharing her vision of Black Girl Magic, and now in collaboration with artist Jess X. Snow, presents her acclaimed tribute in a visual form. It is due to hit shelves on January 2, 2018.
Black Girl Magic: A Poem by Mahogany L. Brown, $11, Amazon
Black Girl Magic is a journey from girlhood to womanhood and an invitation to readers to find magic in themselves, despite what they are told in the media and society at large. While a lot of the text might be familiar to many women (being told to smile in public, or to wear particular clothes in public) it is beyond bolstering to see these messages aimed toward black women, who are so often swept aside in the movements that they need the most.
Black Girl Magic: A Poem by Mahogany L. Brown, $11, Amazon
Because if 2017 has taught us anything, it's that feminism is nothing if it is not inclusive. And that fighting for the equality of all women is the only way forward. Insuring that black women and women of color know that they are more than worthy of the same respect that white women seek (and are already more readily given) and lifting black women up in every way will only make the movement stronger going forward. And in that, every woman wins.