This Bookseller Wants To Open A Shop Owned & Operated By POC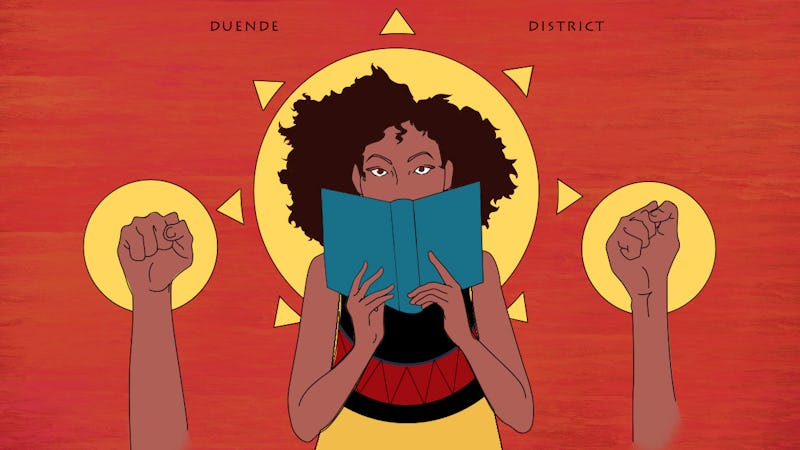 Ashfia Khan/Duende District, LLC
Washington, D.C. bookseller Angela Maria Spring is now crowdfunding a pop-up bookstore planned around its diverse staff. Duende District will meet D.C.'s "deep need for an authentic general bookstore space built from the ground up by bookstore professionals who are people of color," according to its Kickstarter campaign page, and Spring says the project "is part of [her] resistance effort."
Duende District is currently hosting the first of its pop-up bookstore experiences at D.C.'s Artomatic 2017 festival, which runs from Mar. 24 through May 6. Throughout the festival, Spring's bookstore will run creative writing workshops for kids ages 6 to 18. On Apr. 23, Duende District will host The Art of Risk: A Poetry Discussion & Reading with Christopher Greggs, which will be filmed for the Kickstarter campaign, and which will focus on two of Duende District staff's favorite poetry collections: Donika Kelly's Bestiary and Natalie Diaz's When My Brother Was an Aztec.
The daughter and granddaughter of Panamanian immigrants, Spring began her career in bookselling 16 years ago, working in New Mexico and New York City before moving to D.C. in 2010. "For five years," Spring writes on the Kickstarter campaign page, "almost every other Latino I saw was cleaning somebody's house or yard, taking care of someone's baby or cooking someone's meal."
In the summer of 2016, Spring was working as the floor manager at D.C.'s Politics and Prose Bookstore and Coffeehouse when she found herself in "an event-planning meeting with the store's senior staff for an event on the topic of 'Diversity,'" at which she "was the only person of color in the room." Now, Spring wants to give the diverse communities in D.C. a bookstore centered on their experiences. Publisher's Weekly reports that Duende District will "partner with local non-profits to employ high school students of color."
The Kickstarter campaign will help Spring turn Duende District into a full-time pop-up bookstore in D.C., which "will carry a small original inventory of fiction, poetry, non-fiction, art books, graphic novels and children's picture books," and will host "a series of interactive experiences with local artists, writers and community organizations to spread awareness of Duende District's mission and to begin its search for a permanent home."
As of this writing, the Kickstarter has raised almost $1,900 of its $9,000 goal, which must be reached by May 9 in order for Spring to receive any funding.