This Genius Recipe Makes Just Enough Buffalo Ranch Dip For Exactly One Person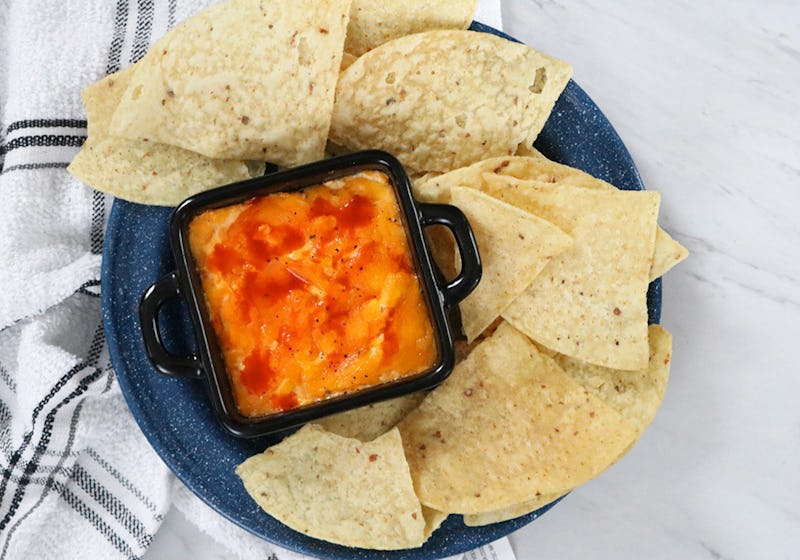 Kirsten Nunez
Now that summer is around the corner, all I can think about is chips and dip. I mean, burgers and hot dogs might steal the show, but let's be real: Dip is the highlight of BBQs and picnics, especially if it involves cult-favorites like Buffalo and ranch. However, when you have zero plans for the warmer months, it just doesn't make sense to mix up a full batch for yourself. That's why I set out to create a Buffalo ranch dip recipe for one person — a beautiful concoction that will allow you to make just enough for yourself.
As with most recipes made for one person, it is all about using the right proportion of ingredients. Baking it in a tiny cute dish doesn't hurt, either. Also, it's a single portion, so it's basically a recipe that doesn't need to be shared with a single soul, and I am here for it.
Making a single serving of dip also lets you easily experiment with different flavor combinations. After all, there are so many ways to make Buffalo dip recipes. You can even add more or less ranch dressing or Buffalo sauce, depending on your taste buds.
Are you ready to host your own personal summer celebration? Here's how to make Buffalo ranch dip for no one else but yourself.
Buffalo Ranch Dip For One
1/2 cup + 2 tablespoons shredded cheddar cheese
1/4 cup cream cheese, room temperature
2 tablespoons ranch dressing
1 to 2 tablespoons Buffalo sauce
1 tablespoon sour cream
Butter or oil for greasing
Salt and pepper (optional)
Pre-heat the oven to 350 degrees Fahrenheit.
1. In a bowl, combine 1/2 cup cheddar cheese, cream cheese, ranch dressing, Buffalo sauce, and sour cream. Add a dash of salt and pepper, if using.
Set aside the extra two tablespoons of cheddar cheese.
2. Transfer the mixture to a greased oven-safe container. For reference, the dish used in this recipe measured just under four-inches wide. A ramekin or Pyrex bowl also works great.
3. Top with the two tablespoons of cheddar cheese.
4. Bake for 10 to 15 minutes, or until the cheese is melted and bubbly. Do a victory dance.
For an extra kick, garnish the dip with more Buffalo sauce or black pepper. Enjoy with a handful of tortilla chips, sliced vegetables, or fries.
This single serving recipe is only the beginning, of course. There are so many ways you can customize this easy and delicious dip. Here are some mouthwatering ideas to get the ball rolling:
Breadcrumbs
Add a crunch with a tablespoon or two of bread crumbs. If you use them as a garnish, they will get nice and toasty in the oven.
Chives
As a popular dip ingredient, chives are another option. Simply chop 'em up and mix right into the dip. You can also use them as a topping.
Chicken
Buffalo wing fans, this one is for you. All you need to do is mix 1/4 to 1/2 cup of cooked chicken into the dip. And yes, leftover or canned chicken totally works.
Beans
Add a layer of black beans for a sneaky, tasty dose of protein. Canned refried beans can also be used.
Tofu
If you don't eat meat, reach for some tofu instead.
Vegan
Making a vegan version is just as easy. As always, it's all about using the right ingredients. You'll need shredded cheddar cheeze, tofu or cashew cream cheese, vegan-friendly Ranch, and vegan sour cream. If you don't have sour cream, simply use more vegan cream cheese. The dip won't melt as much as a non-vegan version, but it will still create a stellar combination of flavors.
BRB, having the best solo celebration of the summer.