One Of Christine Ford's Most Powerful Quotes Was Graffitied At Yale Law School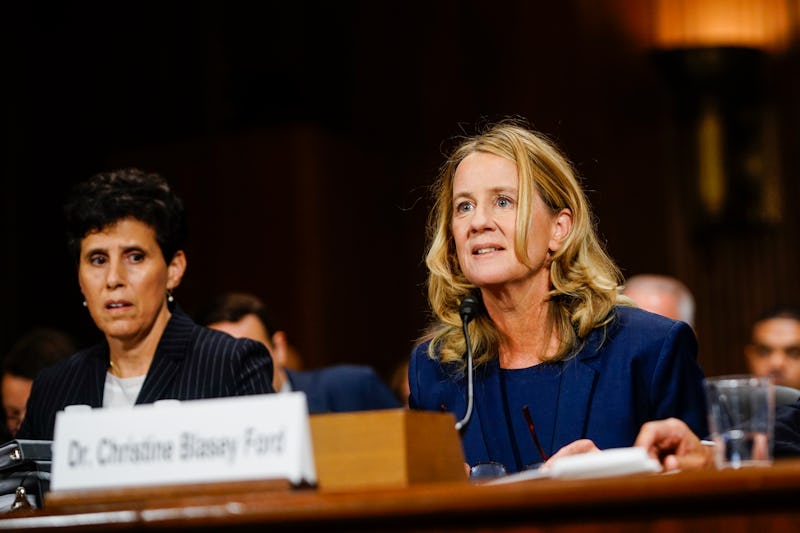 Pool/Getty Images News/Getty Images
As the United States continues to reel from Supreme Court Justice Brett Kavanaugh's highly dramatic and contentious confirmation process, one unknown person at Yale has made sure people at the university don't move on too quickly. According to a photo shared to social media, a Christine Blasey Ford quote was spray-painted onto Yale Law school's entrance, referencing one of the most memorable moments from her testimony before the Senate Judiciary Committee in September.
"Indelible in the hippocampus is the laughter..." reads the quote, apparently spray-painted in white, block letters. Yale Law School student Laurel Raymond shared a photo of the graffiti to her Twitter account, writing that it marked the entrance to Yale Law School on Monday morning. Bustle has reached out to Yale Law School for comment.
Ford said the words quoted in the graffiti after Democratic Vermont Senator Patrick Leahy asked her to describe her clearest memory from the night she claims Kavanaugh sexually assaulted her, which he has consistently denied. "Indelible in the hippocampus is the laughter," Ford responded, per footage of the hearing. "The uproarious laughter between the two. They're having fun at my expense."
Ford claimed that Kavanaugh assaulted her at a party when the two were teenagers. Per Ford, she was 15 years old at the time and Kavanaugh was 17. Kavanaugh summarily denied these allegations both before and during the hearings.
"This is a completely false allegation," Kavanaugh said in a statement in September. "I have never done anything like what the accuser describes — to her or to anyone."
Though Kavanaugh and Ford were teenagers during the alleged assault, Yale was brought into discussions related to Kavanaugh's alleged sexual misconduct because additional allegations were levied against him as his confirmation process wore on. These included an allegation that he sexually assaulted a woman named Deborah Ramirez while he was a student at Yale.
Ramirez alleged that Kavanaugh exposed himself to her while they were playing a group drinking game. They were both students at Yale at the time. She said that she accidentally touched Kavanaugh's penis as she pushed him away. Speaking before the Senate Judiciary Committee in September, Kavanaugh said, "I've never sexually assaulted anyone. Not in high school, not in college, not ever. Sexual assault is horrific."
A third woman named Julie Swetnick further alleged via a "sworn statement" that she used to run into Kavanaugh at parties in the 1980s. At those parties, Swetnick said, Kavanaugh and his friend would try getting girls "inebriated and disoriented so they could then be 'gang raped'" by a "'train' of numerous boys." Swetnick also alleged that she was "incapacitated without my consent and unable to fight off the boys."
As Kavanaugh's confirmation process continued, many Yale students — both current and former — organized to protest his appointment. Kavanaugh graduated both from Yale College and Yale Law School, and reports from the time of his nomination indicate that the allegations against him provoked significant controversy within the Yale community. That an unknown person would spray-paint one of Ford's most searing quotes on the law school's campus was no coincidence.
Though Kavanaugh was accused of sexual assault by at least three women during his confirmation process, all of which he denied, he was ultimately confirmed to the Supreme Court and began his work on the bench just days after being formally sworn in. Not enough time has passed to gauge the long-term effects of how his confirmation process played out, but as evidenced by Monday's reported graffiti, in the age of social media, it can be easy to ensure that, at the very least, people don't forget about it.